Late in the fall, Panasonic released what was a bit of a surprise to many: a slower 50mm equivalent lens in the 25mm f/1.7. This space is occupied already with the faster Panasonic Leica 25mm f/1.4, and competes directly with the Olympus 25mm f/1.8.  The Panasonic 25mm f/1.7 has a suggested retail price of $249…half the cost of its faster sibling and $150 less than the Olympus 25mm. To kickstart the introduction, however, Panasonic sold the lens for $99 for a short time, leading to a huge number of sales and a backorder log stretching to March! I was lucky enough to snag one of these for the $99 special and I've been putting it through its paces for the past few weeks.
If you're not familiar with my reviews, I review from a real world shooting perspective.  You won't find lens charts or resolution numbers here.  There are plenty of other sites that cover those.  I review products on how they act for me as a photographic tool in real-world shooting. 
Construction and Handling
The Panasonic 25mm f/1.7 is an inexpensive lens, and as such, it doesn't rival the top end lenses in the Micro 4/3 lineup, but it has a solid construction considering the price.  The lens body is a matte black plastic that is well assembled and shows no flimsiness or creaking.  The plastic exterior ends in a metal lens mount. Focus is internal, so the length of the lens won't change during focusing. The 25mm f/1.7 comes with a nice plastic lens hood that snaps solidly in place once the decorative ring is removed from the hood bayonet mount. It doesn't have the heft that many users associate with 'solid build quality', but otherwise there's nothing to complain about here.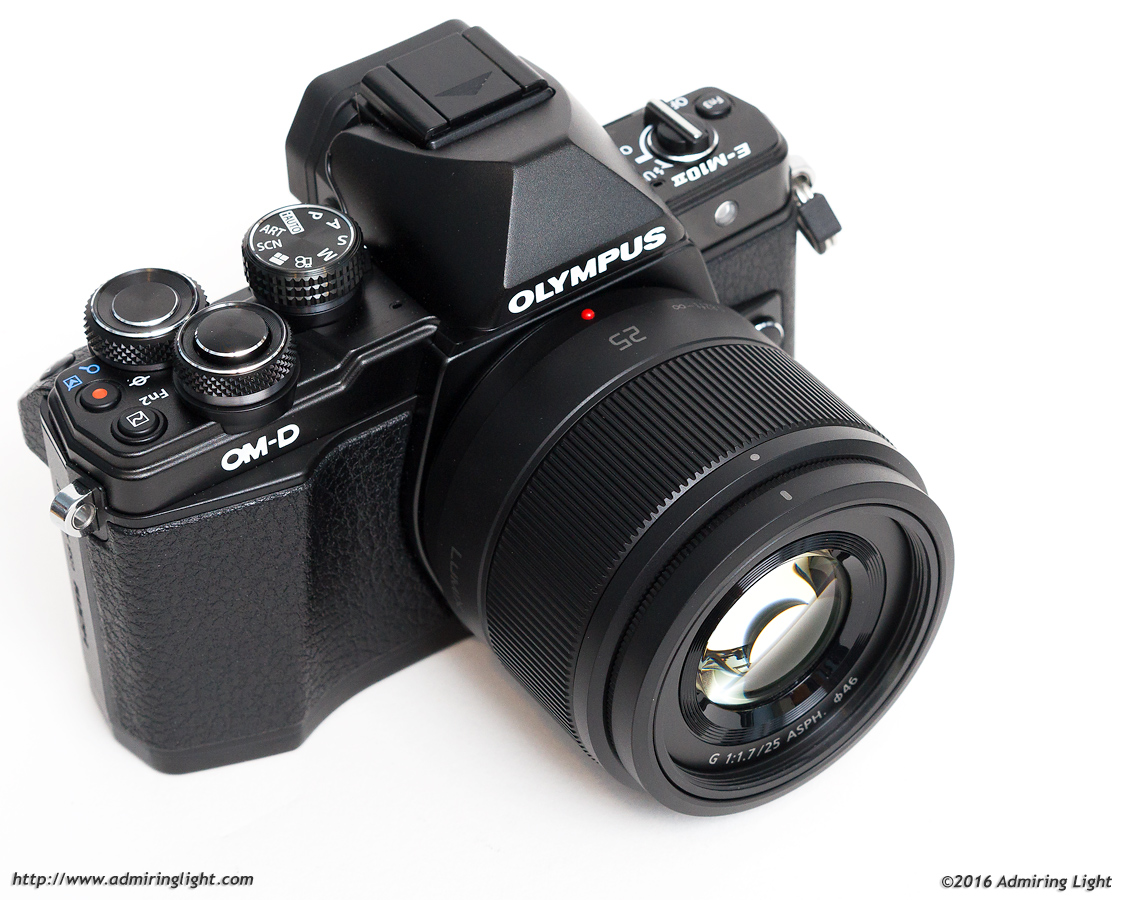 The lens handles well on any camera body due to the lightweight nature of the lens and the relatively slim profile.  It's not quite as compact as the Olympus 25mm, but I doubt many will complain about the size unless they are looking for a combination to slip into a jacket pocket. The only external control is the broad ribbed focus ring that moves fairly smoothly and has a decent resistance but lacks the heavy feel of true damping.
Autofocus
The Panasonic 25mm f/1.7 features a fast and fairly quiet lens motor, and can focus as close as 0.25m. Focus is acquired nearly instantly using the Panasonic GX8 and though it's slightly slower on my OM-D E-M10 II, it's still a very fast focuser, even in lower light. The lens is rather quiet when focusing, but it isn't completely silent.  Soft clicking sounds can be heard from the lens, which may be audible on video if shooting in quiet rooms, but otherwise will not be a distraction.
However, this is one of the only lenses for a mirrorless system where I had issues with focus accuracy.  At closer focus distances, the lens typically focused just fine; hitting critical focus for portraits and closer objects. However, for further subjects, the lens would often miss focus, always to the front, causing some shots near infinity to appear soft, even when stopped down.  This was the case much more often in dim light, but still would happen occasionally even in good light, so I found that care had to be taken when shooting with this lens for landscape use when using autofocus. Strangely, I found the lens to miss focus more often using the Panasonic GX8 than I did on the Olympus E-M10 II.