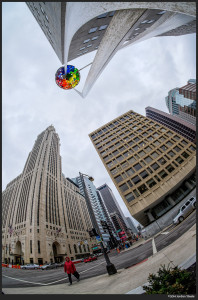 Image Quality
In my review of the Rokinon 8mm f/2.8 (version I), I spent a fair bit of time discussing the importance of the projection used for a fisheye.  I'm not going to fully rehash that here, but if you missed it the first time around, take a look here.  As part of the new optical formula with version II, Samyang has changed the projection of the 8mm fisheye very slightly.  It isn't a big change, and I still believe it would be in the 'stereographic' projection style.  It is slightly more relaxed, however, and as a result, the second version of the lens has a very slightly narrower field of view.  I'd guess that it amounts to a degree at most, so you would only notice this if directly comparing two images shot with the lens side by side on the same scene, but it is worth noting.
Sharpness
As a result of the new optical design, Samyang has managed to improve on the already excellent performance of the first version.  The 8mm f/2.8 Fisheye II is quite sharp right from f/2.8, and on stopping down to f/5.6-f/8, yields images that are extremely sharp corner to corner.  This is really an excellent performance, and there's really very little more that could be asked from a lens such as this.
Bokeh
As with the first version of this lens, the rather long minimum focus distance makes generating any sort of background blur difficult.  When focused at the closest focusing distance and shot at f/2.8, some mild blur can be observed, and it is mostly non-objectionable, though there's nothing particularly special to speak of either.
Color, Contrast and Chromatic Aberration
Like its predecessor, the Rokinon 8mm f/2.8 Fisheye II generates images with strong contrast and good color response.  The lens maintains high contrast at all apertures, allowing for great pop to the images.  The lens also separates tones well, providing some extra clarity to scenes.
Overall chromatic aberration control is also outstanding.  Lateral chromatic aberration is only very rarely observed (in most images, even viewed at 100%, it doesn't appear to crop up).  In the few instances where a very slight level of CA can be seen, a single click in Lightroom or from any other CA correction tool can easily take care of it.
Distortion, Flare and Vignetting
Obviously, a fisheye is designed to create significant distortion in order to expand the field of view.  As such, straight lines that do not pass through the image center will be rendered as curved lines.  When shooting with a fisheye lens, you can either use the distortion to further an effect in the image, or you can take care to try to minimize distortion by setting horizons close to the center and composing such that there aren't a lot of very straight lines.  Often these shots are hard to even discern as fisheye shots.  (For an example, check out the "Milky Way" photo in the Image Samples, which was taken with the horizon centered. I then cropped the bottom to frame the final picture.)
The Rokinon 8mm f/2.8 Fisheye II does have one weakness, and that's with its flare control.  Most of the time, flare doesn't seem to pose a problem for the lens.  Indeed, even in situations where flare is quite visible, there is limited veiling flare, such that image contrast stays on a high level.  However, if the sun is the frame a certain way from the image center, strong ghosting can occur, as seen in the image to the left.  Most of the frame looks OK, but with this angle, a very large multi-colored flare ghost can be seen at the bottom of the frame.  This can be seen in the viewfinder, so keep an eye out for it, and in situations where it arises, adjust your framing a bit to avoid the problem.
The Rokinon 8mm does exhibit very low vignetting, with shading even at f/2.8 essentially negligible.