I don't generally do reviews of Canon EF lenses, as I've been shooting mirrorless exclusively for the past 7 years.  However, with the availability of EF to E-mount adapters, and the Sony system still being a little thin in some areas, there are Canon mount lenses that may potentially be great alternatives for use on Sony E-mount.  We'll look at one of those today.
While Sony does have a 100-400mm zoom lens in their G-Master 100-400mm f/4.5-5.6, it costs a whopping $2,500. For those seeking some reach at a more affordable price, this Sigma 100-400mm f/5-6.3 might be just the ticket.  The lens reviewed today is about 1/3 stop slower throughout the range, but is a downright bargain at $799 (list). However, it's on sale right now for just $699, and briefly went on sale for only $599, when I was lucky enough to obtain this copy.  Add an MC-11 adapter (regularly $250, on sale at the time of this review for $150), and you can get a 100-400mm lens for just $1,050 (list) or $850 right now on sale. Can the Sigma honestly be a viable alternative for so much less money?  Let's find out.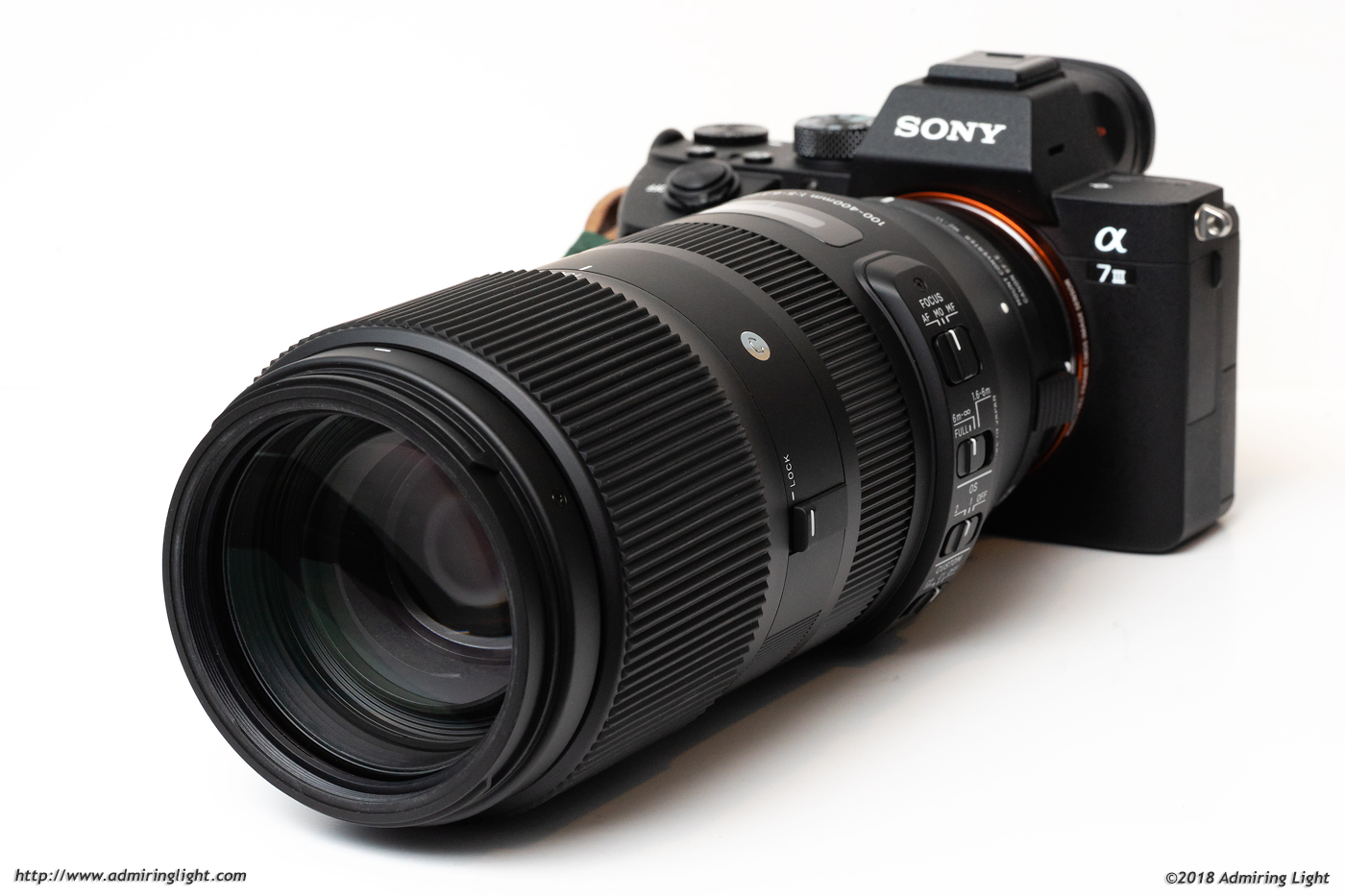 Construction and Handling
The Sigma 100-400mm is part of Sigma's Contemporary lineup.  This line was meant to be generally consumer focused, and as such I didn't really expect a lot with regards to fit and finish. However, the Sigma impresses given the low cost.  While I'm sure there are some cost-cutting measures in the lens, the outer design is gorgeous. The exterior is constructed primarily with smooth matte finish plastics, but there's definitely some sort of metal substructure to the lens, and the mount is metal.  The lens fits right in with Sigma's more recent lens design philosophy, and I think it looks fantastic. The lens has a rubber gasket to seal around the lens mount, but there are no other obvious signs of weather sealing.  The overall construction of the lens feels solid and more robust than the typical consumer zoom, though without taking apart the lens, I can't comment on the quality of the internal construction.
With the slightly slower aperture range of f/5-6.3, the lens is more compact than your typical 100-400, and it ends up being similar in size to most 70-200mm lenses, and weight is a bit lighter than a 70-200mm f/2.8.  The Sigma 100-400mm is 7.2″ long and weighs about 2.5 lbs (1160g).  Compared to the Sony 100-400mm at 8.1″ long and a bit over 3 lbs (1395g), the Sigma is rather compact for this focal range. The front element takes fairly small 67mm filters, which is great.  It's not a lightweight lens, but for its focal range, it's definitely on the lighter side.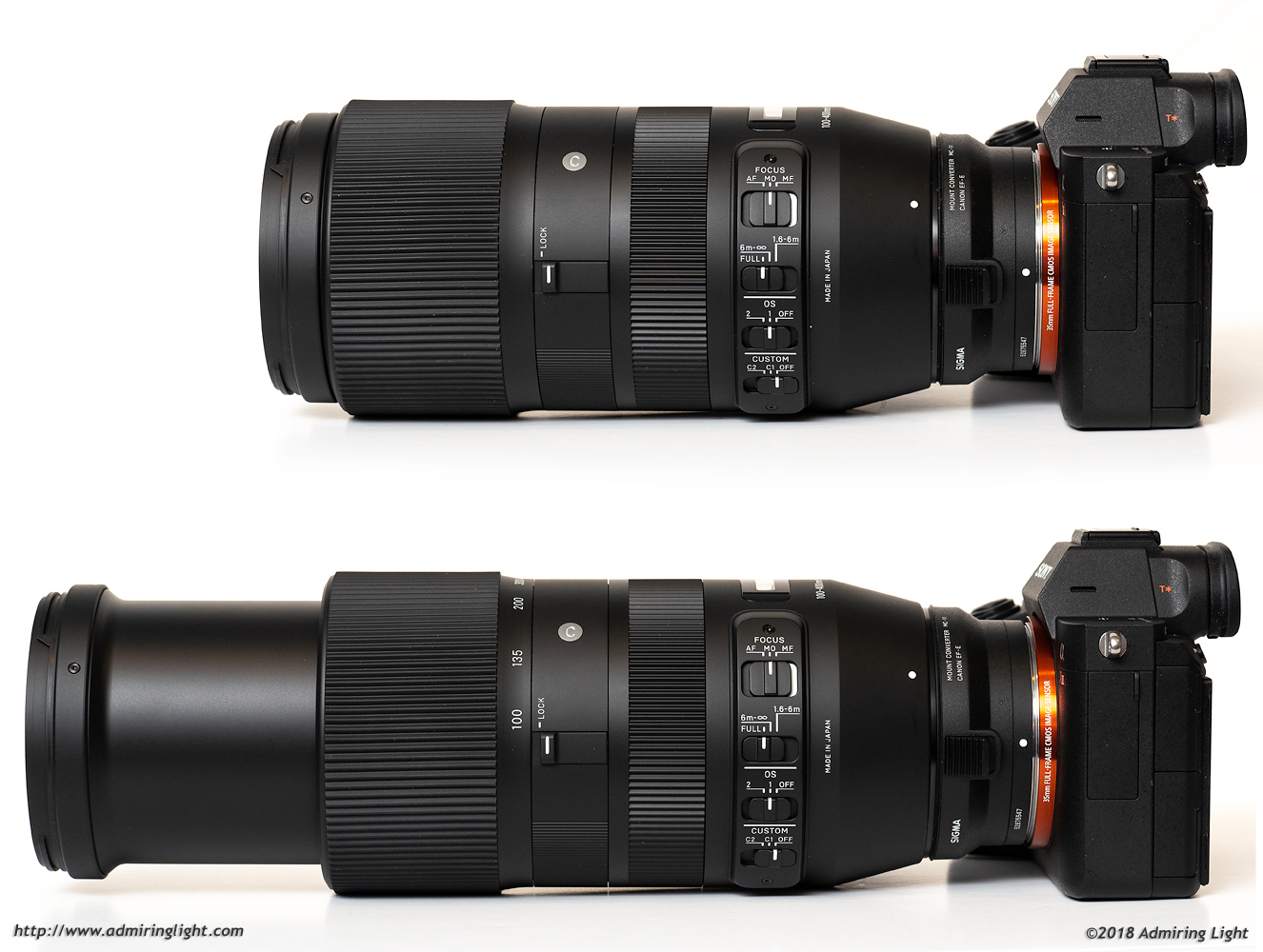 The 100-400mm has a broad rubberized zoom ring towards the end of the lens that zooms smoothly and with very nice damping.  The lens barrel extends during zooming towards the long end of the focal range, but the lens tube has no wobble at all in it.  In a somewhat odd turn, the included lens hood has a flare that is intended for your fingers to grasp so you can use the lens as a push-pull zoom if desired.  If that sounds weird to you, like it might damage the zooming mechanism, I thought the same as well, but the lens manual denotes that this is by design and that it is intended for either zooming method.
The manual focus ring is well damped and sits closer to the camera.  It's ribbed plastic, rather than rubber, but it feels fine to use.  The fit and finish of the lens is great, and I was frankly impressed given the low price of the lens. The included lens hood is made of plastic, and is reversible. Like a lot of Sigma lenses, the hood fits very close to the body when reversed, which is great, as the lens isn't much larger in diameter with the hood reversed than it is without the hood at all.  A lot of other 100-400mm lenses have enormous hoods which make it more difficult to fit in a bag, so the slim profile is a very welcome feature here.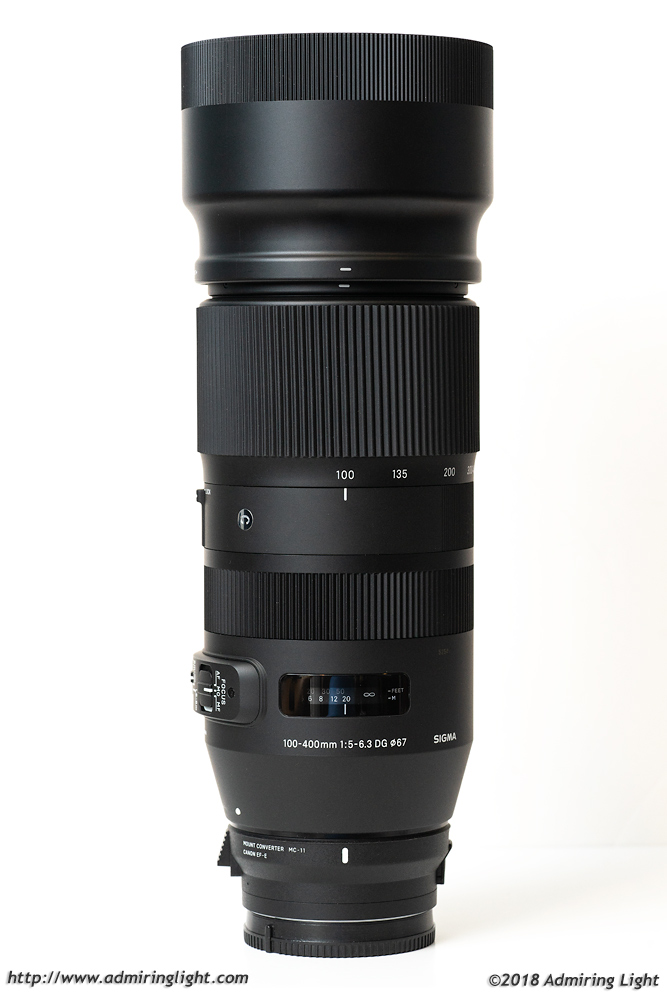 On the left side of the lens is a group of four switches.  The first allows selection of autofocus, full-time manual focus with AF, and manual focus.  The second is a focus limiter to shorten the range at which the lens will try to focus.  The third controls the image stabilizer option, including a dedicated panning option, while the fourth allows for 'custom modes.'  These can be set using the optional Sigma Dock, and allow for tweaking autofocus speed and smoothness settings, as well as custom focus limiter settings that can later be accessed by flipping the switch.  Unfortunately, as I do not own the Sigma dock, I was unable to try these modes out.
On the down side, you may notice from the pictures that this lens is missing something most every 100-400mm lens has: a tripod collar.  I'm sure cutting the tripod collar helped reduce the cost of the lens, but it's something that really should be present in a lens of this length.  The weight is right on the borderline of what I'm generally comfortable cantilevering out on the lens mount.  While I feel that the rather robust lens mount of my A7 III is able to handle the size and weight of this lens, I do not feel comfortable shooting tripod mounted with the A6000, as I fear it would potentially cause damage to the mount.
Adapters and Autofocus
Since I was using this lens adapted for Sony E-Mount, this section is going to be a bit different.  The capabilities of the lens on Sony E-mount bodies depends largely on which adapter is used.  I have three different EF to E-mount adapters: the Metabones IV, Fotodiox Pro, and Sigma MC-11.
The Metabones is the most expensive of the bunch, with the current version costing $399 new.  It was among the first adapters that truly provided decent capabilities. The Fotodiox Pro is the least expensive at $99, but I've found in my use that it's quite a good little adapter, though out of the box the shiny plastic inside can cause some issues with reflections.  I bought some blackout flocking and cut it to fit the inside of the adapter, which removed those reflections.
The Sigma MC-11 is in the middle, at $250 retail, but it often goes on sale for $150.  It's a well-built adapter and provides similar capabilities as the others with Canon lenses, but with newer Sigma lenses, the MC-11 offers better compatibility – allowing full use of lens as if it were a native E-mount optic.
Of these three adapters, the Metabones was actually the worst when it came to autofocus with the SIgma 100-400mm. Using this adapter, focus was a bit sluggish and was hit or miss for accuracy in bright outdoor conditions.  Indoors, autofocus was completely unusable. The Fotodiox Pro fared quite a bit better, with reasonable AF speed and good accuracy outdoors, and even passable AF indoors. However, continuous AF wasn't particularly good at accuracy when tracking, and focus on closer subjects would often cause the lens to hunt. Both of these adapters also limit which AF modes are usable and which focus points can be selected.
Unsurprisingly, the MC-11 is by far the best adapter for use with this lens.  With the MC-11, the Sigma 100-400mm behaves as if it were a native E-mount lens, with all focus modes available, such as expanded flexible spot and zone focusing. The lens doesn't focus as quickly as a native lens would, but it really isn't bad at all. In lower light, focus is deliberate, but accurate, even on closer items at the long end of the zoom range.  Outside, single AF works very well, though speed is moderate. AF speed was definitely faster on my A7 III than on my A7 II, though both cameras are usable for general shooting. Two things surprised me with the MC-11.  First, I found C-AF to be quite good, and I could accurately track moving subjects, at least at moderate distances.  Close up, it fared worse.  Second, the MC-11 allowed the 100-400mm to be used on my A6000 with reasonable autofocus in good light, though performance in lower light was far worse than on my A7 III.  With my other adapters on the A6000, you might as well just consider this a manual focus lens.
Is the Sigma 100-400mm a good lens for sports or wildlife on the A7 series? Well, if you have an A7 III or A9, I'd say it will probably do a pretty good job for wildlife work or sports where you are a ways from the action and focus isn't moving towards you rapidly.  If you're shooting tight shots up close for action, or are using one of the older Sony bodies, a native lens will work notably better for you.
In testing continuous AF tracking with my son running towards me, I found the lens to struggle to maintain focus when he was within about 5-10m when shooting at 400mm, but at further distances, especially when using Eye AF, accuracy was pretty good, with about a 75% hit rate shooting at 8fps on my A7 III.
Image Stabilization
The Sigma 100-400mm comes with an optical image stabilizer (OIS) system.  This is an other thing that requires a proper adapter to work correctly.  On A7 II and III bodies with IBIS, the optical stabilizer and in-body stabilizer will conflict with each other when using the Metabones or Fotodiox adapters.  With these adapters, it's best to turn off the lens stabilization and rely solely on the IBIS.  However the MC-11 correctly uses the OIS in conjunction with the IBIS system on my A7 II and A7 III, and allows for stabilization on my A6000 using the OIS only.  On my A7 III with the MC-11, I found the stabilizer good for around 3 stops of stabilization with good technique. It's a nice addition and frankly a much-needed feature on a long lens such as this.