Image Quality
Sharpness
Most prime lenses tend to be quite good performers with regards to image sharpness, and the 35mm f/1.8 OSS is no exception. Images at f/1.8 are quite sharp in the center and even acceptable on the image borders. No resolution records are going to be set at this aperture, but there is more than enough resolving power for most situations.
When stopped down, there is nothing to complain about. Images are extremely sharp in the center and still very good all the way to the corners of the frame, and this holds when focusing at any point throughout the focus range. The lens does a wonderful job for landscapes or times you need high-resolution across the image frame.  Click on the image to the right and then on the green arrow at the bottom to view large and examine the sharpness you can expect from this lens.
Bokeh
The Sony 35mm f/1.8 does a very nice job in most situations with regards to bokeh. While f/1.8 isn't blazing fast for a normal prime, it's certainly wide enough to throw backgrounds pleasingly out of focus at short and mid-range focus distances. The bokeh produced by the lens is quite smooth at closer focus distances and only has a bit of nervousness a bit further away.
The bokeh isn't perfect, however. As I'll discuss further below, out of focus highlights can take on a green outline in some situations, and in the right circumstances, small 'points' can appear on specular highlights as shown in the image below. However, in the vast majority of shooting situations, the lens produces quite pleasing blurred backgrounds.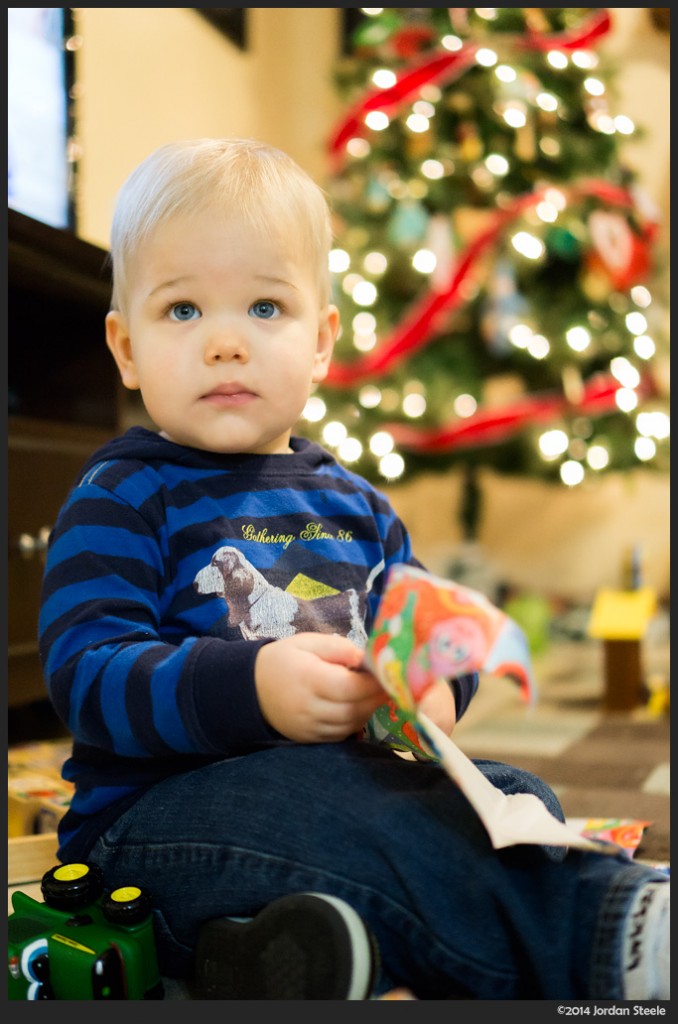 Color, Contrast and Chromatic Aberration
The Sony 35mm f/1.8 produces images with excellent contrast at smaller apertures and moderate contrast at f/1.8. This makes it a good choice for environmental portraiture, where harsh contrast can sometimes be undesirable, as well as a nice choice for landscapes and street shooting where higher contrast might be preferred. Color is neutrally rendered and takes adjustment well.
There is very minimal lateral chromatic aberration present, but it's quite easily correctable in any post-processing software. Longitudinal chromatic aberration does show, however, with green shading behind the focus point and a reddish tint to out of focus areas in front of the focus point. In some situations this will show up in the bokeh as noted above, but only tends to be objectionable when out of focus areas are backlit or very high in contrast.
Distortion, Flare and Vignetting
The 35mm f/1.8 exhibits some mild barrel distortion, but the degree is minor. Only in compositions heavy on straight lines will the distortion become noticeable, and is easily fixed in your post-processing workflow.
The 35mm f/1.8 has only mediocre performance against bright light.  When the sun or a bright light source is near the edge of the frame, the lens does fairly well, but as that source moves towards the inner 1/3 of the image frame, rather bright green ghosting can occur.  It's very easy to see in the viewfinder, so keep an eye out for it and adjust the composition as necessary if you want to avoid flare.
Overall image quality is on a rather high level. While not among the finest optics I've shot with, there are no real dealbreakers either. The lens produces sharp images with good bokeh, nice contrast and relatively minor aberrations.