Wi-Fi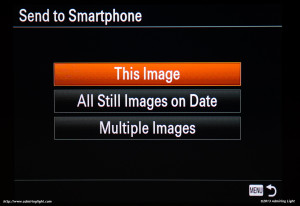 Like most every camera of any consequence released in 2013, the A7 features built-in WiFi capabilities.  It's a feature I never would have really thought I needed last year, but over the course of this year has become something that I would require in any new camera purchase.  I just can't see myself owning any new camera without it.
Sony packed in the usual functionality: image transfer, remote control and geotagging capabilities are all present.  The feature I tend to use most on WiFi enabled cameras is image transfer, and Sony makes it a relatively smooth process.  During image review, just press the center button and a menu pops up to send it to a mobile device.  You can then connect to the camera's WiFi network and transfer the image using Sony's app.  While the app is a little sparse, it works fine.
Sony doesn't have adjustable RAW conversion on the camera (at least that I was able to locate), but it does automatically create a JPEG of your RAW file when transferring to a smartphone.  This is nice and removes a step that many other makers require you to perform before shooting an image to your phone.
The remote control works just fine, though there weren't a whole lot of adjustments that could be made.  By that, I mean essentially no adjustments can be made.  Moving the focus point was challenging as well, which seemed unnecessarily difficult.   Now, I should mention, that there is an update to the built-in remote app that adds many of these features, but it requires connection to the Sony camera app store and a manual update.
Speaking of that, the ability for Sony to add future functionality via camera apps is a great thing, and relatively unique in the industry.  In the time I had the camera, there were few options for apps, but this should grow over time.
Focus Peaking
Like the NEX series beforehand, the A7 features focus peaking to aid in manually focusing.   This overlays a color of your choice on the highest contrast areas of an image, therefore showing you what parts of the image are in focus.  The A7's focus peaking is very visible, but unfortunately, I found it to be rather imprecise.  To aid in visibility, it seems Sony sets the threshold for the peaking outline to be a little too lax.  As a result, when focusing with very fast lenses, the focus point isn't precisely outlined.  Many times I thought I was dead on in focus only to review the images later and find the focus point slightly ahead of or behind where I wanted it.  While the peaking on the Fuji X series isn't nearly as easy to see as that on the NEX, I've found it much more precise in practice.  When using lenses such as my Rokinon 85mm f/1.4 or Canon FL 55mm f/1.2, I eventually just turned off peaking and used the native display of the EVF.
Exposure Warning Zebra
The A7 has a lot of features, and I won't cover all of them here, but one that I hadn't seen before that I found extremely useful was the 'Zebra' setting, which overlays a diagonal striped pattern in areas that are overexposed.  Many other cameras have exposure warning highlights.  For instance, Olympus has red and blue highlights for over and under-exposure, but this is the first time I've seen it as a zebra stripe, and it works extremely well.  The overexposed areas simply jump out at you when composing, and you can easily dial back exposure to make sure you don't lose detail in critical areas.
What's also nice is you can select at what level the striping occurs.  I set it for 100%+, since I just wanted to know when the sensor was clipping, but you can set it as low as 70%.  It's worth noting that these settings are for the current JPEG output, and mildly blown highlights are easily recovered in the RAW file.  Once I used it, I never turned it off.