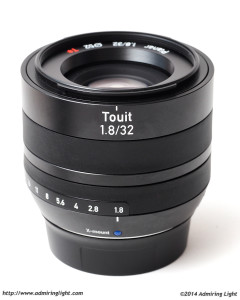 Conclusion
Pros
Very solidly built metal lens barrel with tight construction and smooth operation
Very sharp wide open across the majority of the image frame
Rich color and contrast produces that nice Zeiss look
Excellent resistance to flare
Good control of image distortion and vignetting (though it appears to have some software correction)
Cons
Image edges and corners show minimal improvement stopped down, remaining slightly soft even at small apertures
Bokeh is unremarkable, showing nervousness and asymmetrical highlights at wide apertures
Autofocus is somewhat slow
Pronounced lateral chromatic aberration (though this can be corrected in post-processing)
Price
When Zeiss announced the Touit 32mm f/1.8, my first thought was, "this had better be one heck of an optic for that price."  And indeed, to justify the $1,000 price tag on the Fuji X mount, it did need to be exceptional.  Unfortunately, the Zeiss Touit 32mm f/1.8 is merely 'very good.'  As a result, the high price tag is rather hard to justify, especially when Fuji's own 35mm f/1.4 is 2/3 stop faster and has several advantages over this Zeiss lens.
However, if you're looking for very high image sharpness at wide apertures and the classic high contrast rich color Zeiss look, the price tag may not be a deterrent.  Indeed, Zeiss have created a lens that is very sharp right from f/1.8 and produces images with saturated color and high contrast.  On the down side, the Touit 32mm surprisingly doesn't ever reach outstanding territory on the image edges with regards to sharpness, and suffers from somewhat nervous bokeh at f/1.8.
While chromatic aberrations are present at all apertures, the Touit 32mm does have remarkable resistance to flare and good control of other lens aberrations, resulting in images that for the most part are quite impressive right out of camera.  The Zeiss Touit 32mm f/1.8 Planar T* is a very good lens, but it falls short of exceptional.   That makes it incredibly hard to recommend in lieu of the Fuji XF 35mm f/1.4.
Sample Images
(Click to Enlarge).