Well, as we near the end of the winter months, many of us in the northern parts of the world are experiencing some final punches from mother nature, with cold temperatures and heavy snowfalls for many. We've been spared they heaviest snow here in central Ohio, but have had our share of chilly days in the past few weeks.
For many, when the temperatures drop and the snow starts falling, the first impulse is to cozy up inside and pack the gear away. However, I've found that the coldest mornings and sometimes even during somewhat heavy snowfall, the conditions can align to provide something special. Obviously, shooting in a blizzard isn't a great idea most of the time: it can be dangerous as well as yield poor images, as very little can be visible in these situations, but steady snowfall or cold temperatures can lead to some very nice opportunities.
Be Prepared
One of the key things about shooting in the cold is to be prepared, and I'm not talking about the photography gear, but rather to be prepared for yourself.  It may seem obvious, but if you're preparing for a winter shoot, proper planning for your clothing is essential.  Warm coats, thermals under your pants, snow boots, warm gloves that allow for some dexterity when shooting, and especially protection for your ears, face and head.  I've shot a lot in the cold this past year, and the absolute number one item that has made shooting enjoyable has been a full face covering balaclava.  I'm a glasses wearer, and when fully enclosing your nose, the breath has a tendency to rise up and steam my glasses, so I sometimes will take my glasses off in order to keep my face protected. In any case, having a fleece balaclava has been fantastic, allowing for my ears, head, neck, mouth and nose to be fully covered.  I add a stocking cap on top to keep even more warmth in.  For the most part, when combined with good footwear and a warm coat, I feel warm and comfortable, even when shooting in sub-zero temperatures.
The second part of preparation is having the right gear on hand.  I tend to shoot with a tripod when I'm shooting in very cold conditions, which may seem somewhat counter-intuitive.  However, I find the ability to frame the shot, have the camera set and stable makes for easier operation of the camera without worrying about dropping it.  It also allows for easier lens changes and the ability to put your hands in your pockets from time to time.  Plus, I usually get better shots if I'm working from a tripod, as I think about the composition a bit more.
Finally, plan your equipment with regards to lenses.  If I'm shooting in the cold with gloves on, I don't want to change lenses very often.  For that reason, I will tend to shoot with zoom lenses in winter conditions more than primes, simply to minimize changing lenses in the field.  This is especially important if you're shooting during snowfall, as you don't want snow blowing into the sensor chamber during a lens change.
Why shoot in the cold?
So I mentioned at the beginning that cold conditions can often yield great images, but why?  Of course snowfall can add drama to a scene, but even on a crystal clear or partly clouding morning or evening, really cold days can lead to some excellent light and uncommon weather phenomena.
First of all, when the temperatures drop, the atmosphere tends to yield extremely clear skies, which can produce very rich and vibrant color, even if there aren't a lot of clouds.  The shot below was shot this past week, with the thermometer reading -3°F.  The sky at more moderate temperatures at this time of the morning tends to be a more serene blue, but on this morning, the blue mixed with vibrant purples to produce the sky seen in the image.  Very little contrast and color enhancement was done to the RAW file below.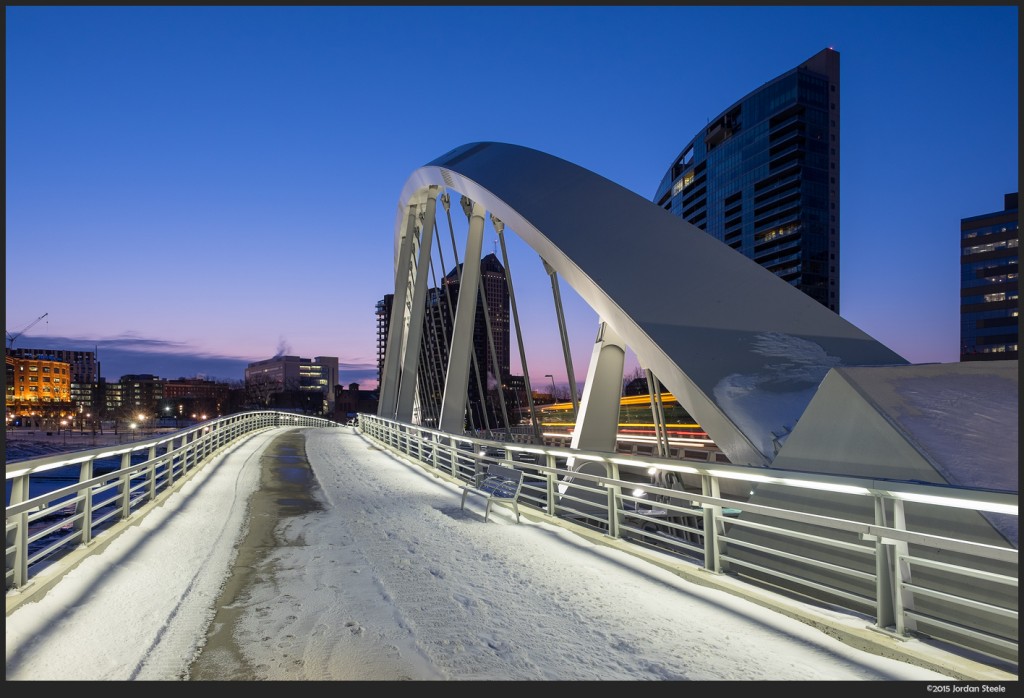 Second, if you are near a river or lake that hasn't completely frozen over, and temperatures suddenly drop to very cold temperatures, there's the potential for things like sea smoke.  Some areas may experience hoar frost, which forms intricate ice crystals on trees, the ground or man-made structures.  All of these can lead to some very interesting imagery that's worth exploring.
Finally, standard snowy weather can be beautiful, and add some drama to a scene that would otherwise be fairly ordinary.
Some final considerations
A few final notes.  First, when coming in from shooting for an extended period of time, leave your camera in the camera bag before moving from a very cold environment to a warm one, as sudden temperature changes can cause condensation to form inside your camera or lens, which is not a good thing.  Simply put the camera in the bag (provided it's been outside with you), close it up, and bring the bag inside with you, leaving it for an hour or so for the temperature to slowly rise.
Shooting in cold conditions can be challenging, and it can be uncomfortable if you aren't prepared, but I've found it to be very rewarding overall.  If you live in a wintry area, don't let the winter slow down your shooting: embrace it and get those great shots.
Below are a smattering of recent winter photos, many of which were taken this past week in temperatures ranging from 10ºF (with high winds) to -6ºF.  Click on any image to enlarge.