There's a fierce running debate about the merits of full frame vs. APS-C or even smaller sensors like Micro 4/3.  Full frame has an image quality advantage due to the larger sensors, and given the same technology, will produce cleaner images with better tonality and larger dynamic range.  Many people will argue that full frame is such a huge leap in image quality that the smaller sensors aren't even worth their time.  For some shooters, this may well be the case: they need every ounce of image quality out of their cameras that they can get, due to shooting in demanding situations, printing huge or other considerations.  Others prefer full frame because of the ability to provide greater subject separation with fast glass. People who shoot a lot in dim light may want or need the better high ISO performance that comes with the larger sensor.  Those advantages are tangible and real, and while all large sensor cameras produce pretty darn good images at high ISO nowadays, full frame will still provide the cleanest results at high ISO if the sensor technologies are comparable.
These are all valid reasons to choose one format over another, but how does Full Frame stack up against APS-C in a situation where we're shooting at base ISO on a tripod?  The classic landscape shooting scenario?  Many will still argue there's a big difference, but how big is that difference?  To try to start to answer that question, I took my a6000 along with me when I was out shooting with the new A7II and 16-35mm OSS.  The A7II + 16-35mm combination pairs a brand-new 24 megapixel full frame camera with a pro-grade ultra-wide angle zoom.  The combination together retails for $3,046.  On the smaller side, I brought the a6000 and the Rokinon 12mm f/2. This is the latest 24 Megapixel APS-C sensor from Sony, along with a very good ultra-wide prime. This combination together retails for $857 at the moment. That's quite a monetary savings.  The lens and body together weight 549g, which is slightly lighter than the A7 II body by itself.
The Test
First off: a disclaimer.  This test does not test all aspects of full frame vs. APS-C.  It tests it in two typical landscape situations.  I didn't have a chance to test the cameras in a bright sunlight situation, and I'd have liked to, but this is what you get.  It is also not a test per se between the lenses. These are two lenses that are both very good, but obviously each has strenghts and weaknesses. I'm looking at noise, tonal rolloff, etc as the primary concerns in this test.
In the course of my shooting with the A7 II, I stopped during two scenes to switch to the a6000 and capture a similar scene.  Due to how the body plates attached, I wasn't able to keep exact framing between the two shots, but they are very close (the tripod was not moved).  All images were taken tripod mounted, stabilization off (in the case of the A7 II), with 2 second remote release.  Image processing was identical (save for white balance adjustments to get them as close as possible in tonal display).  Aperture was adjusted to provide similar depth of field for each image (for instance, f/16 on the A7 II, f/11 on the a6000).  As such, the exposures are longer on the A7 II shot, so water might look slightly smoother as a result.
Image 1: Under the falls.  This shot had a somewhat wide range of tones, with the area under the ledge being quite dark, and the area beyond the falls being light by ambient daylight.  Exposure was adjusted to taste for highlights and shadows and then duplicated on the other camera's images.  All images are at ISO 100.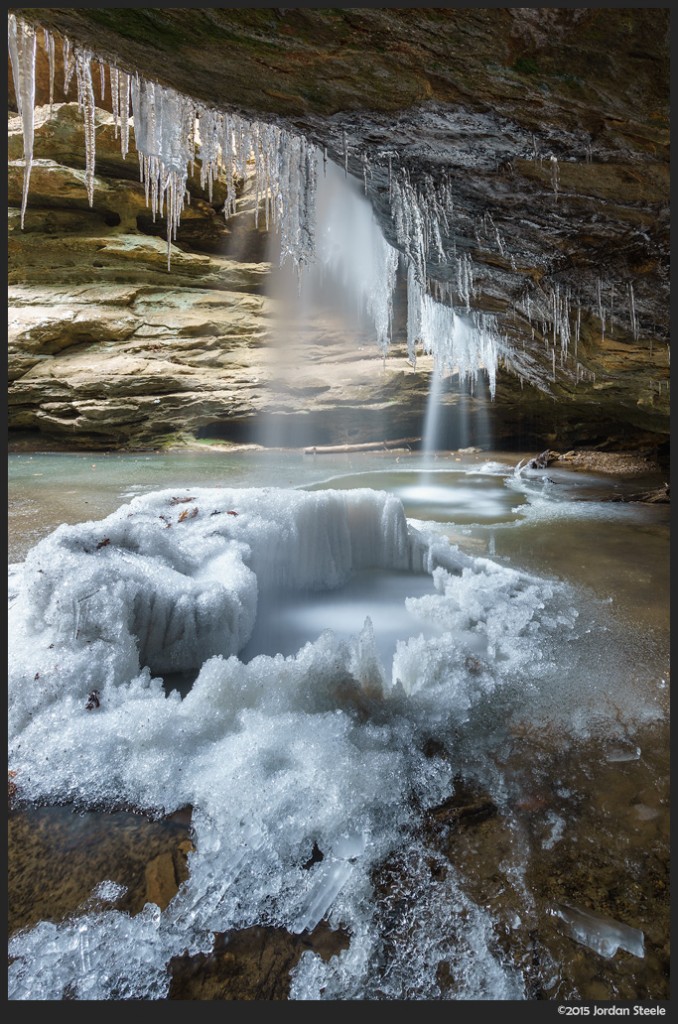 As you can see from the shots above, the overall images are extremely similar.  But how do they compare when examining the files at full size?  Below I've compiled 100% crops from the images at four locations in the frame.  Click on the image to enlarge, then click on the green arrow at the bottom of the screen to view at 100%.
The result?  Well, the A7 II image is better.  Slightly.  VERY slightly.  There is slightly more subtle tonal gradation that can be seen in the last crop, and very slightly smoother quality in the shadow areas.  The thing is, you have to REALLY look to see these differences, and they're only apparent when viewing images side by side at 100%.  I'm confident that these differences would be invisible until we start printing up around 24″ or larger, and even then, you'd need to be very closely examining the prints.  With different scenes and such?  In my opinion, you'd never be able to tell these apart.
Image 2
For the next image, I had a broad depth of field I was trying to cover, with the close rock (which drops off a ledge) leading to the waterfall.  As such, I was stopped down to f/16 on the FF combo and f/11 on the a6000.  I made a small goof in framing here, setting the 16-35mm to 21mm instead of 18mm, so details will be slightly larger in the A7 II crops as a result, but this isn't an assessment of lens quality, but rather how the sensor images things.  This is also a good test because both images were underexposed, and therefore pushed in postprocessing by 1.1 stops in Lightroom. This will give us an idea how these cameras respond to somewhat significant exposure adjustments and processing for this type of work.  First, the images: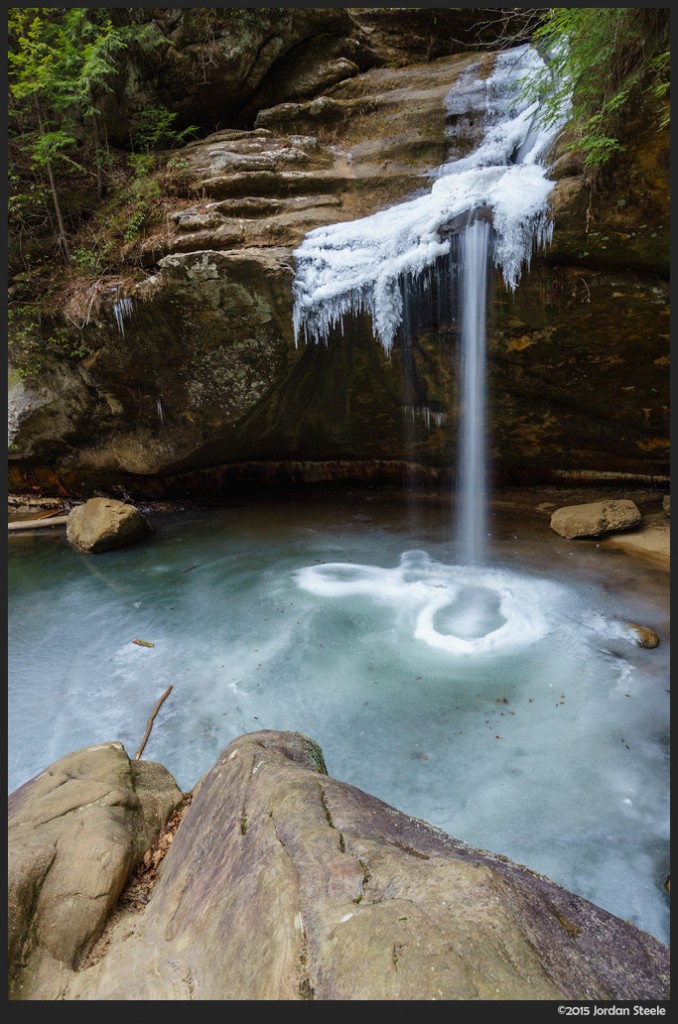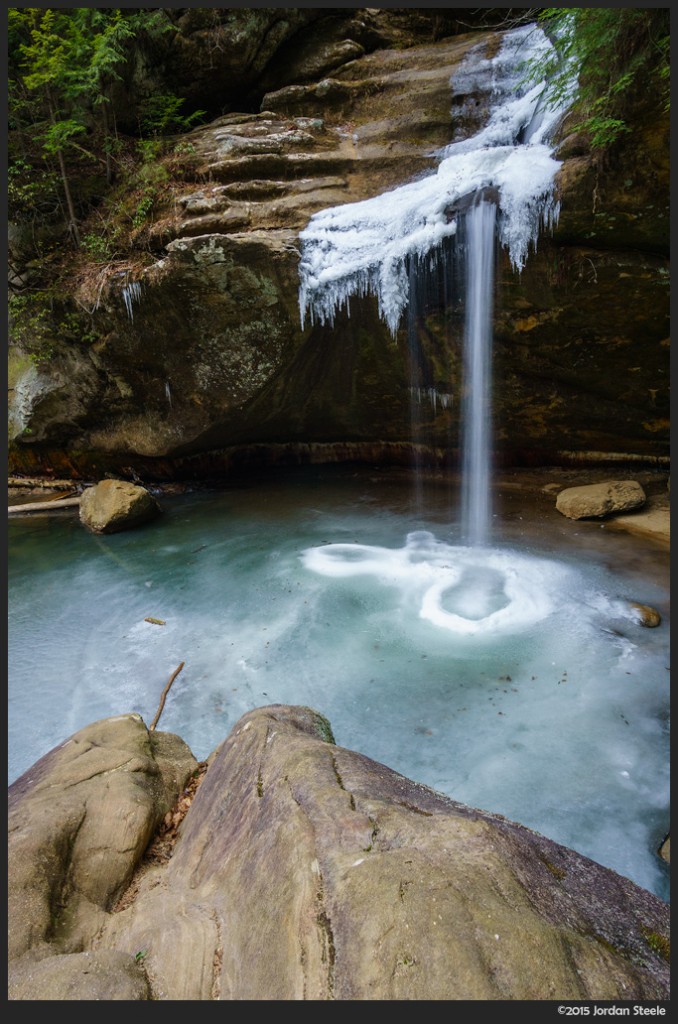 Again, the two images look awfully similar.  Let's dive in up close:
Again, the images are extremely close.  The A7 II has a little lower noise in the pushed shadows from the exposure adjustment, but otherwise, they are very similar images.  If you're just looking at cost, is the difference above worth over triple the price and double the weight?  That's something only you can answer. In this situation, I personally think the differences are small enough as to be negligible, but only each photographer can make that determination for how it impacts their photography.
I do think it's clear that, for landscape use at least, the differences between full-frame and APS-C are not quite as big as is often made out to be.  On the flip side, this test doesn't take into account the other benefits of moving to a full-frame sensor: better noise control and better subject isolation with fast lenses, and the A7 II definitely does still have an advantage in image quality here.  It's just rather small.  This is just one test among thousands that could be performed, but hopefully this helps you cut through some of the hyperbole that often comes out in discussions of sensor size.  If landscape use is your primary reason for shooting, it is worth looking at the whole picture, and pick a camera and system that fits your needs better.
If you're interested in more about each of the piece of gear compared here, check out my in-depth reviews for the Sony A7 II, Sony a6000, Zeiss FE 16-35mm, and Rokinon 12mm f/2
Purchasing your gear through the B&H Product Links below helps support Admiring Light without any additional cost to you.