The Fujifilm X-T1 has been a hot topic in the photography industry the past few months.  Many photographers are drawn to the old-school control scheme in a rugged, capable body with big performance improvements over previous Fuji cameras and a gloriously large EVF.  However, one of the things that has been nearly universally criticized about the camera is the tactile feel of the 4-way controller (or D-Pad) buttons on the rear of the camera.  In my review of the X-T1, it was certainly one of the things I knocked about the camera.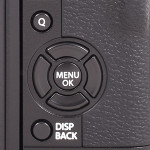 The early release of the X-T1 also revealed a light leak issue with early batches of the camera, where light could infiltrate the light box through the side ports or autofocus assist lamp.  While Fuji has publicly acknowledged the light leak, and has promised a fix for those early cameras and a change to current production to fix this, they have been silent about the 4-way controller buttons.  However, just because they have been quiet about them, doesn't mean they haven't been listening.  There have been some reports of users sending their X-T1s in to get repaired for the light leak, and coming back with better D-Pad buttons.  Others have also noted a better feel.
Having just obtained a second X-T1 with a 42A##### serial number, I can confirm that Fuji has indeed made a change to their manufacturing on the D-Pad from the early batches.  The X-T1 in my possession now features 4-way buttons that have a nice positive click to them.  The camera I reviewed in March had a distinctly mushy feel to the buttons. While the buttons are still somewhat recessed compared to the X-E2 or other X-Series cameras, they give notably better tactile feedback when pressing them compared to the first X-T1 I handled.  Nice to see that Fuji is listening, even in the middle of production.