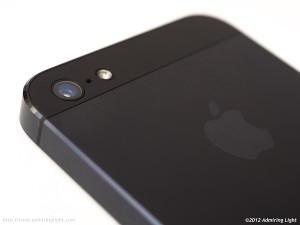 Like millions of other people, I got a new iPhone 5 today.  While there are a number of improvements to the phone itself, since this is a photography site, I thought I'd give a quick peek at the camera.  I will probably do a review of the iPhone 5 camera in the future, comparing it to the iPhone 4S.
Tonight, though, just a quick shot.  Both the iPhone 4S and the iPhone 5 share nearly identical hardware…they are both 8 megapixel sensors on a 1/3.2″ sensor with a 5 element f/2.4 lens.  However, the iPhone 5 has a few tweaks that are supposedly better in low light.
For this shot, I shot with both the iPhone 5 and the iPhone 4S side by side and shot at the same time.  The iPhone 5 shot is a little earlier just because it takes shots essentially instantaneously, while the 4S lags a little bit.    Below are 50% crops from the image.  iPhone 4S on top, iPhone 5 on the bottom.
As you can see, low light shooting is indeed improved a little on the iPhone 5.  While it obviously won't compare to a mirrorless CSC, DSLR or even a high end compact, it doesn't fare too poorly.  There is a little more detail in the iPhone 5 shot, with better separation in her hair, as well as much better contrast.  Noise is a little better controlled as well.  Not too bad.