Fujifilm released several firmware updates today. There are updates for both the X-T1 and the X100T that fix a few issues. The X-T1 updates focus on fixing flash not firing if the mechanical+electronic shutter setting is on, even with the shutter speed below sync speed, along with a few other remote and tethering fixes. The X100T fixes the flash issue above as well as some viewfinder improvements and settings with the conversion lenses.
But for me, the most interesting was the release of new firmware for four OIS lenses, the 10-24mm f/4, the 18-55mm f/2.8-4, the 18-135mm f/3.5-5.6 and the 55-200mm f/3.5-4.8. This new firmware promises "improvement of stability of OIS function." Given the broad range of what that can encompass, I thought I'd do a somewhat informal test before updating my lenses. For this somewhat unscientific test (true results need a much larger sample size and mechanically similar shake for each shot.) Since I don't own a calibrated hand shake rig, I had to rely simply on shooting the images myself and seeing where they ended up.
I own three of the four lenses that have updates here, so I took sample images sitting in my chair, but with arms free, using the EVF of my X-T1. First, I took images at a variety of shutter speeds to determine effective stability under the old firmware, with three shots at each shutter speed setting. I then updated the firmware (including the X-T1's firmware), and did the test again.
Results are below. The number out of three is the number of shots that were sharp at that shutter speed setting under the new and old firmware, to see if there was any marked improvement. I consider getting 2 of 3 shots sharp being successful at that shutter speed.
Fujinon XF 10-24mm f/4 OIS @ 10mm:
| | Firmware v. 1.00 | Firmware v. 1.01 |
| --- | --- | --- |
| 1/4s | | |
| 1/2s | | |
| 1s | | |
| 1.8s | | |
Fujinon XF 10-24mm f/4 OIS @ 24mm
| | Firmware v. 1.00 | Firmware v. 1.01 |
| --- | --- | --- |
| 1/20s | | |
| 1/10s | | |
| 1/5s | | |
| 0.4s | | |
| 0.8s | | |
As you can see above, while the firmware update had minimal effect at 10mm (the OIS is already incredible here, with 3/3 shots at 1 full second sharp), there was dramatic improvement at 24mm. With the original firmware, the IS was only effective in this test to approximately 2 stops slower than unstabilized. Following the firmware update, I'm getting close to 4 stops at 24mm. I'm very pleased with this improvement. One thing to note, that doesn't show up in the chart is that, especially at 10mm, the ones that weren't sharp at 1.8s with the new firmware were much closer to being sharp than the 1.8s exposures under firmware 1.00. This, plus the fact that I was able to get 1 out of the 3 sharp at the insanely slow speed of 1.8s, tells me there is still some minor improvement at the 10mm end as well.
Fujinon XF 18-55mm f/2.8-4 OIS @ 55mm
| | Firmware v. 3.11 | Firmware v. 3.12 |
| --- | --- | --- |
| 1/20s | | |
| 1/10s | | |
| 1/5s | | |
| 0.4s | | |
| 0.8s | | |
With the 18-55, the improvement is less clear. I had less success at 1/5s, and more success at 0.4 seconds, but a difference of 1 either way is certainly in the realm of chance with a sample size this small. The minor improvements here are most apparent with the level of sharpness in the 'sharp' shots. They appear to be much better on the new firmware, with an almost tripod-like crispness.
For an example, below are two crops from the sharpest example of each set at 1/10s. The v3.11 firmware on the top, and v3.12 firmware on the bottom. Click to view at 100%. Note that while there isn't any notable motion blur, the earlier firmware image is just a very slightly bit soft. The new firmware keeps that rock solid, and gives the same sort of performance that I am used to when shooting with this lens on a tripod. The OIS always felt just slightly 'off' on the 18-55 (and I've actually shot with 3 copies, with similar results)…with the new firmware, that 'off' feeling is gone, replaced with very good, solid images. This was the case for essentially all the shots with the 18-55mm on old vs. new firmware.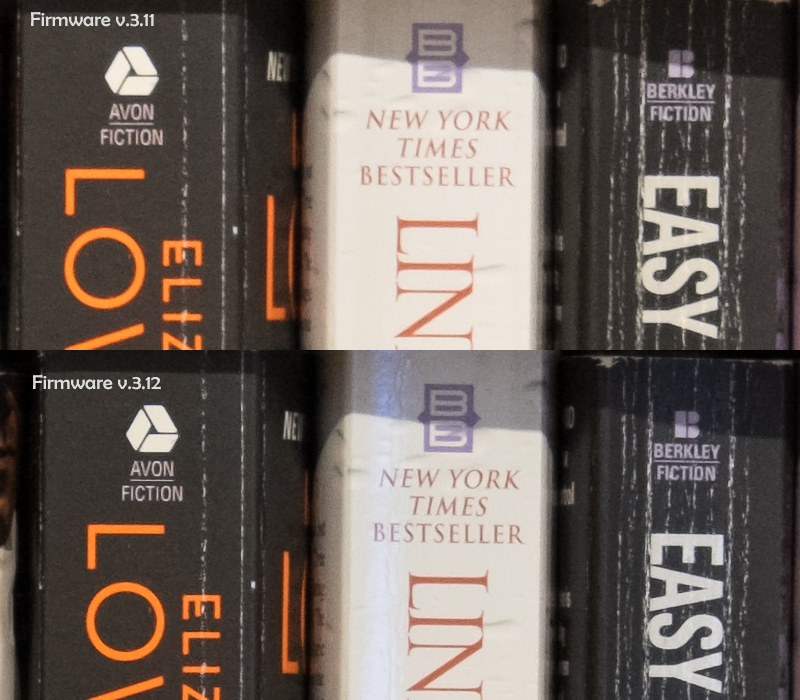 Fujinon XF 55-200mm f/3.5-4.8 OIS @ 100mm
| | Firmware v. 1.10 | Firmware v. 1.12 |
| --- | --- | --- |
| 1/20s | | |
| 1/10s | | |
| 1/5s | | |
| 0.4s | | |
Fujinon XF 55-200mm f/3.5-4.8 OIS @ 200mm
| | Firmware v. 1.10 | Firmware v. 1.12 |
| --- | --- | --- |
| 1/15s | | |
| 1/8s | | |
| 1/4s | | |
With the 55-200mm, again, we have minor improvements. I was able to get one sharp shot more per sequence at 100mm at 1/10, 1/5 and 0.4s, showing some minor improvement, but again, in this small sample size, it's hard to say too much definitively here. It certainly doesn't hurt the quality, and some minor improvements can be seen.
Conclusion
Overall, the firmware updates for the Fuji zoom lenses appear to provide some benefit in all cases. These can range from fairly minor improvements, in the case of the 55-200mm, to a nice increase in sharpness for the 18-55mm, and a dramatic improvement with the 10-24mm. Again, this test isn't perfect, and is somewhat limited by the small sample size, but I think it points to some nice improvements from Fuji with this latest round of updates.