I've driven past Firestone Alley in Columbus several times before.  It's a little street in the Arena District, just west of Huntington Park, where the Columbus Clippers, the AAA affiliate of the Cleveland Indians, play.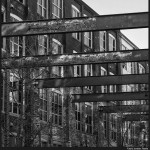 This little place is home to the Buggy Works, a residential and office space that they built around this alley.  It's a really unique little place, as some of the walls and such in the alley are extremely old, or at least appear to be originally old, with peeling paint and rusted metal protruding in spots.  On the other side is a relatively new brick facade for the large building.  Huge partially rusted steel I-beams span the brick street.  When the place was renovated for its current occupancy, they decided to leave the decaying urban feel, and it's a unique spot.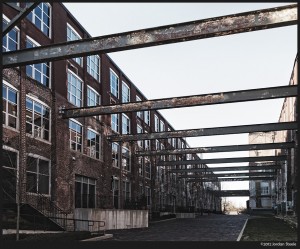 Today I finally stopped to take a few pictures.  I wasn't the only one, as another photographer was doing a portrait shoot at the same time.  Packing only my GX1, 12/2 and 45/1.8 lenses, I took about a half an hour to explore the short space.  Despite the fact that it's really not very large, (about a block long), there are plenty of things to catch your eye.  I may have to come back with a portrait subject of my own….