I'm excited enough about today's lens to throw some quick impressions out ahead of a full review. Laowa is the lens brand for Venus Optics, a relatively new optical company that has made quite a splash in the industry over the past 9 years by creating quality lenses that fill niches that the traditional lens manufacturers have generally ignored. They have specialized in high-magnification macro lenses, ultra-wide angle lenses and more specialist lenses such as their 25mm macro probe lens (that has seen wide use in the filmmaking industry) and their perspective correcting shift lenses.
The 20mm f/4 Zero-D Shift lens is the latest in the last category, providing a super-wide field of view with a large image circle and 11mm of shift capability. I reviewed their 15mm f/4.5 shift lens last year, and really enjoyed using it. That lens is the widest shift lens currently available, and opened up some unique opportunities for architectural photography. This 20mm lens is perhaps a more practical focal length, and I think it really hits a sweet spot for a wide-angle shift lens.
The Laowa 20mm f/4 Zero-D Shift is available for almost every camera system around today. Laowa makes it natively for Canon EF, Canon RF, Nikon F, Nikon Z, Sony FE, Panasonic/Sigma/Leica L-mount, Pentax K and even Fujifilm GFX, where the lens can still shift up to 8mm and cover the larger medium format sensor. The version I have is the Canon RF mount version.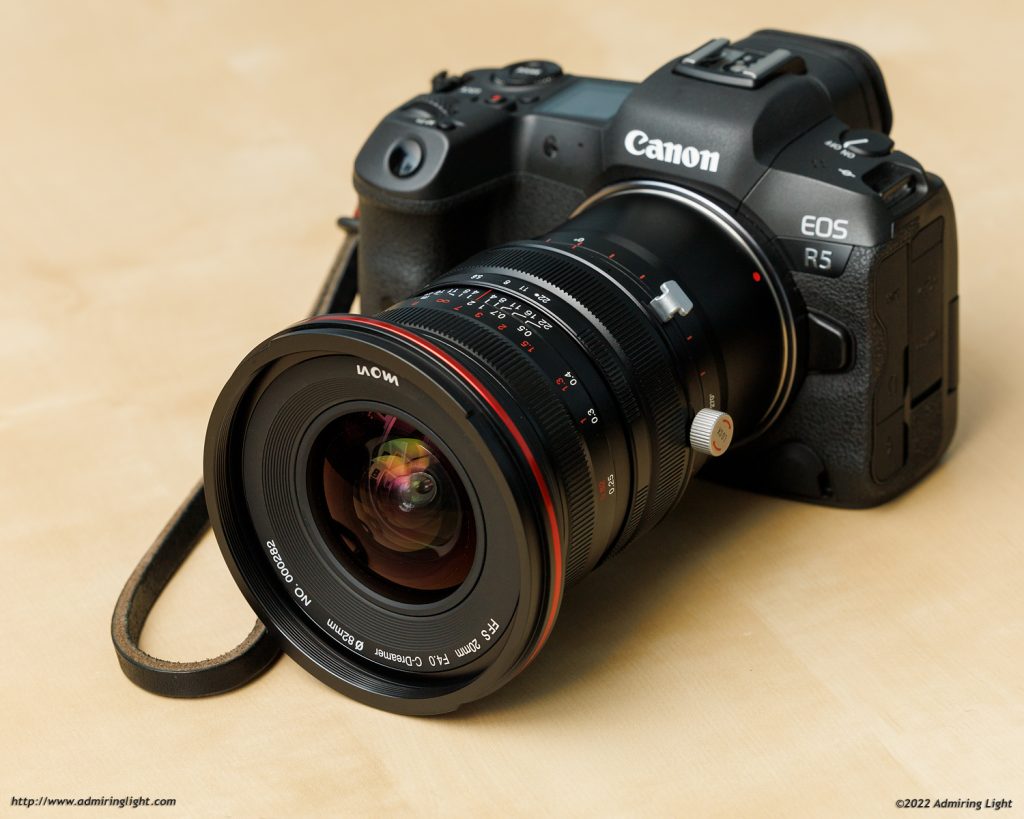 So What's a Shift Lens?
If you haven't ever used a shift lens before, they essentially work by having an image circle that is significantly larger than the image sensor. As such, this image circle can be shifted up, down, left, right, or diagonally to capture an image from various parts of the image circle. If you've shot pictures of tall buildings, you know that angling your camera up or down to capture an image causes straight lines to converge towards the top of the frame (when angled up) or the bottom of the frame (when angled down). A shift lens allows you to keep the camera perfectly level, thereby ensuring perfectly straight lines, and then shift the optics of the lens to provide the framing you desire. This method of perspective correction results in significantly better quality than using a wider lens and then correcting the vertical lines during post-processing.
Shift lenses also allow for framing a composition from a slightly different angle than you might otherwise be able to do. Using diagonal shift can allow you to position yourself for a specific perspective, while framing off center of that perspective. This can be helpful for aligning elements in the frame in a specific way, or for shooting an image with a reflective surface while not capturing yourself in the photo.
Also, because you are shifting parts of a single image circle, shift panoramas become very easy to create, and with excellent alignment. This can be used to get a fair bit of extra width out of the lens, including keeping perspective correction. The full image circle of the lens can yield shift panoramas with a field of view like that of a 13 or 14mm lens, with around 90 megapixels of data.
Initial thoughts on construction and handling
Like almost all of Laowa's lenses (the EF mount 100mm Macro being the lone exception), the 20mm Shift is a fully manual lens, with no electronic communication with the camera. The Laowa 20mm shift lens is built of solid metal and glass, like the majority of Laowa's lenses. Controls move nicely, with good tactile feedback. The controls of this lens are identical to that of the 15mm f/4.5 Shift lens, with focus ring near the front of the lens, then an aperture ring, and finally the shift ring, which is geared to shift the optical assembly. Finally, there is a pushbutton that unlocks the rotation of the lens, to position the shift axis. Also like the 15mm lens, the Laowa 20mm is not a tilt-shift lens, so there is no tilting of the focal plane.
The lens handles well, and seems quite well constructed.
The lens comes with a unique and very solid metal lens hood that secures to the lens via a bayonet and is fixed in place with a thumb screw. When shooting unshifted, the hood provides nice shading of the front element. However, when shifting beyond a few millimeters, the petals of the hood can intrude into the shot. To solve this problem, the petals of the hood itself can be rotated, and have click stops every 15 degrees, just like the lens optical assembly. When shifting vertically, you simply rotate the hood so the larger petals are at the sides, and you will have no intrusion of the hood into the frame. This can be adjusted for any angle, and works to keep the hood out of frame in most positions, though at 45 degree angles, the hood will still intrude slightly at maximum shift. For these situations, it's wise to remove the hood entirely.
One really nice thing about this lens is that it also takes standard screw-in front filters, with an 82mm filter thread. This is the widest shift lens that can take standard filters, as the Nikon 19mm, Canon 17mm and Laowa 15mm lenses all have protruding front elements. Laowa does also make a 15mm f/4 Macro Shift lens that takes front filters, but that lens is not really designed for serious perspective correction, or to be a shift lens first, as the axis of shift cannot be rotated, and it only offers 6mm of shifting capability.
Initial thoughts on Optics
So with all that out of the way, how does the Laowa 20mm shift lens perform? Well, pretty darn good from my first outing with it. The lens is a bit soft at f/4, but stopping down improves sharpness considerably, and at f/8 to f/11, the lens is quite sharp from corner to corner, even when shifted. There is a mid-zone dip at wider apertures that is mostly resolved by f/8, but that's about all there is to complain about in the sharpness department. Color and contrast looks good, and while the lens shows some ghosting with the sun just out of frame like its 15mm brother, the ghosting and flare seems better controlled than on that lens.
Overall, my first impressions are quite positive. The lens has almost no distortion, even when shifted, the controls are nice to use and the quality is quite good. I think I'm really going to enjoy using this lens. I've always liked using shift lenses, and I shoot a lot of architectural subjects. Like all shift lenses, the Laowa 20mm is most at home on a tripod, where careful composition, focusing and leveling of the camera can be performed without compromising the final image.
Below are some of my first shots with the lens. I'm really excited to see that Laowa is continuing to develop lenses like this, which really fill a need in the photography community. My full review of the Laowa 20mm f/4 will be coming in the next several weeks.