The Micro 4/3 system has been around for a while now, and early on, each of the two main Micro 4/3 companies released their ultra wide-angle lenses.  Panasonic came out with the impressively specified 7-14mm f/4, while Olympus went a little more moderate, but shot for size, creating the incredibly tiny 9-18mm f/4-5.6.
I've owned the 7-14mm for several years now, and it's been a fantastic lens for me.  I love the extreme wide-angle possibilities at 7mm, and there's no denying it's got quality optics.  However, I've recently noticed I tend to leave it at home unless I know I'll be shooting really wide-angle stuff.  It takes up a lot of space in the bag, as it's one of the larger Micro 4/3 lenses out there, and as you may have heard, it also can occasionally suffer from excessively purple flare when used in conjunction with the latest Olympus sensors (in the OM-D, E-PL5, E-PM2 and E-P5).  So, I started giving the Olympus another look.
I was hesitant to go down this road, as I love the 7-14.  That extra width would be hard to give up, and by all accounts, it's superior optically as well…but the size and lack of purple flare with the Olympus intrigued me, so I snagged a 9-18 to test out and decide which direction I would go…would I keep the 7-14 or swap it for the 9-18 (picking up some extra money in the process)?  So, of course, I have been testing the 9-18 out the last several days and comparing it to the venerable 7-14mm.
If you're buying an ultra-wide for Micro 4/3, which lens should you get?  Let's take a look…
The Lenses
The Panasonic 7-14mm f/4 is quite small for such an extreme wide-angle, equivalent in angle of view to a 14mm-28mm lens on full frame.  However, it's still a little on the bulky side for a Micro 4/3 lens, especially with the rather large front element and built in hood and its large lens cap that fits over that built in hood.  It's a solidly built lens with no wobbles and very tight tolerances.  It feels like a pro-grade lens.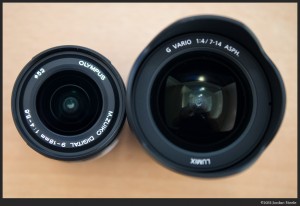 The Olympus 9-18mm f/4-5.6, on the other hand, is downright tiny.  It uses a collapsible design, similar to the 14-42mm kit lenses from Olympus, though with a little higher end build than those.  It shares the same cheap plastic look that the original 14-42mm lens carries, but thankfully, it feels MUCH better put together than that lens.  The zoom action is beautifully damped and smooth and the overall fit and finish is very nice, though not quite as solid as the Panasonic.  However, the unique collapsing design means that when you aren't using the lens, it is very small.  It's almost half the length of the Panasonic, and has a much smaller diameter as well, making it take up a lot less space in a bag.  It also has front filter threads, allowing you to mount filters.  The 7-14mm can't take filters unless you create a home-made rig to hold square filters.
The 7-14 certainly feels like the better built lens, but there is something eminently satisfying about using the 9-18mm.  It's just so tiny for an ultra-wide that it's hard to believe it actually does what it does.
On the next page, let's take a look at how they perform optically: