Performance/AF
The GX1 is a quick and responsive camera. Start up time is quick, with the camera ready to go in about a half a second or so. There is a small delay when instantly trying to review images on the LCD while the card is still writing images. This is generally not an issue unless you have just shot a burst and want to review images quickly, where the delay can ramp up into the 10-15 second range with a full buffer. Burst mode is rated at 4.2 frames per second in high, which does not enable a live view, or about 3 frames per second in medium (with live view). It also offers a 20 fps mode for 4MP JPEG images only, and uses the electronic shutter. The last mode is great for high speed shooting where motion is all in the same plane, such as a golf swing or perhaps for catching water droplet ripples. While perfectly adequate for everyday use, it is safe to say that the GX1 is not a sports camera.
Panasonic was one of the first companies to really make contrast-detect autofocus (CDAF) a viable alternative to the phase-detect autofocus found in DSLRs. CDAF used to be incredibly slow, but Panasonic managed good speed and extremely high accuracy with their first Micro 4/3 camera, the G1. They've continued to improve, and they claim that the GX1 is the best iteration yet. Indeed, autofocus is blazing fast in single shot mode, easily outstripping even my pro-level DSLR in both good and poor light. Panasonic claims that autofocus can lock in as little as 0.09 seconds with a fast focusing lens, and I have no reason to doubt their claims. With a fast lens like the Leica 25mm f/1.4 or Olympus 45mm f/1.8, focus seems to lock nearly instantly. One advantage over phase-detect systems is that CDAF is extremely accurate. Front and back-focusing from miscalibrated lenses or bodies is a complete non-issue, and is in fact essentially impossible due to the nature of the focusing system.
One drawback to CDAF, though, is that it is inferior to PDAF for tracking motion. While the GX1 offers a focus tracking mode, which identifies an object and follows it as it moves in the frame, as well as an excellent face detection mode, the continuous autofocus is not as accurate or fast as most DSLRs on the market. The GX1, however, seems to inch ever closer towards acceptability in this realm. While I haven't had a chance to fully test out continuous focus, in the limited testing I did, results seemed better than on my GH2.
Flash
The GX1 comes with a built in pop-up flash that is activated with a button on the rear of the camera. Like most small flashes, it has enough power for close up shots, but that's about it. It does sit high enough to provide relatively decent illumination for macro photography. In theory, one nice feature with this pop-up flash is the ability to bounce it straight up. The flash is hinged in a way that you can hold it back and point it directly at the ceiling for some bounce flash. Unfortunately, the flash doesn't have enough power to generally make this feasible. If you shoot at around ISO 640 with an f/1.4 lens, the bounce will work for close subjects, though using higher ISOs sort of defeats the purpose of using flash. I tend to stick to my external flashgun for times I need flash, which the GX1 operates as you'd expect.
Edit 3/1/12: After using the pop-up flash's bounce capabilities for some time, I have actually found it to be quite useful, and one of its best unsung features. Read about it and see what it can do here.
Image Quality
With the same 16 MP Live MOS sensor as the G3, the GX1 enters the top tier of m4/3 bodies with regards to image quality. Though the sensors for the GH2, G3 and GX1 are all very similar, there are some subtle differences. I have not had the opportunity to shoot with the G3, though I have owned the GH2 for over a year, and so I can speak to image quality in terms of that.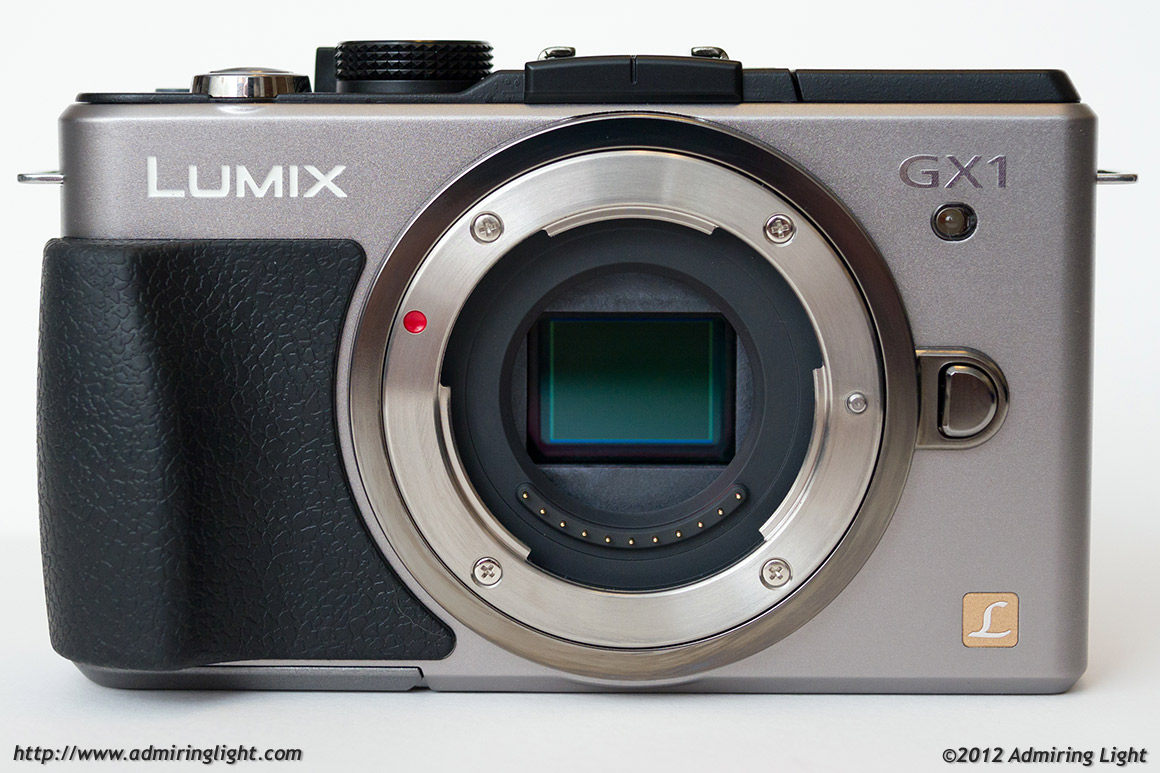 I am not a JPEG shooter, so I have only taken limited JPEGs as a matter of testing the camera. One good thing to report is that JPEG color seems improved to me. There do not seem to be any obvious color casts to the JPEGs and colors were generally natural and pleasing. The default settings for JPEG are somewhat heavy handed when it comes to noise control, and some fine detail is lost in the standard settings, though for the most part, this wouldn't become evident even when compared directly against the RAW file until you started printing very large.
Noise is well controlled in JPEGs, with essentially no visible noise until you reach ISO 1600. At 1600 and higher, artifacting and color smearing begin to creep in. It looks relatively natural until ISO 3200 where color blotching starts to be visible. I personally would prefer a noisier image with better integrity.
Shooting RAW, there is more visible noise, but also much more detail, and using a modern RAW converter like Lightroom allows you to apply a very natural noise reduction technique at high ISO. Using Lightroom and RAW, I find the GX1 shots to be relatively low in noise through ISO 800, with ISO 1250 and ISO 1600 having a more fine grained noise throughout the image frame. Even though noise continues to ramp up through the higher ISOs, it is rather well controlled compared to the GH2. Also, the files take RAW noise reduction very well. Even ISO 6400 shots can take luminance noise reduction in Lightroom up to about level 50 without losing too much detail. I think at ISO 6400 with proper noise reduction techniques, good 10×15 inch prints are easily possible. Even ISO 12,800 shots are usable for small prints and web use, and if you don't mind a bit of grain, I think 8×12″ prints are more than doable. This is a rather big improvement over the GH2. I find that the GX1 maintains its color balance and dynamic range significantly better than the GH2 at the higher ISOs, and this is a welcome improvement.
At low ISOs, like many Micro 4/3 cameras, there is a very fine grain in skies, that can be eliminated at the pixel level by light noise reduction, though in my opinion it is a non-issue, as it will never appear in prints or in web use. The GX1 has decent dynamic range and good color response in RAW. Overall, the GX1 is capable of very good still image quality. The sensor with good lenses is able to resolve impressive amounts of detail, even at high ISO. Obviously, larger sensor cameras are still ahead in the dynamic range department, but I find the GX1 files will make excellent 12×18″ prints and very good prints up to 20×30″.
Next up: Video