I've been reviewing a lot of Canon's interesting light weight consumer-grade optics as of late, and continues with today's review of the Canon RF 800mm f/11 IS STM. The 800mm f/11 was announced alongside the similar 600mm f/11 lens, providing super-telephoto reach with a slow aperture and an affordable price. Like many of Canon's lower end RF lenses, I originally dismissed this lens as too slow, too cheap and not worth my time. And like those other lenses, after seeing the images come out of the 800mm f/11, and trying it for myself, I can see the lens is very much worth my time, and it may very well be worth yours as well.
800mm lenses are historically a bit of a rare breed. The major 35mm players have all released 800mm lenses over the years, but they don't get refreshed that often, and due to the huge focal length and the apertures required for focusing, they have generally been enormous lenses. Canon's EF 800mm f/5.6 is 10 lbs and 18.5 inches long. Nikon's F mount 800mm f/5.6 is similarly sized. Pentax even released an 800mm f/4 for their 6×7 camera lineup back in the day…a rare lens with an enormous aperture and giant image circle (with a field of view and depth of field like that of a 400mm f/2 on 35mm) that weighed a whopping 39lbs!
Only recently, with special diffractive optics technologies and other strategies, have these supertelephotos begun to shrink a bit. Canon's RF 800mm f/5.6 is only 6.9 lbs and 17″ in length. Nikon's brand new 800mm f/6.3 PF is a wonder of engineering, and drops that size to 15.2″ in length and just 5.2 lbs. But Canon's RF 800mm f/11, while definitely the slowest of this 800mm bunch, comes in at a miniscule 11.75″ (when collapsed) and 2.77 lbs. That is downright tiny for this level of reach. At just $999 (originally $899 at launch), the lens is also very affordable for this amount of reach. The compromise, of course, is that f/11 fixed aperture, but let's dive in and see what other compromises or surprises there may be.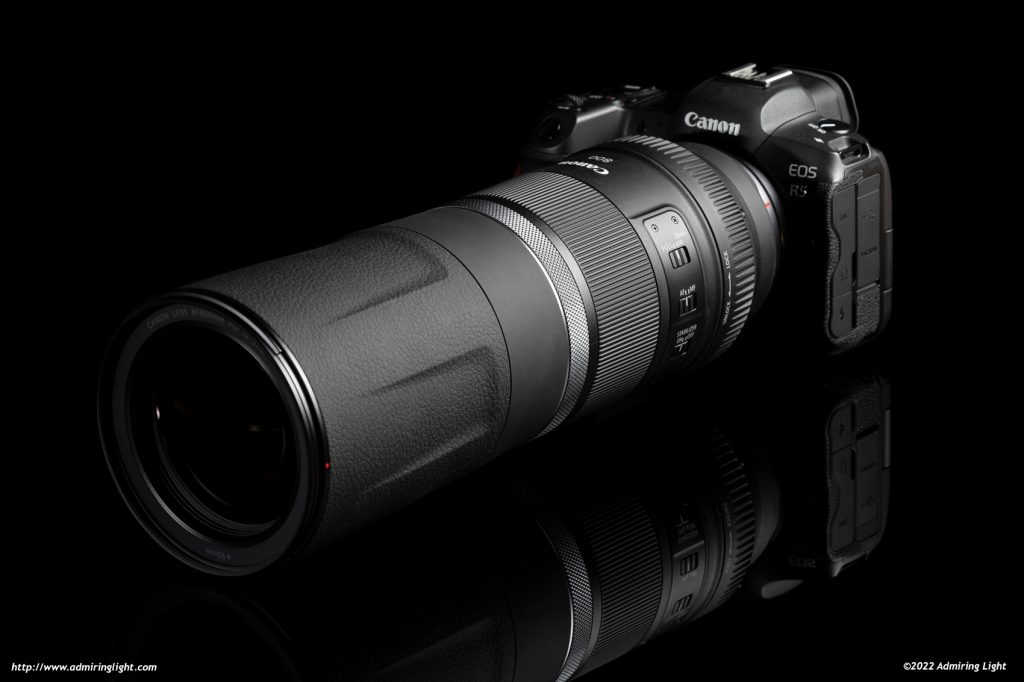 If you haven't visited my site before, I review cameras and lenses from a real-world shooting perspective. You won't find lens charts or test subjects here. I take a look at how a piece of equipment works for me out in the field.
Construction and Handling
The RF 800mm f/11 looks unlike most any lens I've seen from Canon before. It looks immediately like a low cost lens, and in my opinion is fairly ugly aesthetically, but there's also a sort of utilitarian simplicity to it. The lens is constructed with a liberal use of engineering plastics on a metal mount. The optical design is rather simple, and there is a LOT of air inside the lens, such that the overall package is surprisingly lightweight. When stowed for storage, the lens is less than a foot long, which prevents you from carrying it in most shoulder bags, but fits a lot of lens cases designed for consumer grade supertelephoto zooms like the Sigma 150-600mm Contemporary. If you need reach in a size that can fit in a shoulder bag, the sister 600mm f/11 is considerably shorter.
The lens has a 2 inch collapsible section that is locked and unlocked via a ring at the rear of the lens. This ring is actually a switch lock, not a friction lock, so it turns smoothly and with a satisfying positive click at either end of the rotation, giving you tactile feedback when you lock and unlock. To use the lens, you must extend it to shooting position. If you fail to do this, the camera will remind you on the screen before you can use the lens.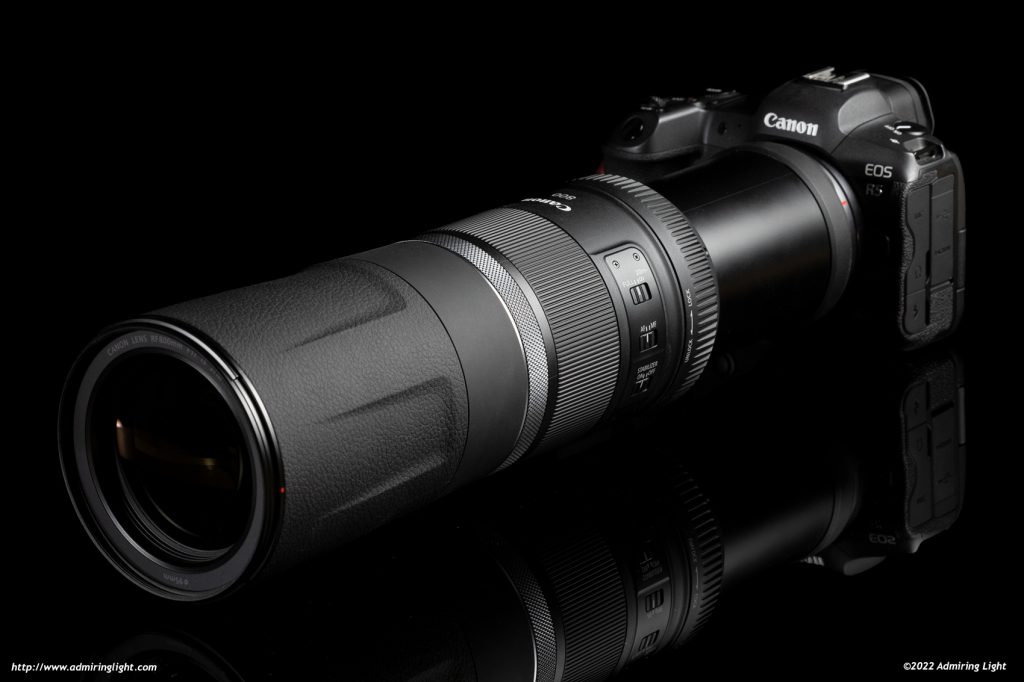 The extending tube is all plastic, but there is no play or wobble in this part of the lens. I will say that the extending motion of the tube itself can be a little sticky and jerky, but it isn't sloppy. The midsection of the 800mm f/11 feels like most any Canon RF lens, with a matte finish polycarbonate. There is a broad rubberized manual focus ring and a silver control ring following that. The last third of the lens is taken up with a flared section that is covered in a textured plastic that almost looks like rubber. This section is bizarre looking, but the flared shapes molded into the barrel feel great, and give your left hand something to grasp positively when shooting with the lens.
While the lens is of moderate weight in absolute terms, it is a featherweight for an 800mm lens, and as such can be carried around for extended periods with no problem. I also found that I had no issues at all handholding this lens while out hiking. It's a joy to use in the field.
While slow in f-stop, it is still an 800mm lens, and so the front element is still a reasonably large 95mm. The 800mm takes standard 95mm front filters, though I think they are of limited use in a lens such as this. I really only see practical use for a polarizer when needed to cut reflections of wet foliage or the like.
The RF 800mm f/11, like all of Canon's consumer-grade optics, does not come with a lens hood. The official lens hood for the RF 800mm is the Canon ET-101, and it will cost you a rather exorbitant $55 if you choose to pick one up. I chose to purchase the JJC version of the hood, which is very well made, has the button lock like the official hood, but costs just $18. You can see the hood mounted to the lens at full extension below.
In an interesting omission for an 800mm lens, the RF 800mm f/11 does not have an option for a rotating tripod ring. In its place is a small block with a 1/4″ tripod socket directly on the bottom of the lens. A quick release plate can be attached to this to allow for tripod mounting the lens, though without the typical ability to rotate from horizontal to vertical within a collar. I'm currently using a long Arca-Swiss style plate on the lens, and it works well and balances well on a tripod, though I am currently limited to using the drop notch for vertical photos. While not as convenient as a tripod collar, Kirk Enterprises also makes an L-bracket for the RF 800mm and 600mm lenses, which work just like those on a camera, allowing easier switching from landscape to portrait orientation. I think this is reasonably priced for what it is (costing about half what Canon typically charges for a lens collar), and will likely pick one up at some point.
Autofocus
The 800mm f/11 has to cut a few corners to hit that sub-$1,000 price point, and one of those is the focus motor used. The RF 800mm f/11 uses the Canon STM stepping motor to focus, but the implementation here is pretty good overall. The lens doesn't focus as quickly as something like the 100-400mm f/5.6-8, which was built with a Nano-USM motor, but it does focus quickly enough for most tasks. The biggest downside to the lens for focusing is that the lens can only be focused in the central part of the image frame due to the fixed f/11 aperture. While this is definitely more limiting than other mirrorless lenses, the area of usable focus is similar in size to a typical full-frame DSLR.
Edit 4/20/2023: The focus area limitation is only present on cameras made pre-2021. The R3, R6 Mark II and R8 all feature improved autofocus systems, which expand the focus area of the lens to about 80% of the frame. This significantly improves the experience.
That central limiting frame does limit the effectiveness of the animal detect eye autofocus, though, as you will need to keep the eye within the central box to ensure the camera can continue to lock focus. For things like birds, this really isn't generally a problem, but it does make tracking birds in flight more difficult than it would otherwise.
Focus is reasonable in speed, but will suffer a little when dealing with very rapid changes in focus. Accuracy, though, is excellent.
Image Stabilization
One thing the lens does include is an optical Image Stabilization unit. The IS unit on the RF 800mm f/11 is quite good, claiming around 5.5 stops of extra stability for hand holding. Like most claims, I did find the 5.5 stops to be a little optimistic, but was able to fairly regularly get sharp shots at 4 stops slower than normal, or around 1/50s. I could get occasional sharp shots around 1/25s, or 5 stops, but not regularly enough to rely on it. This is a very solid performance for such a long lens, and it really helps in getting sharp shots, due to the dark aperture and extreme focal length. The shot below was taken at 1/20s, and is pretty sharp, but I was braced on a windowsill and took multiple shots with electronic shutter to achieve it.