Image Quality
For a lens that weighs 1.2kg and costs $2,700, you'd better be getting some serious optical quality to offset the cost and size, and thankfully, the RF 85mm f/1.2L USM delivers.
Sharpness
Previous iterations of Canon's 85mm f/1.2 lenses have showed decent, but not great sharpness wide open in the center of the frame, and then would excel once stopped down a bit. The RF 85mm f/1.2L, however, comes out of the gate with absolutely incredible sharpness across the entire frame at f/1.2. In the center of the image, and over most of the frame, it's already pin sharp, with the edges and corners only showing a very small dropoff in resolution. Stop down just a bit and the image frame becomes impeccable from corner to corner. Click here for a 100% crop of the focus area of the image below.
Needless to say, you can simply shoot at whatever aperture you need for the depth of field you want, and you can be confident in getting razor sharp images. It's an incredible performance for a lens with any aperture, let alone one that opens to f/1.2.
Bokeh
The out of focus rendering for fast portrait lenses is of utmost importance. Just 10 years ago, it was extremely difficult to find a lens that had exceptional image sharpness as well as soft bokeh, as the design goals that led to the sharpest lenses also often caused nervousness in the out of focus areas. However, I'm seeing more and more lenses now that manage to balance fantastic sharpness with beautiful bokeh, and the RF 85mm f/1.2L definitely falls into that camp.
The bokeh from the RF 85mm f/1.2L is simply gorgeous, with a beautiful falloff in the transition zone to creamy obliterated backgrounds. Specular highlights show no outlining in most situations, and only the faintest bit of it in the toughest circumstances. There is a very slight bit of onion-ring structure to highlights that can be seen if pixel peeping, but it isn't obvious in the majority of images. Also, like essentially all ultra-fast lenses, there is some mechanical vignetting, which can be seen as an elongation of specular highlights towards the corners of the image.
While the bokeh is outstanding on this lens, it isn't the absolute creamiest it can get. However, Canon has a solution for that! If you desire the absolute pinnacle of bokeh, for an extra $300 you can purchase the 'DS' (defocus smoothing) version of the RF 85mm f/1.2L, which features an apodisation filter that fades specular highlights off into very soft edges and creates gorgeous, exceptionally smooth blur. This feature does come at the cost of light loss, as it exposes like an f/2 lens. It also reduces the overall amount of blur at the widest apertures. I prefer the non-DS version tested here, for its extra light gathering abilities.
Color, Contrast, and Chromatic Aberration
The RF 85mm f/1.2L continues its strong performance with outstanding contrast, even at f/1.2. There's no appreciable reduction in contrast at wide apertures, and the images are punchy in the in-focus area, and not too contrasty in the out of focus areas, leading to images that seem to pop the subject from the frame at wide apertures.
Color response is excellent, with rich colors at any aperture. Chromatic aberration control is another high-spot for this lens. Lateral chromatic aberration is very minimal (and any residual easily corrected), and even longitudinal CA is very well controlled, with only the slightest bit of visible green and magenta fringing on out of focus areas when shot wide open. It's minor enough that it isn't noticeable at all until you zoom in and pixel peep. Stopping down to f/2 essentially eliminates any longitudinal CA. The lens also is almost completely absent of purple fringing – a notable achievement for an ultra-fast portrait lens.
Distortion, Flare, and Vignetting
When we look at distortion, it's more excellent news, with the 85mm f/1.2L showing almost no distortion at all. Like most fast lenses, there is reasonably strong vignetting at f/1.2, which eases to moderate levels by f/2, and becomes fairly negligable by f/2.8. An overall decent performance there.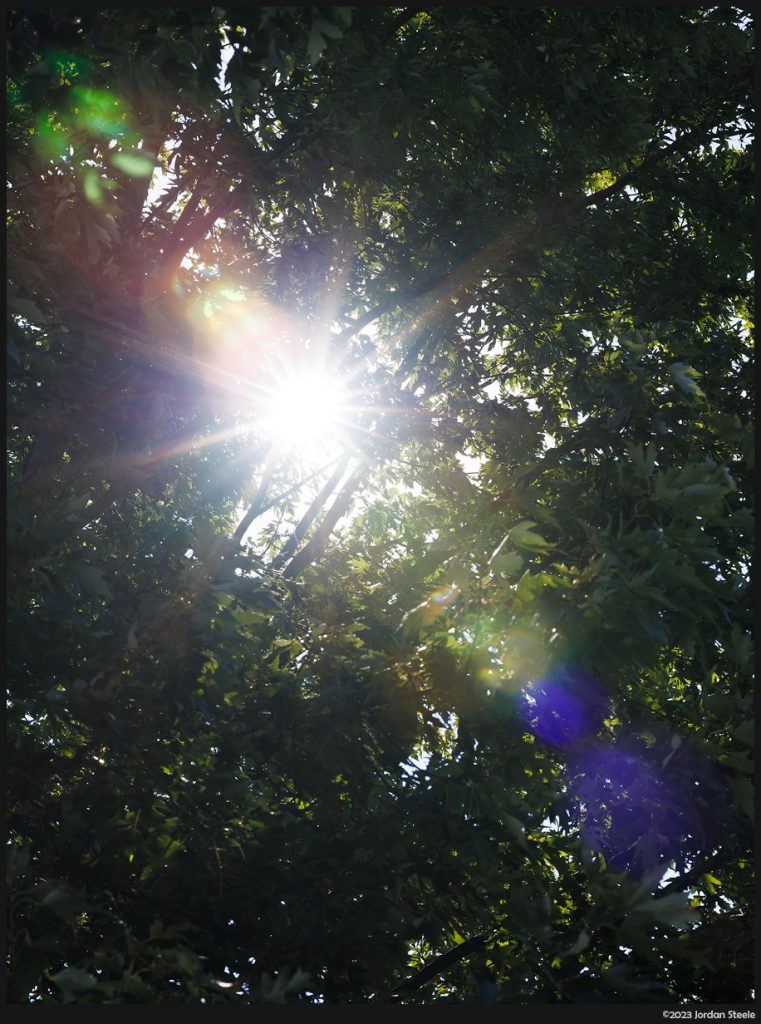 The only real negative to the RF 85mm f/1.2L's performance is in flare control. This is one area where I've been somewhat unimpressed with Canon's lenses, as they tend to flare a lot more readily than lenses I've used from Sony and Nikon, and the 85mm f/1.2L is similar. The lens can show rather significant ghosting with the sun in the frame, and some veiling flare and reduced contrast is present as well. Some photographers like a bit of lens flare on their portrait lenses, but I think the strength of the ghosting can cause a problems when shooting into the sun.