When Canon began the EOS R system, they started with three L series lenses and one affordable prime lens: the versatile 35mm f/1.8 Macro IS. As they have fleshed out the system, they've added a few other affordable lenses, but if you wanted a faster lens for portraiture, you were somewhat limited to the exceedingly expensive RF 85mm f/1.2L, or adapting older EF glass. Now Canon has added the $599 RF 85mm f/2 Macro IS STM to the lineup, and it looks to be another lens with good image quality and very high versatility owing to the 1:2 maximum magnification. I've had the RF 85mm f/2 in my possession for a few weeks now, so lets dive into the details.
Construction and Handling
The RF 85mm f/2 Macro has a build quality in line with the other consumer-grade RF lenses. That means a metal mount with polycarbonate exterior, with the standard RF pewter colored ring at the base. I have to say, Canon has done a nice job with these lenses, putting exterior build on a level very similar to their L lenses, but there are some key differences. First, the plastic appears to be a little thinner than that used on the L lenses, and the 85mm almost seems to be very slightly smoother than that used on the RF 35mm f/1.8. Second, the lens lacks any weather sealing.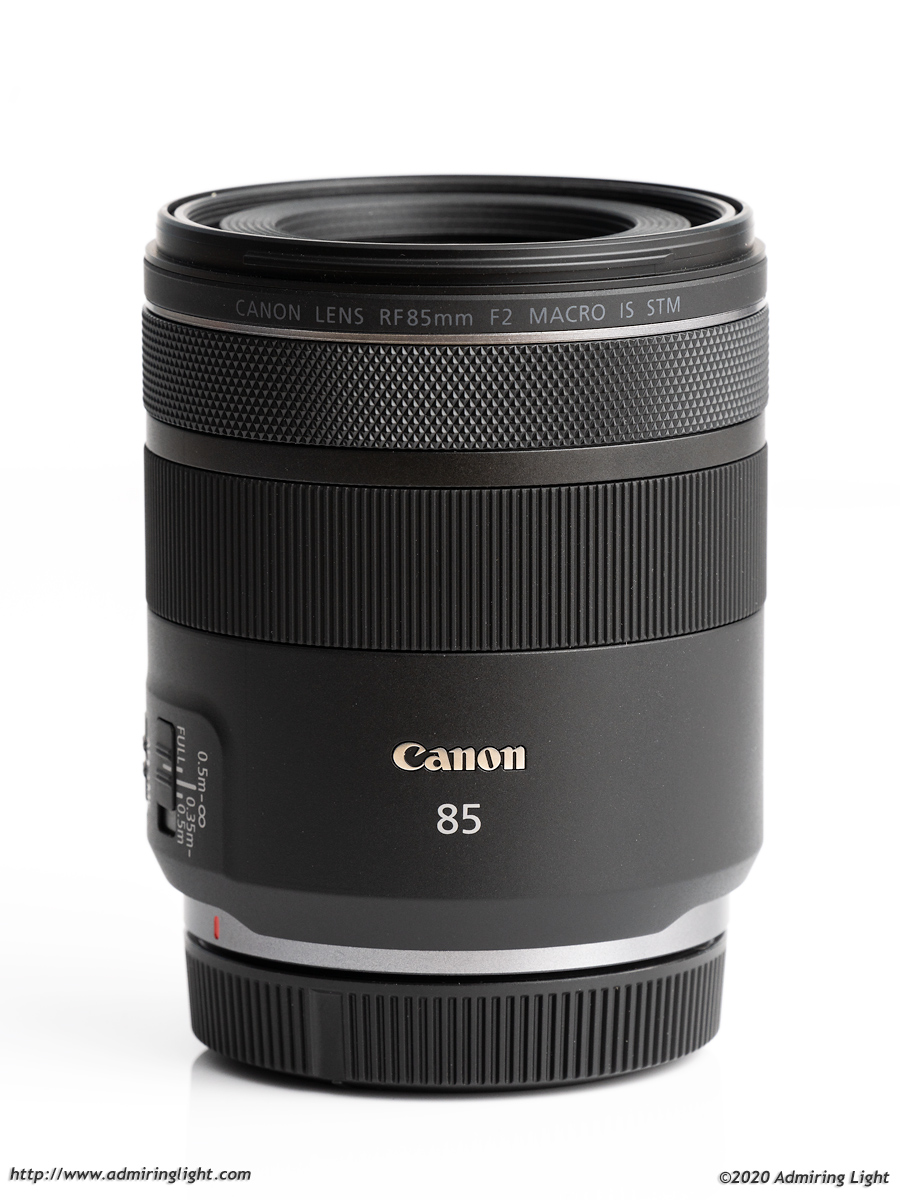 Overall, tolerances are tight, and the lens feels solidly constructed. The RF 85mm f/2, like the 35mm f/1.8, also has an extending front element during focusing, and that extending tube does have a small amount of play in it, but nothing worrisome. While the lens does extend while focusing, the front element does not rotate, so using polarizing filters or variable-ND filters is not a problem.
The RF 85mm f/2 IS is moderate in size: it's slightly larger in diameter than the EF 85mm f/1.8, and is a little longer as well, but given that this lens is also a 1:2 macro lens, that is somewhat expected. While the base lens is a bit bigger, it's worth noting that once you add an EF-RF adapter, the entire package is actually slightly smaller than the adapted EF 85mm f/1.8.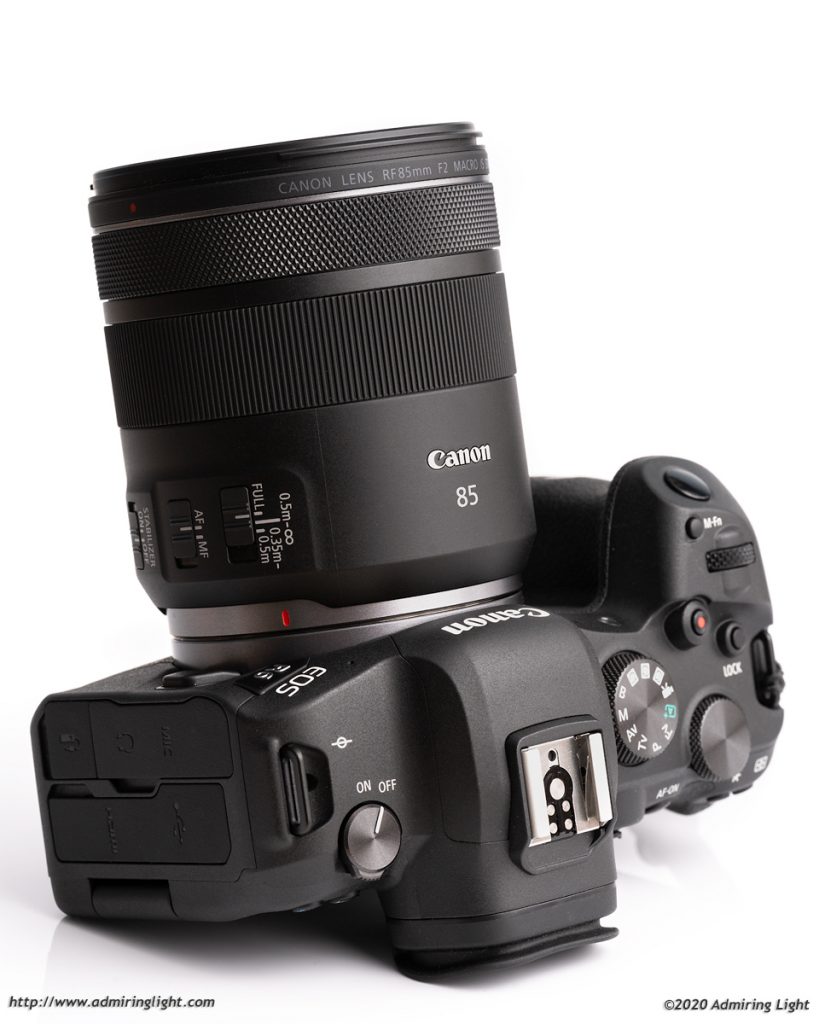 The light weight lets the lens handle very well on my EOS R6. Like all of Canon's consumer-grade lenses, the RF 85mm f/2 Macro does not come with a lens hood in the package. This is one of my big frustrations with Canon, as essentially every other manufacturer includes lens hoods with all their lenses. In this case, the hood for the RF 85mm is the ET-77, which retails for a whopping $60, though several places are selling it for $50. In any case, that's an absurd price for a piece of plastic that should be included. This policy needs to change, Canon.
The lens has three switches on the left side of the lens: a three position focus limiter, an AF/MF switch, and a switch for the image stabilizer. The Focus limiter is nice to have on a lens with close focus abilities, though I find that I don't often have issues with it hunting outside of where my subject is, so I usually leave it set to Full.
The lens has a manual focus ring in the middle of the lens that turns smoothly, but lacks any real damping. Focus is by wire like all RF lenses, but Canon lets you select in-camera whether manual focus varies with how fast you turn the lens, or whether you want a linear response. At the front of the lens is the standard RF control ring, which is full size (unlike the thinner one used on the RF 35mm f/1.8), and moves with satisfying clicks at each detent.
Autofocus
The RF 85mm f/2. Macro has Canon's Stepping Motor (STM) that it has been using in the majority of its consumer grade lenses the past few years. The stepping motor allows for excellent precision and smooth and quiet focus in video, but in comparison with its USM motors of years past, it can be a little slower and noisier when shooting stills when the gear-type of STM is used. The RF 85mm does use the gear type of stepping motor, which helps keep the lens compact.
As such, in stills mode, when making large changes in focus (like from shooting closeups and switching to distant subjects), focus can be slow, and makes audible noise during operation. However, for normal shooting in the non-macro range, such as for shooting action or portraits, autofocus is actually reasonably quick. It locks on to the subject quickly and surely, and while the focus for these small adjustments is audible, it is not loud. In video mode, focus slows down and is extremely quiet and smooth.
When shooting action with the RF 85mm f/2, I was a bit surprised to see that it kept up very nicely while shooting on my EOS R6. Focus was able to keep up with tracking a moving cyclist while passing close by, and maintain sharp focus on the eyes throughout the entire run. If trying to track movement very close (such as flying insects), the speed may be lacking, but for shooting people beyond 1m or so, focus is easily able to keep up for most general action shooting. I don't think this is going to be a lens for the professional sports photographer, but I also don't think it would perform too badly if pressed into that sort of service.
Image Stabilization
The RF 85mm f/2 also comes with image stabilization in the lens, and it's rated for five stops on its own, or up to eight stops when used in conjunction with the EOS R5 or R6. For macro shooting, this drops to around 3 stops, according to Canon. The optical stabilization does get close to that 5 stop rated claim. On an EOS RP, I was able to get around 4 stops of stabilization, with sharp shots consistently at around 1/5s. On the EOS R6, I was able to get another stop or so, with consistently sharp shots at around a half second, and occasional sharp shots at around one second or more, if I was able to brace myself.
While not meeting that 8 stop claim from Canon and CIPA, it's still an excellent result overall. I also do notice that the stabilization is notably less effective at macro distances since any movement is magnified at those focus distances. In all, it's a good stabilizer, and it's nice to have on a lens like this.