Image Quality
Upon release, the 60mm f/2.4 Macro was hailed as the best of the three original lenses, and I think that description is accurate. The lens has since been surpassed in pure optical quality by some of the more recent Fuji X lenses, but the quality of images that can be produced by the 60mm are still on a very high level.
Sharpness
The Fuji 60mm f/2.4 Macro, like most macro lenses, is capable of very high levels of sharpness, right from f/2.4. The majority of the frame shows very good resolution at any aperture, with the corners sharpening up by f/4 or so. I will say that it does fall short of the very best macro lenses and even the best Fuji lenses with regards to absolute resolution. It's just a touch less crisp than something like the 90mm f/2 or even the 56mm f/1.2 at smaller apertures. However, for almost any usage, the lens produces lots of detail. One thing to be wary of is that the lens seems particularly prone to diffraction softening at smaller apertures. You'll really want to keep the lens at f/11 or larger, as sharpness falls off very quickly at apertures smaller than f/11.
The lens maintains good resolution throughout the focus range, from 1:2 macro magnification to infinity. The faster than normal f/2.4 aperture makes it quite a good lens to pull double duty as a portrait lens, and at this distance, the lens really shines in sharpness, keeping eyes beautifully sharp while letting background details fall away to blur.
Bokeh
The Fuji 60mm macro shows quite a beautiful rendering of out of focus areas. The lens shines close up in the macro range as well as at further distances. Specular highlights are even and show no obvious outlining. The falloff is quite natural and beautiful, and it really helps create a nice overall rendering at any focus distance.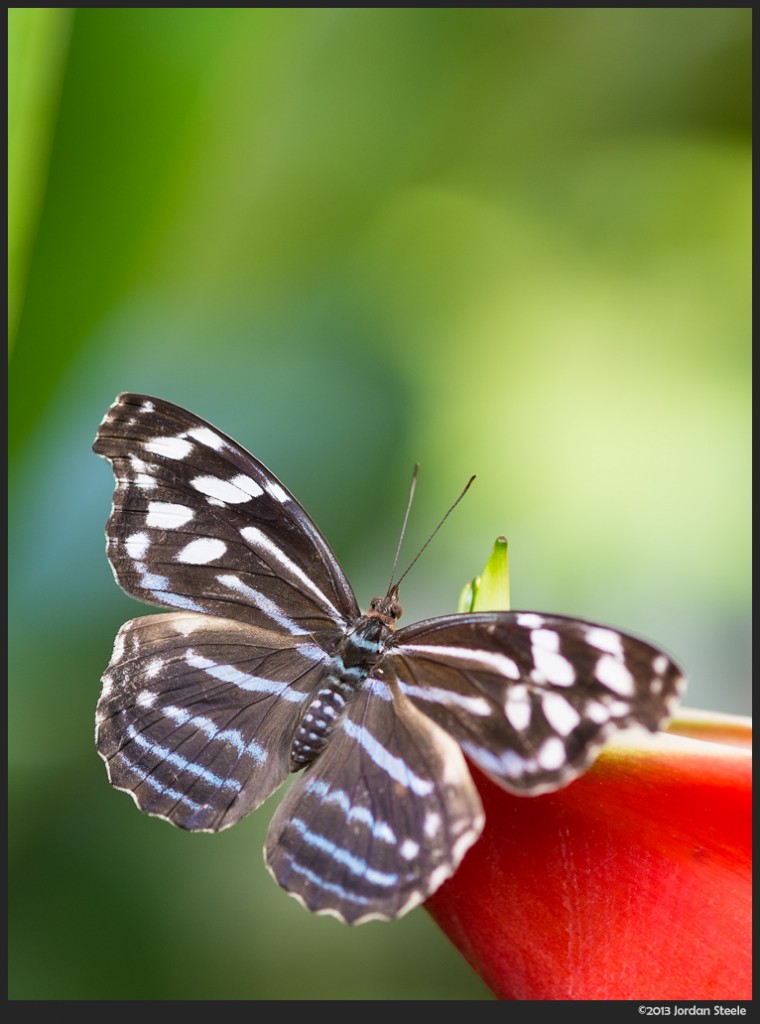 Contrast, Color and Chromatic Aberration
The 60mm f/2.4 has a contrast and color profile that fits in well with the rest of the Fuji prime lenses. Contrast is even and strong without being overly punchy. Color is rich and vibrant, showing accurate color and a neutral tone. The resulting images almost have a tangible lifelike quality that is gorgeous to my eye.
The lens is also relatively free of chromatic aberration. Lateral CA is negligible in field use, and longitudinal CA is also pretty well controlled in most situations and at smaller apertures. However, some longitudinal CA can be visible in certain circumstances when shooting wide open, which will show up as a greenish fringe on out of focus bright areas in the background or magenta fringes on edges in the foreground.
Distortion, Flare and Vignetting
The 60mm macro is almost completely distortion free when shooting JPEG images or a RAW converter that can read the lens metadata, which is an admirable quality in a macro lens. However, converters that don't take advantage of some of the digital correction used for the lens will reveal some notable pincushion distortion. Since Lightroom automatically corrects the images and is my go-to converter, I really never see the distortion, but it is there in the optical design. It's a little disappointing that Fuji wasn't able to correct the distortion optically, but it may have been a tradeoff made for a more compact lens design.
The 60mm f/2.4 does fairly well against bright light. The lens is well shielded from oblique light rays due to the deeply recessed front element, and even with the sun in the frame, it's possible to get clean images, as can be seen below. However, in certain positions, the lens can produce brightly colored flare ghosts and some loss of contrast. It's not a common occurrence, though, and is something that you'll rarely encounter.
The 60mm macro shows some mild vignetting at f/2.4, but it's not anything that will harm the look of your images. Upon stopping down, vignetting drops to negligible levels.
Overall, the image quality from the 60mm macro is very good. It's a great all-purpose lens that will serve you well for both macro images and shots from further distances. It's sharp, has very nice bokeh and excellent color and contrast.