Key Features: Wi-Fi
As I mentioned in my review of the Olympus E-P5, the new must-have feature on digital cameras is Wi-Fi capability, and the X-M1 is no different. It's the first X-Series camera to feature Wi-Fi connectivity. Unfortunately, the Wi-Fi capabilities are rather limited this time around. You can transfer images to a smartphone or tablet, transfer GPS location data to the camera for geotagging of images, and send images to your computer over your home's wireless network. These are all very nice features, and they are certainly welcome.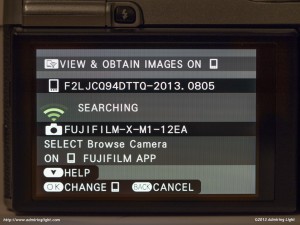 The most used feature for me with any of these Wi-Fi enabled cameras is in transferring images to a mobile device, which allows me to quickly share images with people. The image transfer on the X-M1 works pretty well, though I have encountered some issues here and there. While I have had no problems at all connecting my iPhone 5 to the X-M1 and receiving images through the Fujifilm Camera Application, I have had a little less success with my iPad Mini. I can receive photos fine from the X-M1 when using the "Send Images" commands, but I haven't been able to browse the camera with my iPad. Anyway, to transfer images to a mobile device, you simply activate the menu by pressing OK while reviewing an image. You can then scroll down to Wireless Transfer and send individual images, multiple images or browse images on your mobile device. The transfer works quite well and is relatively quick. One downside is that you can only transfer JPEG images. On the other hand, Fuji has outstanding RAW conversion capability built into the camera (see that section below).
Geotagging works by manually having the camera request a location from your smartphone. The Fujifilm app then sends the current coordinates to the camera, and that data is used for all photos until you change the location data manually again. While this is helpful by not requiring your smartphone to constantly track location, thus burning battery, it's also quite imprecise, as all your photos in an area will have the same coordinates, rather than moving with you as you go, unless you stop to feed new coordinates on every shot. It can also be somewhat inaccurate because it doesn't allow your phone to get a really precise location lock before sending the coordinates…it often takes the quick first coordinates it gets, which can sometimes be off by a few thousand feet. It would be nice to see a map on the application, so you could see your location zero in, then choose when to send the coordinates to the camera.
I played around a bit with the PC Wireless Transfer capability which uses a program on your computer to talk to the camera over your Wi-Fi network. The system works, and you can push images to your computer, but I found that this function doesn't operate particularly quickly, making it relatively inefficient for sending data. There's also no way to remotely specify where the files should be stored on the computer, as the storage folder is set on the computer program, rather than on the camera, which makes organizing files difficult remotely. Ultimately, I find it easier to just walk to my computer and offload my card directly.
One thing the X-M1 is lacking that several competitors in the mirrorless space are not is a remote control function, where you can remotely take photos and view a live feed from the camera over the Wi-Fi network. This can be a really useful feature, and I'd love to see Fuji add the capability in a future firmware update.
In-Camera RAW Conversion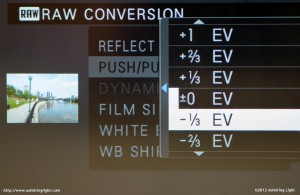 One very useful feature on the Fuji X-M1 that it shares with the other X-Series cameras is the ability to shoot RAW, and at any point, make a JPEG from that RAW file, with whatever shooting parameters you like. For instance, you can shoot color, then go into the camera's RAW conversion (simply by pressing Menu during review), and do such things as pull the exposure 2/3 of a stop, increase shadow contrast and process in black and white. Select these conditions, press Q and your new JPEG is created. If you like the look, you can confirm, and it will save it, or you can go back and make changes before saving the final image. In any case, the RAW file remains untouched.
When I first used this feature on the X-M1, I was slightly disappointed that Fuji had moved the RAW conversion selection to the second page on the Playback menu, thus making it harder to access. Then I found that they had actually made it easier to access: To go directly to the in-camera RAW conversion, simply press the 'Q' button while reviewing an image. In this way, you can very quickly create a JPEG from a RAW using the parameters in use when the image was captured by quickly pressing "Q", "Q", "OK".
The in-camera RAW conversion is even more useful on the X-M1 due to the ability to wirelessly transfer images to a mobile device. I can simply process a good image as a JPEG, even doing some RAW editing, and transfer that to my phone to edit further or upload.
Film Simulations and Advanced Filters
Like Fuji's other X-Cameras, the X-M1 has access to 'Film Simulation' modes such as Provia, Velvia and Black and White. In an odd decision, Fuji has not carried over all the film simulations from the X-Pro 1 and X-E1. The Pro Neg simulations are gone, as are the filtered black and white simulations. It's a very odd omission. The simulations are already developed for the same sensor, so it's simply a marketing decision. There's really no need for it, and it's disappointing.
In place of some of the film simulations, however, are new 'Advanced Filters' which are only available in Auto mode by selecting the Adv. position on the Mode dial. These include filters like Toy Camera, 'Miniature' (a tilt-shift simulation) and multiple selective color modes among others. Many of these produce files that are majorly overprocessed, and serious photographers should really avoid them like the plague. A few may provide the right punch or look for certain situations. Among the choices, the selective color filters have the most appeal to me, though they're not perfectly implemented. The camera does a good job selecting things of the chosen color, but the range of selection is rather tight and can't be adjusted, so you have areas that abruptly clip to black and white rather than fading with decreasing saturation. The result can be good in some situations and really jarringly bad in others, depending on the actual colors in the photo.
Other Items of Note
Like the other X-Series cameras, the X-M1 allows you to set the focal length for adapted lenses, which will record that information in the EXIF data of each image. This nice when you use cataloging such as Lightroom, which allows you to sort by metadata, including which lens you used for an image. The X-M1 also retains the expanded dynamic range settings, which give you a little extra highlight headroom by underexposing a higher ISO image and bringing it up after the fact. I tend to avoid that feature as it adds noise, and doesn't seem to do much in the RAW files.
Some of the same nitpicks I noted in my X-E1 review are still present in the X-M1: namely, that images that have been autorotated to the vertical orientation don't rotate when you orient the camera in playback, which makes review of vertical images a challenge, especially so because the magnification is less on vertical images than on horizontal images when checking for critical focus on RAW files.