Image Quality: Resolution, Dynamic Range and Color
Parts of this section are taken from my X-E1 review, as image quality between the two cameras is extremely similar.
The X-M1 features the same 16 megapixel X-Trans sensor as the X-Pro 1 and X-E1. Usually, it would be a complaint to have a camera reuse a year and a half old sensor, but in this case, it's not a bad thing. It finally brings the outstanding image quality of the Fuji X line to a more reasonable price point.
The X-Trans sensor uses a non-Bayer filter array to capture detail and color, and this has the supposed benefit of increased detail without moire due to the ability to eliminate the low pass filter that is found on most other digital cameras. In my shooting, I haven't found the X-M1 to have any greater detail than any other 16 megapixel camera. With a sharp lens, it is certainly capable of resolving impressive amounts of detail, but no more than any other sensor I've used with similar resolution. The downside to the X-Trans sensor is that it requires completely different demosaicing algorithms when processing RAW files, and there are some instances where this process results in odd painterly artifacts. While recent versions of Adobe Lightroom and Camera Raw as well as Phase One's Capture One 7 have addressed this issue and minimized the effect, it can still crop up occasionally if you really look for it.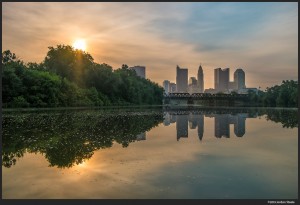 Like the other Fuji X cameras, the X-M1 has enormous dynamic range. High contrast scenes are rarely a problem, as the sensor stores gobs of data in the shadows and highlight recovery is excellent as well. Even in areas where bright sunlight causes deep shadows, the X-M1 can capture the whole range well in a single exposure. The shot to the right may look like an HDR, but it is, in fact, a single exposure from the X-M1, processed in Lightroom 5.2 RC…the base exposure was for the sky, which left the shadows near black straight out of camera, but as you can see, all the detail and color are still there and can be pulled out of the file.
Color in the RAW files is muted out of camera, but takes saturation enhancements with ease. The X-M1 files have really beautiful tonal response and depth to the images. The JPEG engine has excellent color and contrast. Getting this level of image quality out of a tiny little body is remarkable.
Noise
X-M1 has excellent control of image noise just like it's X brethren. The files at base ISO (200) are very clean, with no visible noise in either the JPEG output or the RAW files. Noise is very well controlled up through ISO 1600, where a fine-grained noise is in the RAW files, and a slight mottling from the noise reduction in-camera appears in the JPEGs. I find the X-M1 completely usable up to ISO 6400 for most any situation. There is visible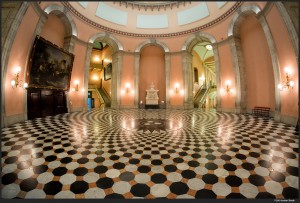 noise at ISO 3200 and 6400, but it is not objectionable, and would still be relatively minor in a print or web reduction. Even ISO 12,800 and 25,600 (accessible directly only through JPEG, though you can achieve the same effect in RAW by underexposing one or two stops, then bringing it up in RAW) provide usable images for small prints or the web. There's going to be plenty of visible noise at these settings, but a surprising amount of detail is retained, especially when push-processing the RAW files.
Like the other X-Trans cameras, ISO for the Fuji X-M1 is slightly under-rated. I have found the X-M1 to be about a 1/3 stop darker at the same ISO, shutter speed and aperture than my other cameras. Still, even accounting for the 1/3 stop lower ISO rating, the X-M1 is about a full stop better in the noise department than the best Micro 4/3 cameras and as good or better than the very best APS-C cameras on the market. In many cases, noise performance is very close to full frame quality.
JPEG Quality
One thing Fuji does extremely well is JPEG processing. Among the cameras I've used, the Fuji X cameras are absolutely on top in the JPEG quality department. JPEG files are clean, have excellent dynamic range (and the camera allows you two adjust shadow and highlight contrast levels), good detail and outstanding color. As I mentioned earlier, I don't shoot JPEG very often, but I do take advantage of the in-camera RAW conversion on certain images, and many times this JPEG is all I need to do. Excellent.
Movie Mode
As I mentioned at the beginning of the review, I am not a videographer, so I rarely shoot video and am not an authority on video quality. I did test out the movie mode a bit on the X-M1. For the first time, Fuji has added a direct video button on the X-M1. I wish it could be reprogrammed to another function, but alas, it cannot.
The X-M1, like the other X cameras, has very little control over video output. Exposure is completely automatic, focus is either continuous, fixed at the point of starting filming, or manual. You can shoot in 1080p or 720p, both at 30 fps. That's pretty much it. Video quality is OK. There's plenty of detail, but the bit rate isn't exceptionally high, and the minor fluctuations in exposure from the autoexposure system can be visible and a little distracting at times. The Fuji cameras are built as still photography machines. The video mode is useful for capturing quick moments of life if you need to, but this isn't your camera if you are after high-end video machine.