Olympus has been focusing on the higher end with their lens releases over the past two years, and this trend continues with the release of the M.Zuiko 17mm f/1.8.  With a fast aperture and a field of view like the classic 35mm lens on full frame, this is a lens that has been desired for some time among Micro 4/3 shooters.  Olympus released a slower, 17mm f/2.8 pancake lens with the
very first Olympus Pen, but that lens had its share of problems, with relatively high chromatic aberration and only average sharpness.  With the new f/1.8 version, Olympus gives the lens its high-end silver metal body that was first seen on the 12mm f/2 and 75mm f/1.8, as well as the focus clutch mechanism seen on the 12mm f/2.  Let's see how this new lens performs.
If you haven't read my reviews before, I do not generally perform resolution tests or make charts to track quality measures.  I take a real world approach to my reviews and evaluate how a lens or camera handles and works in regular use. A special thanks goes to LensRentals.com for the review sample used for this review.
Around the Lens – Build Quality
As with Olympus' other high-end primes of late, the build quality of the 17mm f/1.8 is outstanding.  The lens has a metal body with a metal mount, and a focus clutch mechanism that reveals a distance scale and has hard stops, giving a real manual focus feel, despite being a 'by wire' focus mechanism like all Micro 4/3 lenses.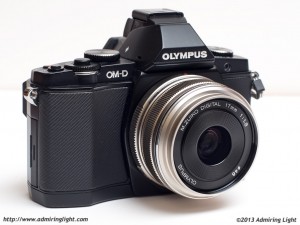 The lens is small and solid and built to very tight tolerances.  The lens features internal focusing, so length remains constant. Some people get up in arms about the silver color, but I quite like the way the lens looks, and it feels like a solid piece of kit.
I've said it in every Olympus lens review I've done, but it continues to require saying: Olympus needs to stop skimping on the accessories.  When you get the lens, it comes with, well, the lens and caps.  That's it.  No case, no hood, nothing.  It's getting old, and the milking of customers for accessories that should be included needs to stop.  The lens hood for the 17mm f/1.8 is a nicely finished metal hood, and quite small given the small size of the lens and the wide-angle nature.  The hood costs between $62 and $80!  That's not a small up charge, that's highway robbery.  Even Sigma is including lens hoods AND zippered cases with their $199 Micro 4/3 lenses.  Time for Olympus to stop with this game.
Handling and Autofocus
With its great manual focus ring and small size, the Olympus 17mm f/1.8 handles beautifully.  While not quite 'pancake' size compared to the Panasonic 14mm and 20mm lenses, it is a small lens that feels right at home on the OM-D or any of the Pens or GF/GX cameras.  Great size and balance.  Below is the 17mm f/1.8 next to the smallest real lens for the Micro 4/3 system (discounting the 15mm body cap), the Panasonic 14mm f/2.5.  It's bigger, but not by all that much: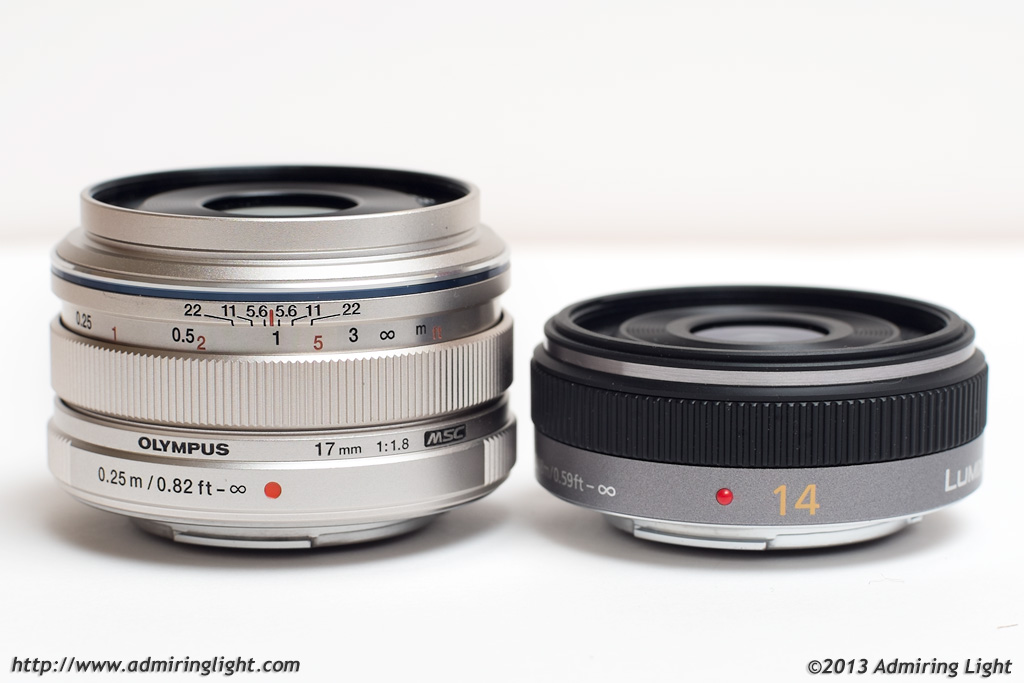 The 17mm f/1.8 also has fantastic autofocus capabilities.  On something like the OM-D or the Panasonic GH3, the 17mm f/1.8 focuses nearly instantly.  Only when going from closest focus to infinity is any real focus time noticeable, and even then it's fast.  The 17mm f/1.8 locked extremely quickly and accurately in every situation I threw at it.  This is a huge improvement over the 17mm f/2.8's relative sluggishness.  The autofocus is also nearly silent and works very well for video work.