Micro 4/3 has long been a great system for getting quite a bit of reach out of a small package, though pro-grade super-telephoto lenses have been missing from the system until this year.  While Olympus released an excellent 300mm f/4 prime lens, Panasonic chose to enter this space with this lens: the Leica 100-400mm f/4-6.3.  This lens is on the larger side for a Micro 4/3 lens, but is extremely small for the reach it provides: a massive 200-800mm full frame equivalent field of view. Panasonic's Leica-branded lenses have been historically fairly good, so I had high hopes for this lens.  Let's see if it's worth the $1,798 asking price.
Construction and Handling
Panasonic's Leica-branded optics, which now number 5, have come in two distinct build styles: a plastic exterior with rubber grip, used on the 25mm f/1.4 and 45mm f/2.8 Macro, and a matte-finished metal exterior with fine metal ribbing on the zoom and focus rings, used on the 42.5mm f/1.2, the 15mm f/1.7, and now this lens. The 100-400mm has a very nice metal finish for the entirety of the exterior, though it's a surprisingly lightweight lens given the size and focal length. Panasonic has done a great job in the construction of the lens; there is no flex or wobble anywhere in the lens, and all controls move smoothly and purposefully.  The lens extends dramatically towards the long end of the zoom range, and the single extension tube is made of high-grade plastic. In the picture below, you can see the difference in the length of the lens at 100mm and 400mm. Despite the optical illusion from the bokeh pattern of the bottom image, there is no movement or wobbling of the lens tube at full extension.  It's very solid.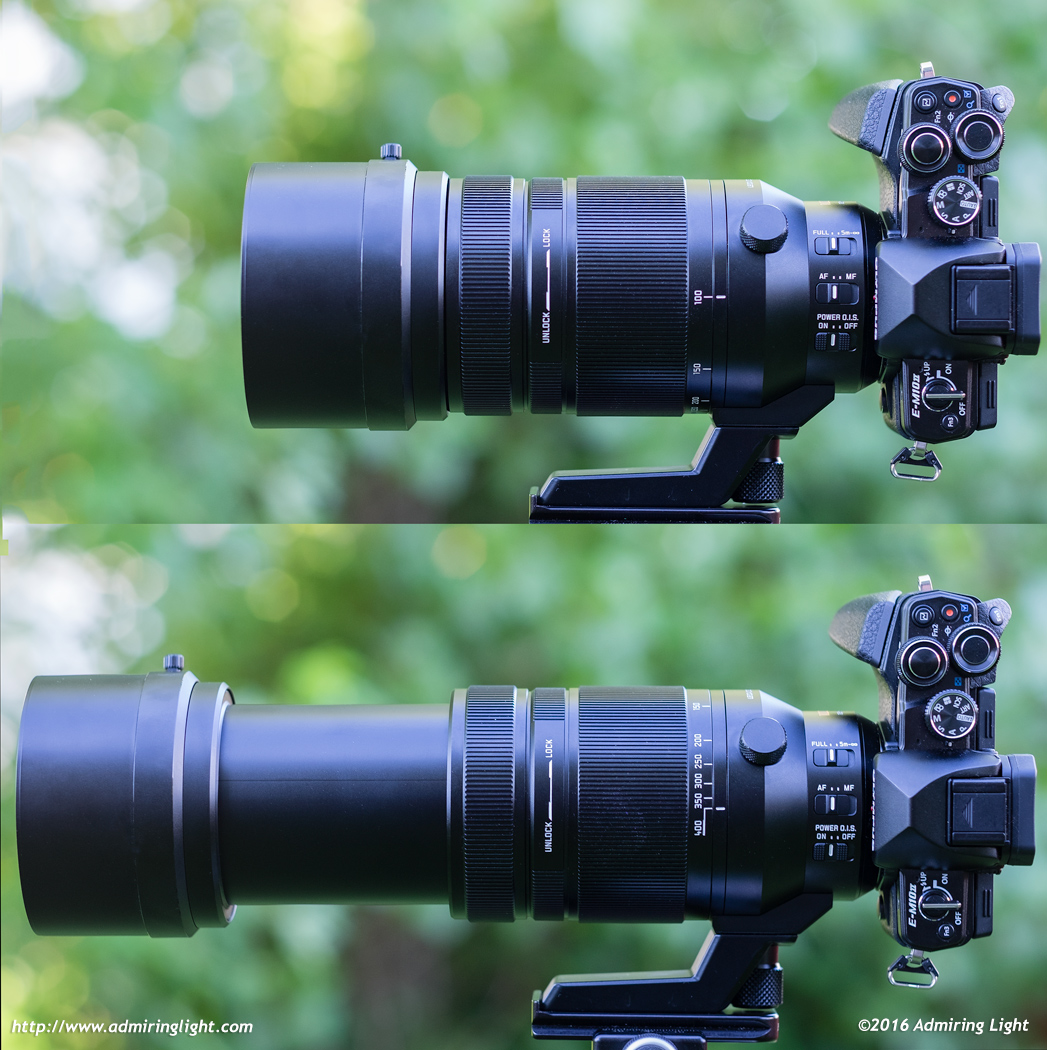 One thing you may also notice about the images above is that the lens is rotated on the tripod collar to the vertical orientation, yet the focus limiter, focus switch and OIS switch all remain at the left side. Panasonic has created a very unique collar assembly here, where the optics of the lens rotate inside the entire front barrel assembly, such that the controls always stay to the left of the tripod foot. It's a very nice touch. One quirk this creates that can be viewed as either a positive or a negative, is that the tripod collar can only be rotated between 0 degrees and 90 degrees counterclockwise.  It cannot be rotated clockwise from landscape, and it can't go beyond perfectly vertical.  If you would prefer not to have the tripod foot on the lens, it is removable with the very large thumb screw that can be seen in the images above.
As I mentioned before, in absolute terms, this is a big lens on Micro 4/3, and so you'll want to use it on a camera that has a fairly substantial grip.  I used the ECG-3 hand grip on my E-M10 II the entire time during testing, and it handled very well.  Cameras like the Panasonic GH or G series,the GX8 and the Olympus OM-D series cameras (perhaps with extra grips on the 5 and 10 series) should all be fine. Using it with smaller bodies will of course work, but may be a bit unwieldy on those smaller cameras.  Despite the big size for Micro 4/3, what I was perhaps most impressed with on this lens was how small it was compared to other 100-400mm lenses I've used.  It's much smaller than Fuji's 100-400mm lens, and the same goes for the Canon and Nikon camp.  When you consider the 800mm effective field of view, this is one of the most compact super-telephoto lenses one can use with a good-sized sensor, and it adds to the versatility considerably.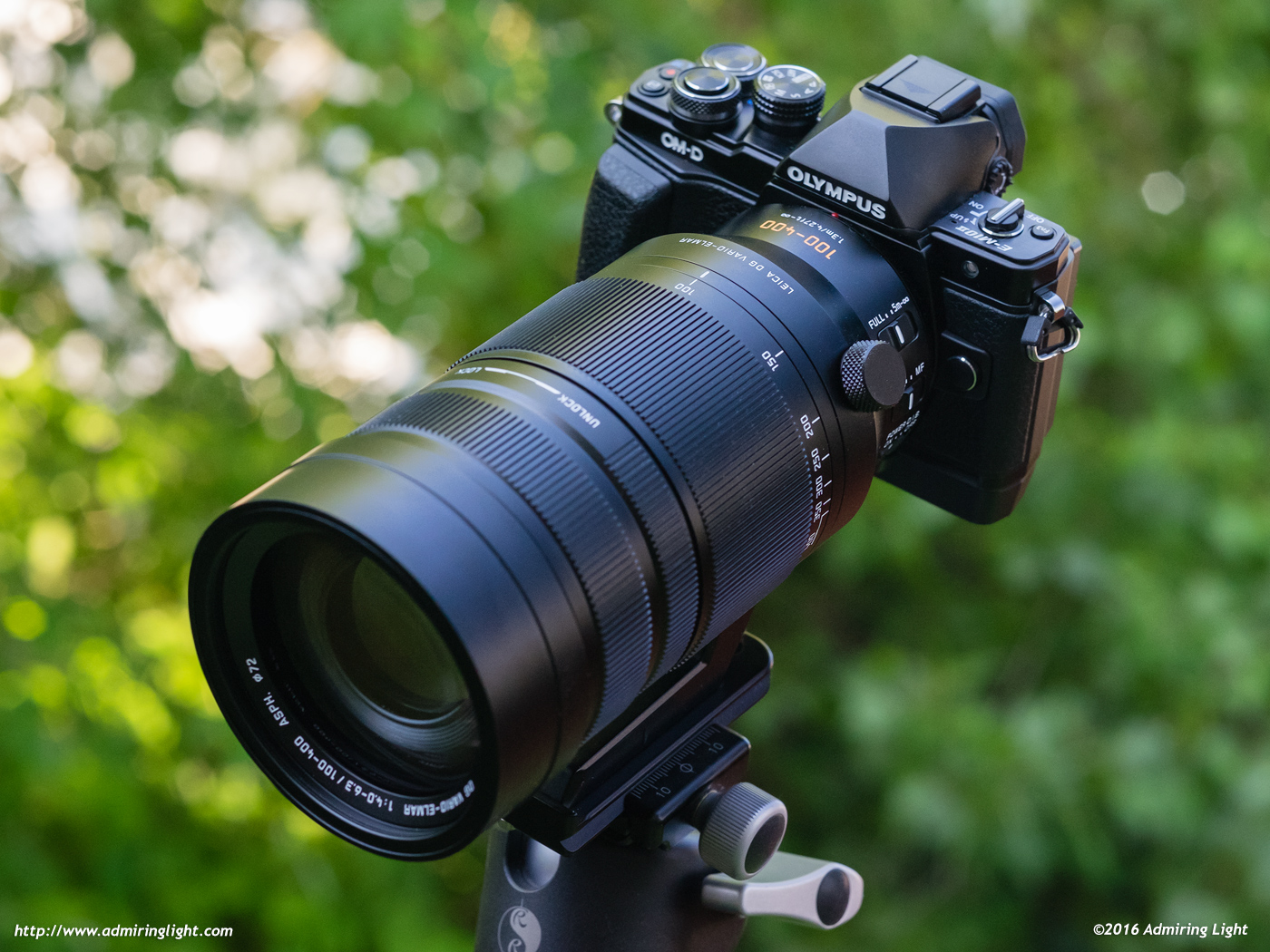 The one thing I do not like about the 100-400mm is the hood situation.  The lens sort of has a dual-hood configuration.  There's a small hood built into the lens, that can be pulled forward to provide a small amount of shading for the front element.  This is nice to have built in, but it also a shallow hood that doesn't do a lot considering the very narrow angle of view.  Then there's a second, removable and reversible hood (visible in the extension comparison photos above), which locks on to the built-in hood, and secures via thumb-screw.  I'm not a huge fan of thumb screw hoods, as they take too much time to take off and put on, and the fact that it attaches the already built-in extending hood is just bizarre.  I really wish Panasonic had either made a single bayonet mount reversing hood, or made the built-in hood deeper.  There were multiple options of how to make a lens hood for this lens, and Panasonic picked the worst two and combined them.
There is also a zoom lock ring that can be twisted to lock the zoom position and prevent zoom creep, though I found it largely unnecessary, as the zoom action was stiff enough to resist any creep in the focal length.
Autofocus and Image Stabilization
The Leica 100-400mm features a very fast and quiet autofocus motor, and in good light, the lens will lock focus almost instantly. Speed is definitely not a problem, and in those bodies with phase detect focus or Panasonic's DFD, I'd imagine this lens would be great for capturing birds in flight and so on. I even managed to get a few birds in flight photos in perfect focus using the CDAF of my E-M10 Mark II.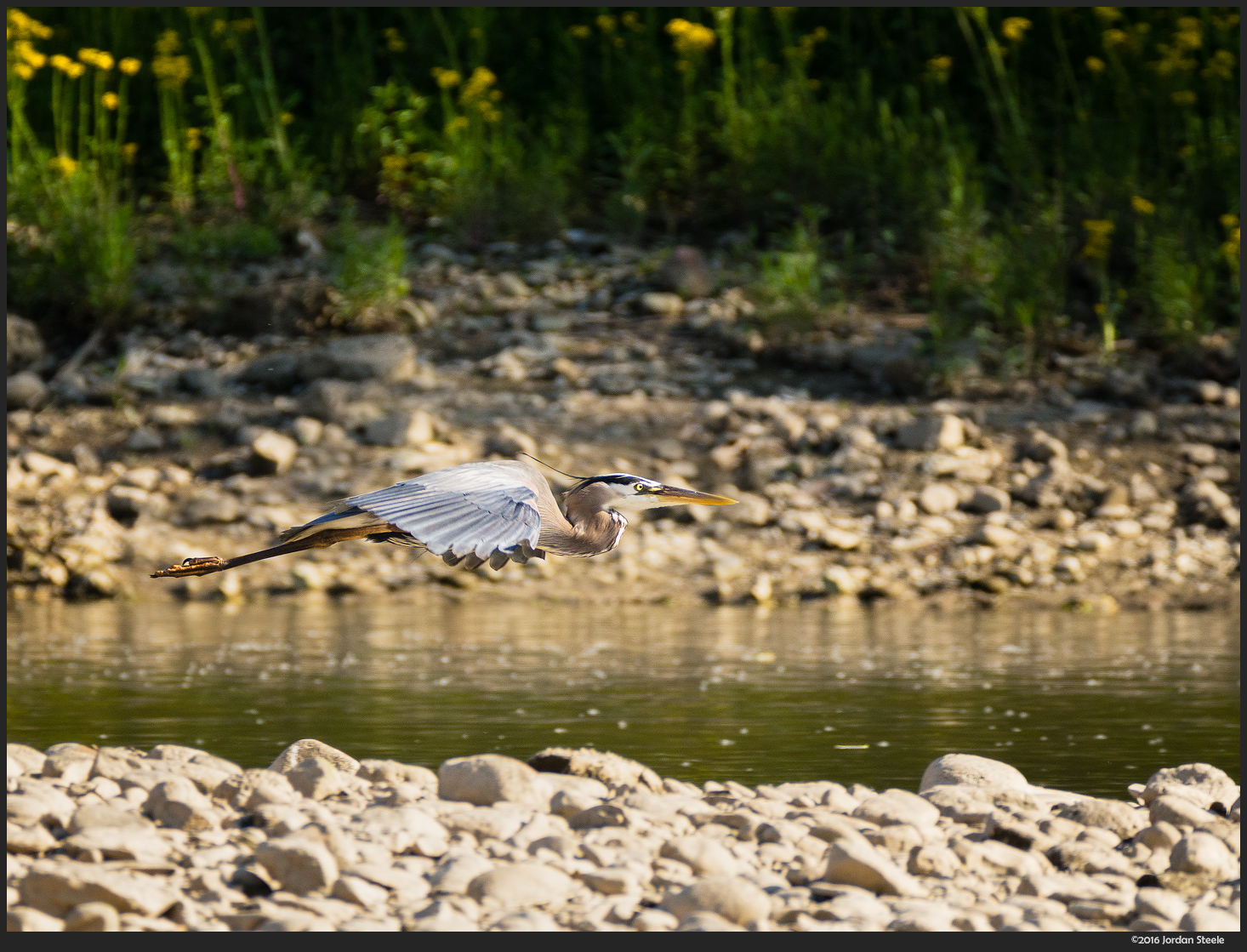 Unfortunately, the focus isn't perfect.  I did have a few situation where further distant subjects would be almost in focus, but were just a smidge out, making the subject a bit soft.  Also, take care to use the focus limiter if you're shooting further subjects, as there were several instances where I didn't have it engaged, and it would sort of get 'stuck' at a closer focus distance, and would think that the big blurry bokeh balls were sharp and in focus.  Switching the limiter on fixed these situations. Overall, though, the autofocus was more than capable.
The 100-400mm, like most long Panasonic lenses, has a built-in optical image stabilizer. While in-body IS is appearing on more Panasonic bodies, and Olympus' excellent IBIS system has been around for years, there are limitations to in-body stabilization when it comes to very long glass.  The stabilizer on the 100-400mm is very good, and I found it to provide an extra 4 stops or more of handholdability in most situations.  Normally, a lens this long would require 1/800-1/1000s shutter speeds at the long end to achieve blur-free images, but I was able to get fairly consistent results at around 1/50s at 400mm.  The OIS, combined with excellent reach in a fairly compact package makes this lens, despite the slower f/6.3 aperture, completely usable as a handheld lens for birding or other long-reach requirements.