Image Quality: Dynamic Range and Color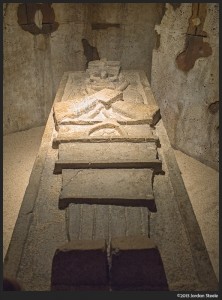 One of the biggest restrictions for Micro 4/3 for years was the limited dynamic range of the image sensors. Olympus finally made great strides in the dynamic range department with the OM-D and subsequently, the E-PL5 and E-PM2. Thankfully, the GH3 is very similar to the OM-D in this regard. It is rumored that the sensor in the GH3 is the same sensor that is found in the OM-D, and I have no problem believing that. The two cameras are extremely similar in image quality, and when working with the RAW files from the GH3, it felt the same as using the OM-D files. There is ample headroom on the highlights in the RAW files, and good shadow recovery as well. Unfortunately, it was literally overcast every single day I had the GH3 in my possession, so I have no sunny landscapes with wide contrast ranges to show you, but the image on the right features an overhead spot in a deeply shadowed room, and was taken at ISO 1600 (which further reduces dynamic range), and the GH3 was able to keep detail throughout the image. The GH2 and previous Panasonic cameras would not have fared as well.
With the new sensor, the odd slightly green color cast that was the hallmark of the GH2 is also gone. While the GH2's color cast could be removed by creating a custom color profile for your RAW converter, it's not needed with the GH3. Colors were accurate and well represented.
The GH3 also has nice and accurate white balance. While not always perfect, it handled the vast majority of lighting situations with aplomb and generally needed minimal adjustment during RAW development.
Image Quality: Noise
Noise is relatively well controlled with the GH3. With RAWs, the camera produces ever so slightly more visible noise than the Olympus OM-D, but they are very similar in profile, and it would be next to impossible to notice in any situation other than viewing images side by side at 100% on screen. Noise control is a little better than previous Panasonic cameras like the GX1 and GH2, and provides high detail and relatively low noise up through ISO 1600. ISO 3200 is still usable with proper exposure and processing, and even ISO 6400 can be used for many purposes, though care must be taken to avoid underexposure or sharpening too much. ISO 12,800 is generally OK for web use or 4×6 prints if you don't mind some grain, but ISO 25,600 is a step too far, as noise just becomes a little too overwhelming at that point.
Overall stills image quality is on a very high level for a Micro 4/3 camera, and is pretty darn good for any camera. Overall, it is the equal of the Olympus OM-D from a sensor standpoint.
The GH3 also produces relatively clean JPEG images. While I didn't test high ISO JPEGs all that much, the lower ISO JPEGs I made were well detailed with almost no visible compression artifacts and a very natural and pleasing look. This is a step up from Panasonic's earlier JPEG processing, though I'd still rather shoot RAW.
Video Mode
One of the main draws to the GH3 is its video capabilities. Unfortunately, I'm not much of a videographer, so this is a stills focused review, but let's take a moment to look at the GH3's video capabilities.
The Panasonic GH2 was praised for its very high end video quality when it was released in 2010. In many ways it was superior to the majority of full frame DSLRs with video capability, and the GH3 takes this to a new level.
The GH3 is capable in shooting in most any HD video mode you can think of, from 1080p in 60p, 24p or 60i in AVCHD, to ultra-high quality MOV format with 72 Mbps recording rates in 1080p/30p or 24p. As you may guess from the high bit rates, video quality is outstanding, with smooth gradients and very high detail.
The camera allows a huge amount of control, from full manual to shutter and aperture priority, and continuous autofocus during recording is handled smoothly and without distraction.
There are audio input jacks to attach external audio recording devices (though I don't own any to test it). Videographers will definitely want to give this camera a hard look.