Panasonic has had a long line of premium compact cameras in their LX lineup.  Previously, these cameras featured fast lenses, premium construction and fairly good image quality, considering the relatively small sensor.  However, with the rise of high-end compact cameras with large sensors, such as the Sony RX100 series and Canon's G1X lineup, Panasonic felt the pressure to up their game, and they've responded with their new LX100.  This premium compact camera features a Micro 4/3 sized sensor and a fast f/1.7 to f/2.8 zoom lens covering a range equivalent to 24-75mm on a 35mm camera.  In addition to the new innards, Panasonic has also revamped the controls, opting for direct control dials and a built-in corner EVF.  The LX100's steep pricetag of $899 (available at B&H Photo Here) sets some lofty expectations, but can it meet them?
If you're not familiar with my reviews, I review from a real world shooting perspective. You won't find lens charts or resolution numbers here. There are plenty of other sites that cover those. I review products on how they act for me as a photographic tool.  I am not a videographer, so my reviews concentrate on the still imaging capabilities of a camera.
Construction and Handling
The Lumix LX100 is a camera with a fast zoom lens and a large sensor, which makes achieving extremely small size rather difficult.  While the LX100 isn't as small as the Sony RX100 III, it still manages a petite body given the innards.  The LX100 contains a 4/3 sized sensor, though a small part of that sensor is cropped, yielding a sensor with an approximately 2.2x crop factor.  However, the biggest reason for the larger size is coupling that larger image circle with the fast 10.9-34mm f/1.7-2.8 zoom lens.  The lens features 11 elements in 8 groups with a whopping 5 aspherical elements.  As a result, the lens protrudes about an inch from the camera body.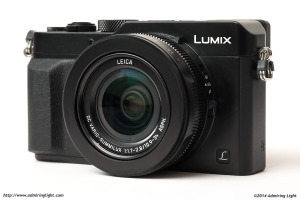 The LX100 isn't super small, but it is small enough to fit in a jacket pocket, though you can forget about fitting it in a typical jeans pocket.  While some have expressed disappointment with the chunky size, I found it to be quite nice in actual use.  While Panasonic makes an even smaller interchangeable lens camera in the GM1 and now the GM5, those cameras are so small that handling suffers a fair bit.  The LX100, on the other hand, features a small but comfortable grip, along with a nice thumb rest.  The camera nestles comfortably into your hand and shooting for long periods with the camera is likewise comfortable.  The larger size also makes room for a nice EVF without cramping your face against your hand while shooting.
The LX100 is constructed predominantly of high-grade aluminum, and it feels incredibly solid.  The dials, including the rather substantial aperture ring, are also made of metal and have a wonderful feel with positive clicks with the perfect amount of resistance.  Overall, the package exudes quality, and feels great in use.
Operation and Controls
With the LX100, Panasonic has taken a page out of Fujifilm's book and created a camera with retro-style controls.  In fact, they've essentially exactly copied Fujifilm's control scheme, at least for the major exposure parameters, as the top and front controls are essentially identical to the Fuji X100 series.  A nicely knurled aperture ring with firm detents and an A setting for autoaperture selection surround the front of the lens housing, while a multi-function ring sits behind it.  This ring can be set to a number of different functions, from zoom control to ISO and focusing.  I preferred to utilize the ring for controlling the zoom, as I naturally expect zoom controls to sit in that location.  Unfortunately, zoom speed is rather pokey, even when utilizing the ring on the lens barrel.  However, when in manual focus mode, this ring is naturally used for focusing, and here the speed and tactile feedback are essentially perfect.
Also located on the somewhat crowded, yet still functional lens barrel are two switches.  One controls focus operation, allowing you to choose from Autofocus, Autofocus with close focusing and Manual focus.  The switch on top of the lens barrel directly changes the aspect ratio of the image.  In the introduction, I noted that the LX100 doesn't use the complete Micro 4/3 sensor, and it uses the extra area for true multi-aspect usage.  Instead of cropping the image circle for different aspect ratios, each aspect ratio uses the full image circle projected by the lens, which means 4:3 has a greater vertical field of view than the other ratios, while the 16:9 ratio gains significant horizontal field of view.
The switches are nice and firm, which will prevent you from accidentally changing the settings.  However, I found the two switches are located a bit too close to the body, which makes them somewhat awkward to operate.
On top of the camera sits a shutter speed dial with markings to 1/4000 second, along with a dedicated exposure compensation dial that sits at the upper right.  As someone who shoots Fujifilm cameras regularly, I fell right into familiarity with this control scheme.  The top also features the shutter button, which is surrounded by a typical zoom rocker switch if you choose to zoom this way.  Beside the shutter button sits a dedicated button for art filters.  While the Panasonic art filters are actually really well done, I was rather disappointed that they garnered their own dedicated button that can't be reprogrammed.  I'd have much preferred this prime button position to be programmable for other functions.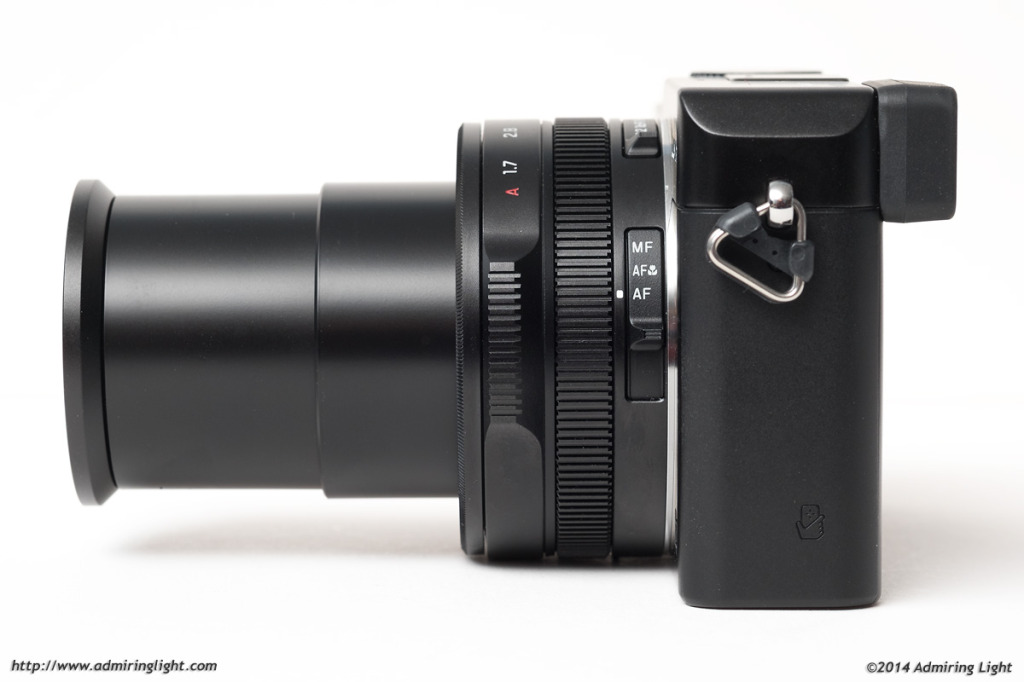 The rear of the camera features a typical four-way control pad with integral rear dial, which activates focus selection, ISO, drive mode and white balance.  There are two programmable function buttons and the movie record button as well, plus a dedicated display button for changing view modes.
Button operation is predominantly well done, though things can still be a bit cramped given the small size of the camera.  I fell into a nice routine with this camera quite quickly, with the controls feeling natural after only a few hours of shooting.
The only major issue I have with the controls on this camera is the inexplicable omission of a touch-sensitive rear screen, and I wouldn't have minded some tilt capability as well.  Panasonic has been putting in touch screens on their Micro 4/3 cameras for years now, and so the lack of one here is particularly glaring.  While most functions are easily handled by the dials and buttons, selecting a focus point quickly was much more of a chore without a touch screen.  While the camera can be configured for direct focus point adjustment, there are simply so many fine steps where the point can be placed that it makes it a slow process to change the focus point.
The menu system for the LX100 is taken more or less directly from Panasonic's recent Micro 4/3 cameras, so if you are familiar with that system, you'll be right at home with the LX100.  The menus are clearly organized and easy to navigate.  I think Panasonic has one of the better menu systems around among the compact and mirrorless manufacturers.