Image Quality
Sharpness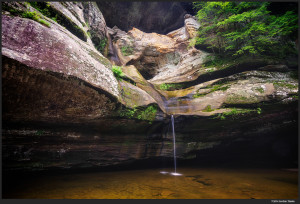 You'd be forgiven for thinking a lens with an extremely ambitious maximum aperture and a very wide 99 degree field of view would require some optical compromises.  If you looked at the $399 price tag, which is very low for an ultra-wide lens, you'd think those compromises would likely be huge.  There are some compromises with this design, but for the most part, I'm impressed by how small they seem to be.  One of the compromises is NOT image sharpness.  The Rokinon 12mm f/2.0 sports impressive central image sharpness even at f/2.0.  The edges and corners are fairly soft at this wide aperture, but even the edges have enough resolution to provide for some quality shots as long as you aren't enlarging too much.  Stopping the lens down to f/4 or, even better, f/5.6, allows the lens to sharpen up considerably.
At the smaller apertures that are going to be used more often for a lens such as this, the Rokinon 12mm truly sings.  The center is blisteringly sharp, and even the edges produce excellent resolution when stopped down.  The corners stay just a bit soft, but they do still retain some resolution.  While it falls a bit short of the excellent cross-frame resolution of a lens like the Zeiss 12mm Touit, it is actually a bit sharper than that lens in the central part of the frame, while falling a bit behind it at the edges.
In all, though, the Rokinon 12mm provides excellent sharpness for even large landscape prints.  Click on the image above to open a large size version of the image, then click the green arrow at the bottom to view large to see the impressive detail that this lens can deliver.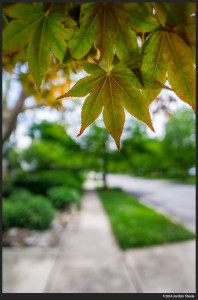 Bokeh
While you don't normally think of an ultra-wide lens as something that can produce a lot of blur, the Rokinon 12mm's fast f/2.0 aperture and good close focusing ability does allow you to blur the background a fair bit if you so desire.  While the lens won't allow you to shoot macro shots or anything close to it, the wide-angle of view combined with close focusing ability can produce some unique perspectives.
The Rokinon 12mm actually produces fairly nice bokeh.  It's not going to win the award for creamiest backgrounds, but the lens manages to do a good job keeping specular highlights predominantly evenly lit.  There can be a small bright ring around them as they near the edge of the frame, but even that is somewhat subtle.  On the down side, the high contrast does make it a somewhat 'lumpier' rendering than some other lenses.  Still, I think the bokeh is fairly good for a lens such as this.
Contrast, Color and Chromatic Aberration
The Rokinon 12mm produces images with high contrast and rich color at most apertures, which is great for landscape and city shooting.  While there is a dip in image contrast at the widest apertures, you won't be disappointed by the bite that this lens produces.
However, If you'll remember at the beginning of this section, I mentioned there were a few optical compromises that had to be made in order to keep this lens small, inexpensive and fast, and now we come to the first of those: chromatic aberration.  Lateral chromatic aberration is one of the weak spots of the lens, with rather pronounced cyan/magenta CA visible at all apertures, particularly at the edge of the frame.  While this can be easily corrected with most current RAW converters, it is still definitely worth noting.  In the same vein, the 12mm f/2 can also produce a fair bit of purple fringing on high contrast edges.  While this too can be corrected in many cases, it's a bit more difficult to remove, especially if there are blues and purples elsewhere in the image.
Distortion, Flare, and Vignetting
The Rokinon 12mm f/2 does show some distortion, but it's at a level that is fairly typical of ultra-wide lenses.  The distortion is a moderate barrel-type, and can mostly be corrected by a simple adjustment in any photo editing software.  There is a small complex 'moustache' signature to the distortion, but it's very minor.  I've noticed that a +7 in the Lightroom distortion correction tool eliminates essentially all visible distortion from images.  Most pictures won't need that correction, but if you have a lot of straight lines, it will be visible without correction.
The 12mm f/2 features Samyang's new 'Nano Coating System' of optical coatings designed to minimize flare.  While an improvement on some of their previous lenses, the 12mm can still show visible flare in the right circumstances.  Occasional multi-element ghosts are visible if the sun is in the right position in the frame, though I find that the lens does a fairly good job here.  Most of the time, the flare will be minimal or non-existent.
Vignetting, however, is another of the weak points of this lens, and unfortunately it is present even when stopping down.  Very visible corner darkening is present at f/2.0 and while the situation does improve a bit when stopping down, even at f/11 there is visible shading.  This can be corrected in post, but you will have to deal with noisier corners when actively compensating for the vignetting.