Sigma has been around for over 50 years, and they've been primarily known as a third-party manufacturer of SLR lenses, though they've also made their own SLR cameras and some high end compact cameras as well. Over the past decade, they've started to make some very high-end glass. Recently, they dipped their toes into the mirrorless market with the release of two lenses for Micro 4/3 and Sony NEX. These lenses, the 19mm f/2.8 and the 30mm f/2.8, are compact primes with moderate apertures and they are extremely reasonably priced. Both lenses retail for $199 regularly, though some recent sales have seen $149 price points and even both lenses for $199 for a short while. Here I take a look at the 19mm f/2.8 on Micro 4/3. Can Sigma produce a low cost gem for Micro 4/3?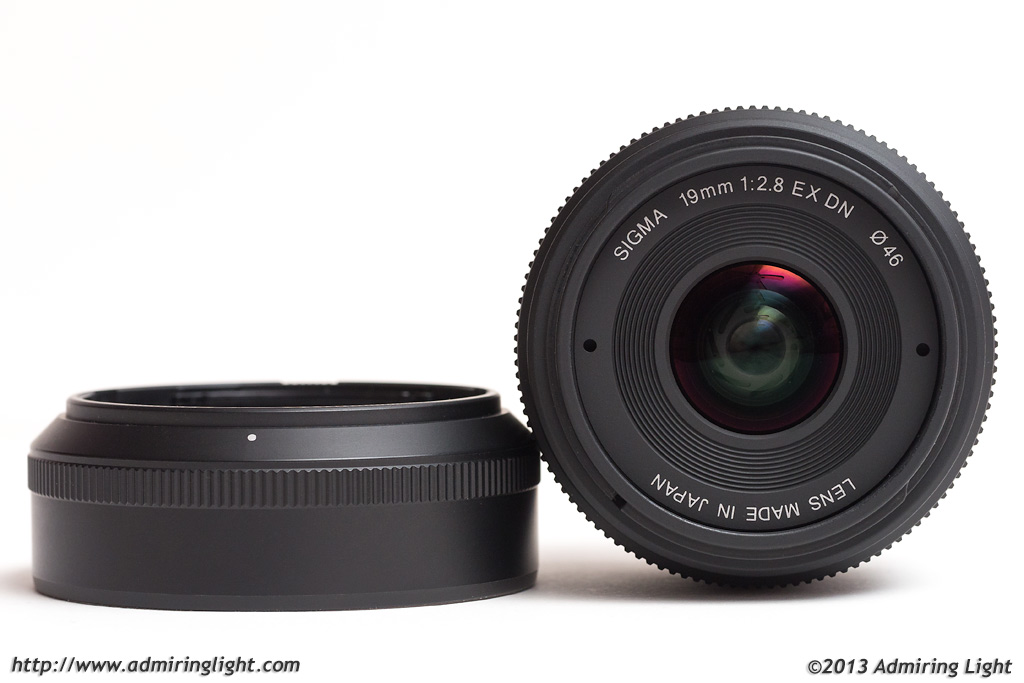 If you're not familiar with my reviews, I review from a real world shooting perspective. You won't find lens charts or resolution numbers here. There are plenty of other sites that cover those. I review products on how they act for me as a photographic tool.
Around the Lens
The Sigma 19mm f/2.8 EX DN is a sort of an odd-ball focal length on Micro 4/3. It is rather obvious to me that the choices of 19mm and 30mm for Sigma's first mirrorless lenses were based around the APS-C sensor of the NEX system. These lenses were then simply modified to work on Micro 4/3. With the 19mm, the lens produces an angle of view equivalent to a 38mm lens on full frame: just a hair wider than the outstanding Panasonic 20mm f/1.7 pancake.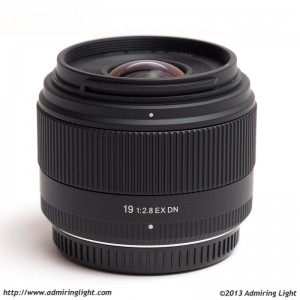 If you are comparing the lens to the 20mm, I don't think they fill the same need. Despite being only 1mm apart in focal length, they feel somewhat different in use to me. The 19mm feels more like a typical 35mm lens to me than a 'normal.' Plus, the 20mm is significantly more expensive. You, of course, get a full extra stop and a half of aperture and even smaller size for your trouble.
The Sigma 19mm f/2.8 is a relatively compact lens, though a bit larger than you'd expect given the focal length and aperture. It's a well built lens, with high quality plastics and a metal mount, all with very tight tolerances. Despite its budget price, Sigma includes both an outstanding lens hood (which reverses extremely close to the lens body to keep the package small), and a very nice lens case. Olympus should take note here and realize that you shouldn't gouge your customers for essential accessories.
The only thing that keeps the Sigma from feeling truly high quality in the build department is the fact that the focusing group in the lens is 'loose', such that when the lens isn't powered up by the camera, you can hear and feel it rattle around inside the lens.
Autofocus and Handling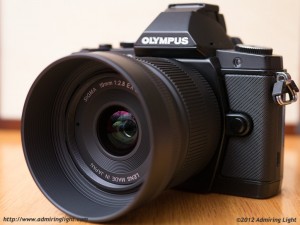 When you mount the Sigma 19mm f/2.8, there's something about it that feels right. Despite its slow aperture for a prime, and its relatively odd focal length, there's something that just made me want to shoot with it. It feels right at home on most any Micro 4/3 body. It's small enough and light enough to be extremely unobtrusive, while also being large enough to actually balance the camera body a bit. The broad plastic manual focus ring is well damped and feels great to use.
However, your first impression when you power up the camera may be one of confusion. For some reason, the lens takes a strangely long time to 'boot up.' After flipping on the camera switch, it takes approximately 3-4 seconds before the lens readies the focusing group and tells the camera it's ready to go. After this odd little delay, however, it's nothing but responsive. Autofocus is fast and accurate, locking swiftly on to your subject in any lighting condition. One very nice feature about the Sigma 19mm is its very close focusing capability. The lens can focus to 7.8 inches. While certainly not close enough for macro use due to the wide angle, it is definitely close enough for most any type of general shooting.