Image Quality
Dynamic Range and Color
The A7R II features a brand new 42 megapixel backside-illuminated full-frame CMOS sensor, and in my experience, it delivers. The extra resolution hasn't put any damper on the camera's dynamic range, as the A7R II is capable of capturing detail in the brightest brights and darkest darks of almost any naturally occurring scene. At base ISO, it is probably the widest dynamic range available in a mirrorless camera.  The only times I was able to exceed the dynamic range of the sensor is if I was in a dark interior area shooting to bright sunlit outdoors.
Sony has made some great strides with regards to color fidelity over the years, and the A7R II produces files with great richness and depth of color.  While RAW files out of camera are muted as expected, the tonal transitions are beautiful, making for easy adjustment and balancing.  The excellent color response and exceptional dynamic range lend great richness to the files of the A7R II, exceeding those of the earlier A7 series cameras.  There really is just something wonderful about the image quality produced by the camera.
Detail
Of course the banner feature on the A7R II's spec sheet is the very high resolution sensor. Not only does the 42 megapixel resolution set a new bar for mirrorless cameras, but the BSI design means that it should do better at high ISO as well.  Let's first dive into the detail portion of things.
While the 42.3 megapixel resolution of the A7R II is only a marginal increase over the A7R's 36 megapixel sensor, it is still an increase, and for those used to shooting Sony's 24 megapixel cameras, it's a big increase.  The A7R II is capable of delivering exceptional resolution when used with a good lens, with simply oodles of detail in the files, especially at low ISO.  However, even at high ISO, the camera is capable of retaining tremendous amounts of detail.  Only at ISO 12,800 and beyond does detail start taking a noticeable hit, and even there it's still fairly decent.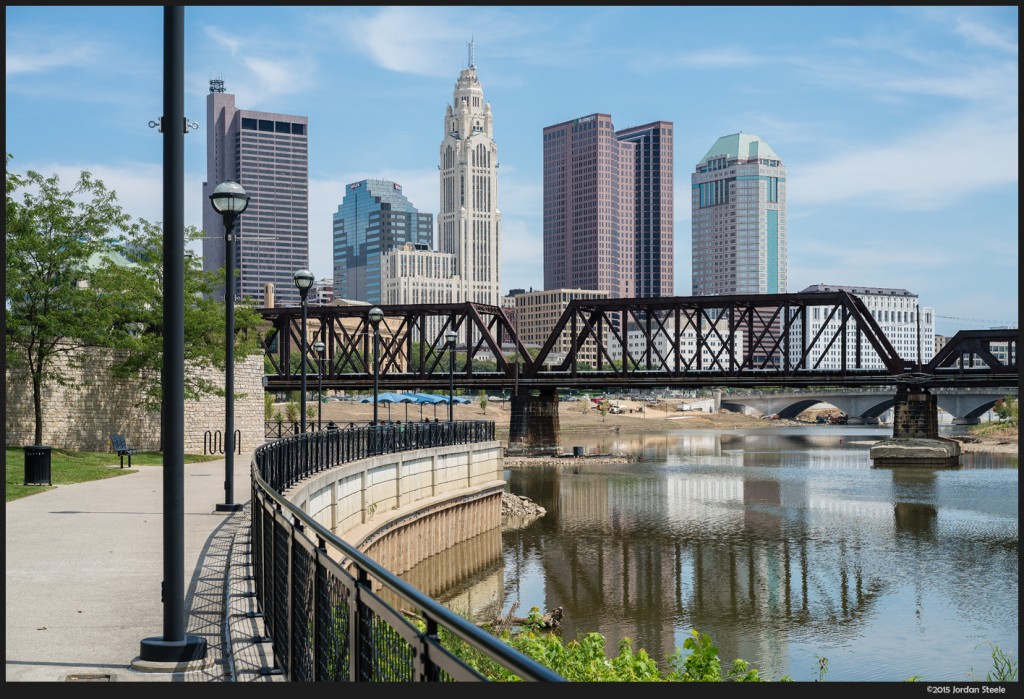 One of the shots that drove this home for me was a simple shot of my son playing.  I was using the Sony/Zeiss FE 55mm f/1.8, shooting wide open, and was a little back to get most of his body in the frame.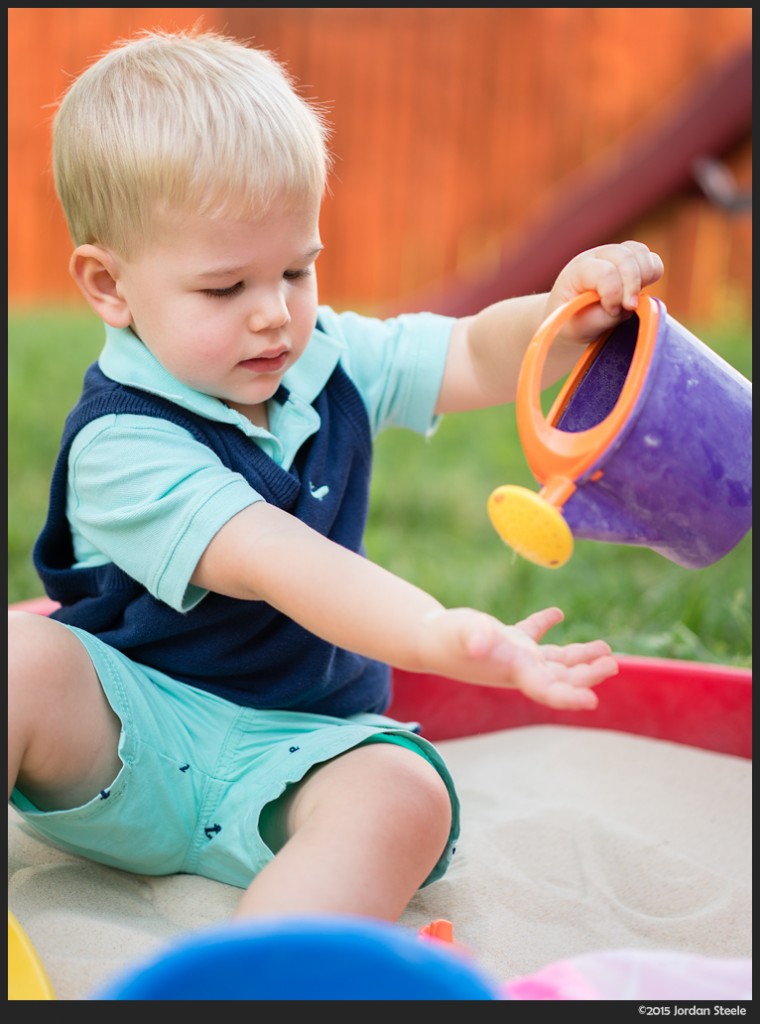 This is a simple shot with a very nice rendering.  This lens and this body work well together.  What shocked me was when I zoomed into 100% and looked at his eye.  I'm used to seeing fine detail and individual eyelashes when doing tight portraits on my other cameras.  I am not used to seeing that level of detail from a shot like this.  Below is a 100% crop from the shot above (click to view full size).  I find this very impressive, both from a camera standpoint and a lens standpoint (wide open on an ultra-high resolution sensor yielding this kind of detail is pretty good).
In referencing the excellent FE 55mm f/1.8, it's worth noting that this sensor will stress your lenses.  If you are working with inferior glass, it will show.  In fact, it will show even when working with exceptional glass.  For instance, on my A7 II, the FE 55mm f/1.8 appears very sharp right to the edges at f/1.8.  On the A7R II, I can see that there is a small amount of edge softness at wider apertures, and it's not until f/4 or so that the lens becomes truly tack sharp across the whole frame.  Of course, the images are still excellent, but if there is any flaw in your lens, the A7R II will be able to show it.  Luckily, there are many outstanding lenses available for the FE system, and even my adapted Canon FD glass performed quite admirably, though it fell short of the likes of the FE 55mm or the new Batis 85mm f/1.8.
Noise
Let's discuss the BSI sensor in the A7R II for a second.  The backside-illuminated portion simply refers to the fact that the sensor circuitry is behind the pixel receptors rather than in the same layer.  As such, the area for recording information is a bit larger in a BSI sensor than in a standard CMOS sensor.  Whether it's the BSI design or something else, I couldn't say, but I can say that this new sensor does improve on earlier A7 cameras in the noise department. While the A7s will likely continue as the high ISO champ of the A7 series, the A7R II pulls a nice leg up on the A7 II.  I feel that the noise is about 1-1.5 stops better on the A7R II, with relatively clean images up to ISO 6400, with usable images able to be coaxed out of the ISO 12,800 and 25,600 sensitivities.  While ISO 51,200 isn't terrible, it's also awfully noisy, and the dynamic range and color fidelity loss at this ISO will give some shooters pause.  ISO 102,400 is simply too far, however, and is good for not much more than emergency web sharing.
While having a camera that can shoot at super high ISOs can be handy, I found that I rarely needed to go over ISO 6400.  Shooting with a camera with in-body stabilization means that even handheld night street photography can be done at ISO 12,800 and lower.  I even have a few handheld night shots at ISO 800, where the IBIS allowed me to lower ISO to get the shot.
One other thing to discuss with noise is how the camera works with long exposure low ISO images.  For the most part, long exposures at ISO 100 yielded excellent images with lots of detail and relatively low noise.  The one thing that does happen is a lot of hot pixels appear to show up in multi-minute long exposures.  This is the case with any camera, but there are a LOT of them on the A7R II.  Sometimes Lightroom dealt with the hot pixels without an issue, but it also couldn't correct them all some times.  Capture One Pro's single pixel noise reduction, however, did a great job of nabbing any hot pixels in these images.  It's not a major deal for most shooting, but it's definitely worth noting.
JPEG Image Quality
Sony has continued to improve JPEG output over the past two years.  The original A7 had JPEGs that could only be described as awful, while this year's A7 II raised the bar quite a bit.  Now the A7R II's output improves even further.  For the first time ever on a Sony camera, I can say that the JPEG output is excellent.  Sony has found a great balance between noise reduction and detail, and I found the JPEGs quite good-looking all the way to ISO 12,800.  There are few compression artifacts, plenty of detail, good sharpening algorithms and smooth tonal gradation.  At high ISO, the typical processed look can be visible at 100%, but the overall look is excellent.  Well done, Sony.
Video
As I mentioned in my little disclaimer note at the beginning of the review, I am not a videographer, and I don't feel comfortable going in-depth on the video features, so take my observations with some grain of salt. If you are going to use the A7R II primarily for video, I'm sure you'll want more detail than I can provide here.
The A7R II has dramatically improved video modes from the A7R, and it begins with the addition of in-camera 4K video recording. This is the only A7 series body that can record 4K video natively, and it can do so at 60p, 30p or 24p with varying bit rates.  The top bit rate comes in at 100 Mbps.  In my experience with the few clips I took, the video looked good, but not exceptional.  To be fair, however, I do not own a 4K capable display, so I was viewing the video zoomed in to 100% and was viewing a cropped mode.  There is plenty of detail, decent dynamic range and good color, though panning with the camera yielded what seemed to be less detail than one would expect simply from motion blurring.  I will say that the in-body stabilization also works in video mode and does a very nice job at keeping the video still, even with non-native manual focus lenses.
At higher ISOs, I noticed noise is kept relatively in-check, but when shooting above ISO 3200, my copy of the camera showed a vertical white line flickering in and out of the frame, which frankly would ruin any video I was going to take at those ISOs.  Whether that's a flaw in my particular review sample or something more widespread, I can't say.  Below is a 4K clip taken in the early morning.  It begins at ISO 3200, but you'll notice a cross fade where I bump the ISO from 3200 to ISO 12,800 (and stop the lens down further to keep the shutter speed at 1/50s.)  Here you should be able to see the white line I talked about earlier.  Of course, YouTube's compression has reduced quality slightly, but you should be able to get a good idea.

One very important thing of note: For the highest bit rate of 100Mbps, you must use an SDXC UHS-I U3 card or faster.  It's not that things will stutter, the camera won't actually record if your memory card doesn't meet these specs.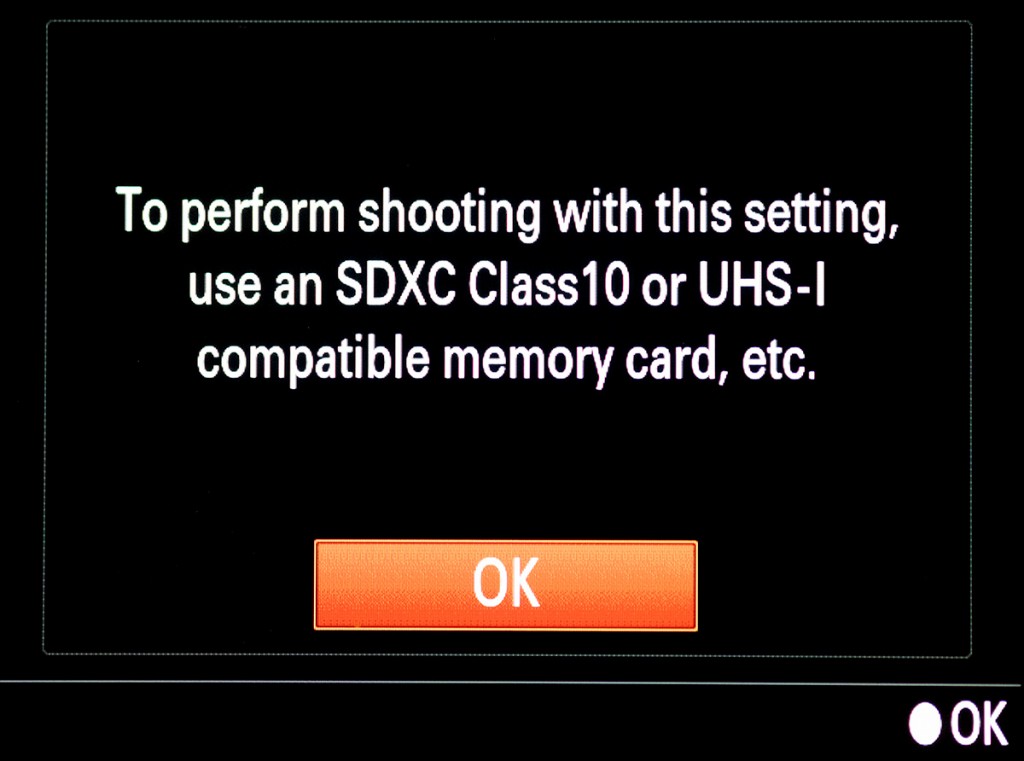 At the 60Mbps rate, you can shoot with a standard UHS-I rated card, but it still must be SDXC.  I was baffled at first when my regular cards couldn't be used for 4K recording, as they are 32GB UHS-I Class 10 cards that should be easily capable of recording 60Mbps.  However, the fact that it was 32GB, and there for not SDXC, is what caused the failure to write.  SDXC starts at 64GB, so you will need at a minimum, a fast 64GB or larger card to record 4K video.