Today I'm taking a look at one of the first FE lenses released for the system, the FE 70-200mm f/4 G OSS.  Until the recent announcement of the new G Master 70-200mm f/2.8, this lens was the only option for a native telephoto zoom lens for full-frame E-Mount.  It fills the classic telephoto zoom range that is a staple of many photographers' kits, and the constant f/4 aperture strikes a balance between speed and compactness. This lens is one of Sony's 'G' series lenses, which are intended for high-end glass, so my expectations are fairly high for the lens. Let's take a look.
Construction and Handling
The FE 70-200mm f/4 is billed as a pro-grade lens, and as you'd expect, the build quality is on a very high level.  The lens body is constructed of a mix of high quality plastics and metals, and the result is a solidly built lens that isn't overly heavy.  The lens is similar in size to 70-200mm f/4 lenses for DSLRs, as is expected: the benefits of a short flange distance are lost once you get into the telephoto range. The FE 70-200mm has very smoothly operating zoom and focus rings that are well damped and feel great to use.  The included lens collar and white plastic lens hood are also well-built and fit the lens well.  In short, there's nothing to complain about here.
The FE 70-200mm f/4, like most lenses of its type, has both internal zooming and internal focusing, such that the lens is constant in length regardless of zoom or focus setting.  Unfortunately, the internal focusing design suffers from significant focal shortening when focusing up close.  When comparing to my Canon 70-200mm f/4L (also an internally focusing and zooming lens) at focus distances around 2-3 meters, the Sony gives up around 35mm of reach at the long end to the Canon, even though the field of view of both lenses is near identical when focused at infinity.  This doesn't matter for distant subjects, but if you're trying to maximize close-up framing and subject separation, be aware that at close to medium focus distances, the lens has a true focal length of around 60-165mm.
The side of the lens features several controls.  There are dedicated switches for the optical image stabilizer settings, for switching between manual and autofocus, and for a focus limiter, that can limit the focus range to 3m and further to help increase focus acquisition speed. Finally, there are three focus stop buttons that sit forward of the manual focus ring.  These buttons, when held, will prevent the camera from trying to autofocus.  This can be a useful feature to have if you are prefocusing on a subject, to allow you to keep that focus locked for multiple different shots, or simply so you don't have to keep the shutter button half pressed.  The placement of the three buttons ensures that one of them is always at the ready to depress with your left hand, regardless of camera orientation.
Autofocus and Image Stabilization
The FE 70-200mm f/4 has a fast and quiet focus motor, making it an ideal choice for most any type of shooting. In single shot mode, I experienced quick autofocus that locked surely and accurately in good light.  When the light gets dim, I did have some occasional trouble with obtaining a focus lock, and speed definitely suffered a bit, but this may be as much a camera limitation as it is a lens limitation.
The speed of the focus motor in good light makes the 70-200mm f/4 a great lens for which to shoot action.  On both my Sony a6000 and A7 II, the FE 70-200mm f/4 was able to accurately track a moving subject, even when it was moving directly towards me. The shot below was taken at 200mm as the man rode his bicycle towards me at a fairly good clip.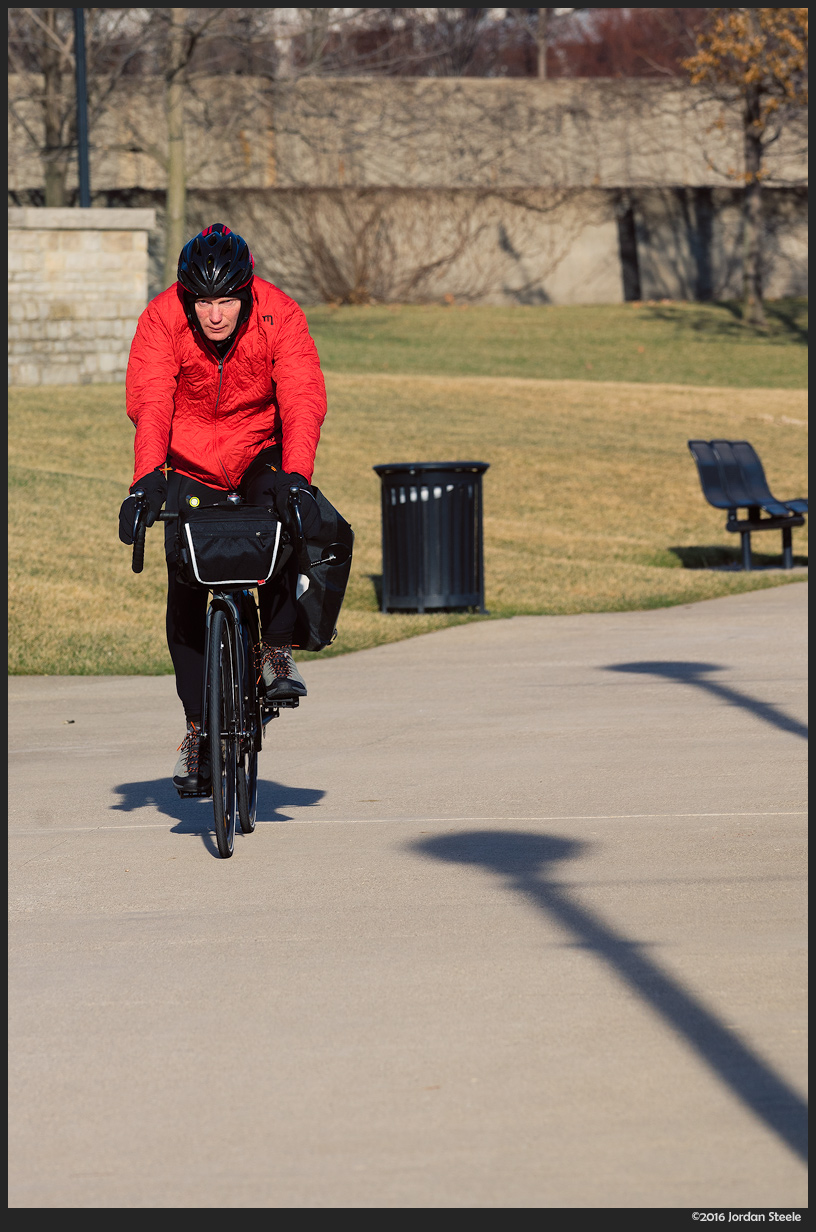 I only took a 3 shot burst for this frame, but all three were in perfect focus. Testing it in other situations, I had a very good success rate.  This is a great lens to choose if you shoot moving subjects, and are OK with the moderate amount of reach. The lens does pair very well with the a6000 (and the new a6300), for a relatively lightweight setup that is capable of high-speed tracking and burst shooting.
The FE 70-200mm f/4 also has Sony's Optical Steady Shot (OSS).  The OSS system will work in concert with the in-body stabilization on the Mark II series A7 bodies, or by itself on all other E-mount bodies. The stabilizer works, though I found it to be only an average implementation.  I regularly achieved between 2 and 3 stops of extra handholdability, which is decent, but nothing special. The OSS system didn't seem to gain much when used with my A7 II, as my results were similar to what I get with my adapted Canon 70-200mm f/4 using the IBIS.  I did very much appreciate the OSS when shooting on my a6000.
There's one key thing to note with this stabilizer, though: It doesn't play too nicely at very high shutter speeds.  I had several instances where the OSS system actually induced some blur when shooting at speeds faster than 1/1000s, which was a bit odd, so it's probably a wise move to flip the OSS switch to OFF when shooting in bright daylight.