Manual focus lenses have seen a bit of a resurgence over the past 10 years, and if you've been following the site for a while, you know I have a certain fondness for them. It's been great fun trying out older lenses, some of which are truly excellent optics even today. With the rise of mirrorless cameras over the past decade, nailing focus manually has become easier, making all manual lenses even more attractive. I suppose it's no surprise then that companies are realizing that in addition to the market for older manual focus lenses, there is a good sized market for brand new manual focus lenses. Voigtländer has seen a resurgence by releasing several excellent primes, many of which I have owned and reviewed on this site.
In the last 5 years, we have also seen the rise of a few small lens manufacturers out of China, which are producing low-cost, yet often very nice quality manual focus lenses. Laowa has made a name for itself by releasing unique optics that also perform very well, and then there are TTArtisan and 7Artisans, who began by releasing small and cheap options of more traditional lenses. Both of these lens makers use DJ Optical to build the lenses (much like Cosina builds both Voigtländer and Zeiss lenses). Some of their early efforts were mediocre, but as the companies gained experience, we have seen the release of several truly excellent lenses. I've been very pleased and surprised by the excellent quality of my TTArtisan 11mm fisheye lens (which I have owned in both E mount and RF mount), and today I'm looking at another one of those lenses: the TTArtisan 50mm f/1.4 Aspherical.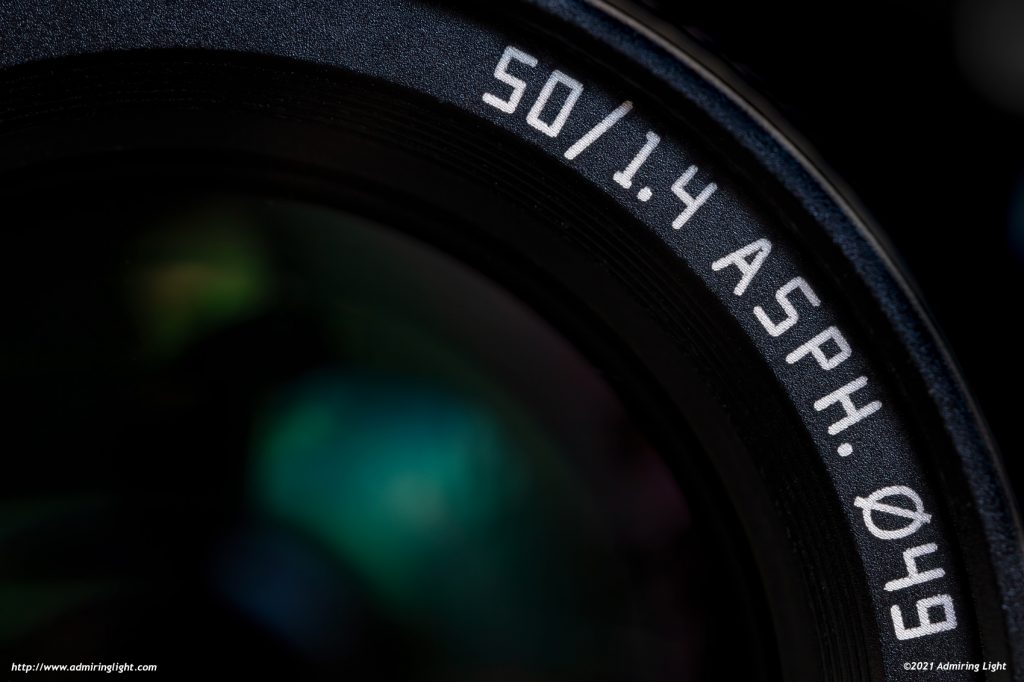 TTArtisan released this lens originally for the Leica M mount, at an affordable price of $369. The lens was highly praised, with many comparing it favorably to such excellent lenses as the Voigtländer 50mm f/1.2 Nokton and even competing on some levels with the legendary Leica 50mm f/1.4 Summilux. After seeing some samples, I was very intrigued by the lens, but that intrigue led to a purchase as soon as TTArtisan ported the lens to many native mirrorless mounts, including Sony E, Nikon Z and the one reviewed here: Canon RF. In addition to the new mounts, TTArtisan adjusted the minimum focus distance to a closer 0.5m (from 0.7m) and lowered the price considerably to just $239. So what do you get for such an affordable price? Quite a lot. Let's dive in.
Construction and Handling
The build of the TTArtisan 50mm f/1.4 is very clearly modeled after Leica rangefinder lenses, down to copying the font used by Leica. While I would probably prefer that they take on their own design language here, it's a classic aesthetic and it looks good. The 50mm f/1.4 is constructed entirely of metal and glass. The aluminum body is well machined with tight tolerances and feels very solid. The large manual focus ring has machined grooves to create a ribbed surface that allows for a nice grip. All markings on the lens barrel are engraved and filled with paint. (markings on the front of the lens are printed).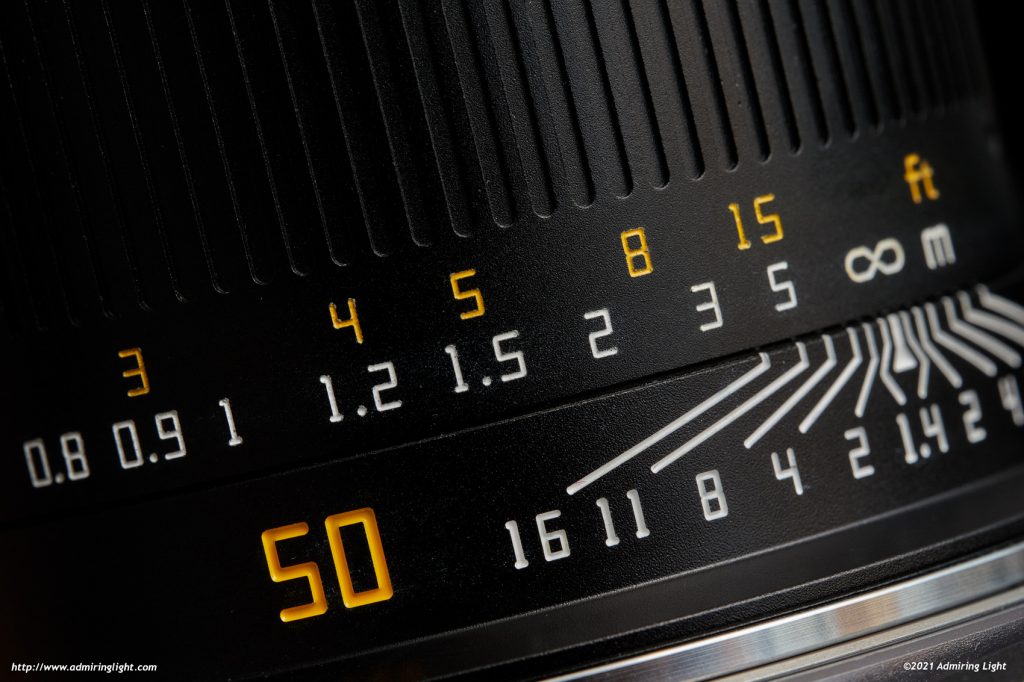 The 50mm f/1.4 is slightly longer than most 50mm lenses due to the interesting lens design, which has the standard double-Gauss design up front with a rear group with high dispersion and aspherical elements to apply additional correction. The lens is very similar in size to something like the Sony/Zeiss 55mm f/1.8. The 50mm f/1.4 is a little heavier than one might think at 457g, with the lens being a solid chunk of glass and metal. While you do feel that weight when the lens is mounted, it still feels right at home on my R5 and R6.
The manual focus ring is perfectly damped to my taste and operates extremely smoothly, with even resistance throughout the throw. The focus throw is long enough to allow for excellent precision in placing focus. There is just the tiniest bit of play in the focus ring when changing focus directions, which is the only thing that hints at the lens being constructed to a slightly lower tolerance than the much more expensive modern manual focus lenses. The thin aperture ring at the front of the lens is also ribbed, but the size of the ring makes it very easy to locate by touch. The aperture ring turns with nice resistance and has very satisfying click stops every half stop from f/1.4 to f/16. Overall, the haptics are excellent.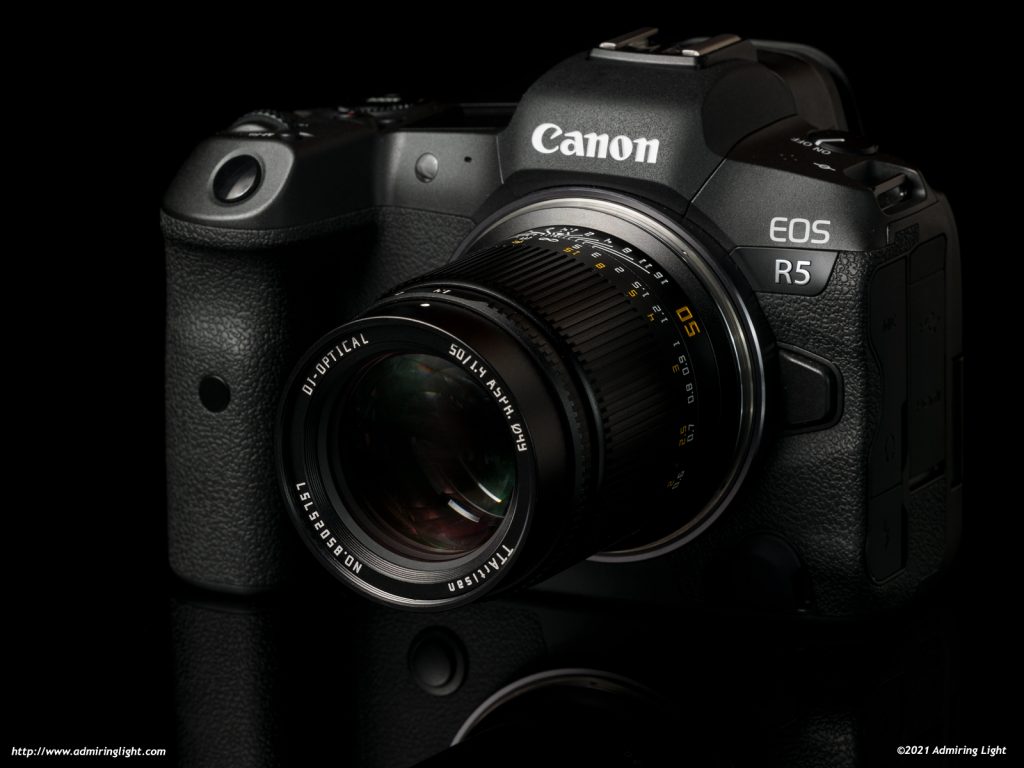 The TTArtisan 50mm f/1.4 comes with a slip on metal lens cap, which works well and stays on nicely. It is also more attractive than most clip-on lens caps. The lens does not come with a lens hood, which I feel would be a welcome addition. Aftermarket rangefinder styled metal hoods can be cheaply had on Amazon and eBay, and will help shield stray light from the lens while looking nice as well. I purchased the hood below for about $6 on eBay and I think it matches the lens very well.
The lens is an all-manual affair, with no lens contacts to pass distance or focus information to the camera body. The lack of EXIF data to the camera does mean that you will need to input the 50mm focal length into the camera to take advantage of the IBIS on the R5 and R6. Like all adapted manual lenses, I get about 3-4 stops of extra handholdability on those cameras.