Image Quality
With the lens eschewing size concerns for performance, the 35mm Distagon needs to perform, and perform it does.
Sharpness
Zeiss is well-known for creating sharp lenses, and the 35mm f/1.4 is another great example to add to that reputation.  The lens starts out strong right from f/1.4 with very good, even resolving power across the image frame.  While it's not razor-sharp at f/1.4, there is more than enough detail resolved for most any purpose, especially at closer focus distances.  Near infinity at f/1.4, the lens still produces good image sharpness, though the edges of the frame soften slightly here due to a bit of field curvature.
Stopping down to even f/2.0 brings a bump in cross frame resolution, with the lens pulling truly excellent levels of detail out of a scene.  Stopped down even further, it's simply tack sharp all the way into the corners.  The lens is still slightly better at closer focus distances than it is at infinity, but only the pickiest of pixel peepers will notice or care, as the lens is very capable of producing highly detailed landscape images at small apertures, across the entire frame.  While it falls just short of the amazing sharpness of the Zeiss FE 55mm f/1.8, it is indeed one of the sharpest 35mm lenses (or equivalents for smaller formats) that I've ever had the pleasure to use.
Click on the image to the right to view a large size image taken at f/1.4. Click on the green arrow at the bottom to fully enlarge.
Color and Contrast
The other thing for which Zeiss has built a strong reputation is rich image contrast and vibrant color, and the 35mm f/1.4 is again cut from the same cloth as other great Zeiss lenses in this department.  The 35mm f/1.4 Distagon produces rich contrasty images at all aperture settings. Combined with high sharpness and quick falloff to blur outside of the focus plan, the 35mm f/1.4 truly produces images that almost seem to pop out of the screen or print, without being overly harsh.  This look gives images a special quality that is hard to achieve with many other lenses.
Bokeh
One of the primary uses of a fast wide-angle lens is separating a subject from a background while including some context.  As such, the bokeh is of great importance in a lens such as this.  Often, when lenses are highly corrected for image sharpness, the bokeh tends to suffer and take on a bit of a nervous quality.  Somehow, Zeiss has managed to not fall into this pattern.
The 35mm f/1.4 produces images with largely excellent bokeh.  Backgrounds melt pleasingly away from the plane of focus.  Specular highlights are evenly illuminated with only the slightest hint of a bright outline.  The nine aperture blades are rounded, keeping out of focus highlights looking circular until the lens is stopped down to f/5.6 or beyond.  The only negative to the bokeh is the presence of some light onion-ring centers due to the aspherical elements used in the lens.  In all, I was very impressed with the rendering of the bokeh.  Combined with the high contrast and sharp images, the bokeh helps create a look that is simply beautiful.
Chromatic Aberration, Flare, Distortion and Vignetting
So far, I really haven't said a single thing that's negative about the optical properties of the lens, but it is not a flawless lens. While color, contrast, sharpness and bokeh are all outstanding, the 35mm f/1.4 does exhibit a few minor issues with lens aberrations.
The 35mm f/1.4, like many fast prime lenses, can exhibit longitudinal chromatic aberration at wide apertures, showing up as a magenta fringe in out of focus areas in front of the focus point and a green fringe behind the focus point.  In certain circumstances, purple fringing can occur on high contrast borders as well.  However, all things considered, these are quite well controlled for a fast wide-angle lens, and only rarely come into play in most day-to-day shooting. Lateral chromatic aberration, however, is very impressively controlled.  I didn't see any field relevant lateral CA during my shooting.
The 35mm Distagon also shows a bit of barrel distortion.  In most cases, you won't notice it, but if shooting architecture or other scenes with straight lines, the slight bulge of distortion can be easily seen.  Out of camera JPEGs and the lens profile included in Lightroom will help eliminate almost all of the distortion.
Like almost every f/1.4 lens ever made, the 35mm f/1.4 also shows visible vignetting at wide apertures, though it's reduced to moderate levels by f/2.8 and is imperceptible by f/5.6.  Nothing to worry about here, in my opinion.
The lens also turns in a fairly good performance against bright light, though again slightly less than perfect.  Overall contrast remains high when a bright light source is in the frame, though small, but prominent ghosting can be induced.  This appears as a bright green blob in the frame, occasionally accompanied by a red ghost as well.  However, the flare is generally not a major issue.  In the shot below (click to enlarge), you can see the green flare ghosts in the lower left center of the image frame if you look closely, but they don't detract from the overall image.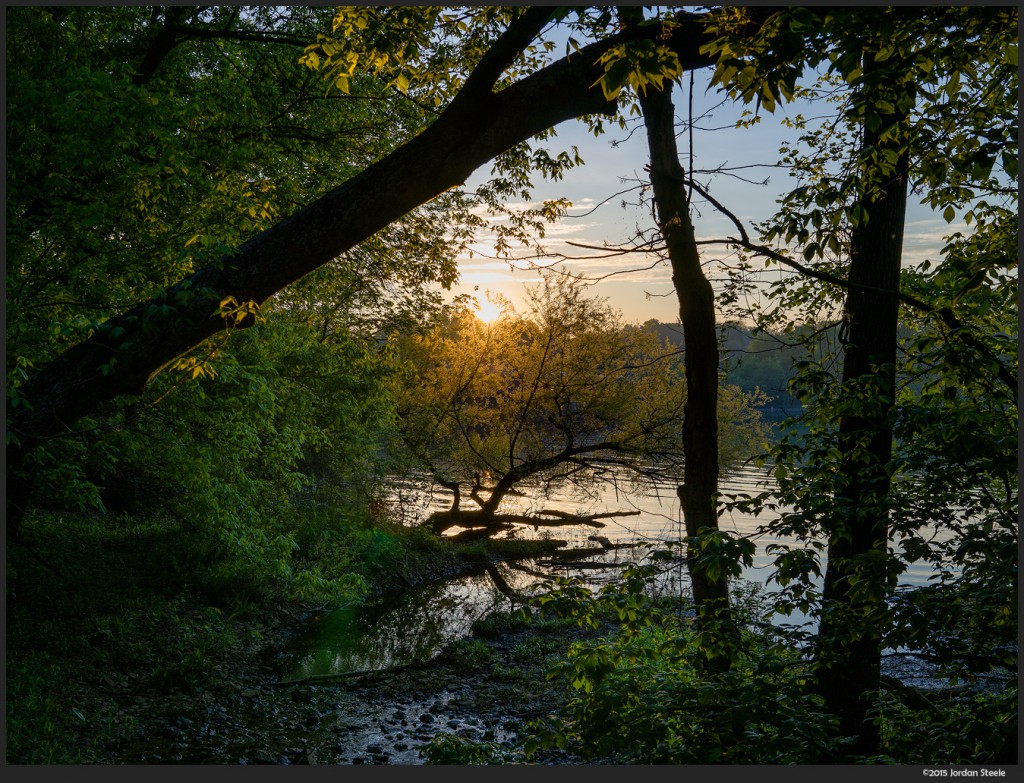 Overall, the lens is incredibly impressive optically.  What Zeiss and Sony have created is simply one of the finest 35mm lenses around.   It's a lens that performs well at wide apertures and small apertures, close up and far away, is sharp and yet still retains pleasing bokeh.  In short, it's an outstanding lens that can produce extremely high quality images in most any situation.