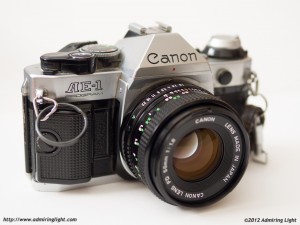 I'm loving digital photography.  I love my Olympus E-M5 and all the modern convenience it brings.  But sometimes you just want a different experience.  I have a few old manual focus cameras, and my most recent is my dad's old Canon AE-1, which still works just fine.  I have a fair amount of Canon FD glass that I use with my digital cameras, so I figured I'd run a roll through the AE-1 and give it a spin.
I got a roll of Portra 400 and am in the process of working my way through it.  Film is far too expensive for me to shoot full time, and I like digital way too much to ever go to film more than just a few times a year, but I'm actually pretty excited to get this roll developed.  I've just been taking some portraits and such, but it's already been a different experience.  When I shot film before, I was not a serious photographer, and simply used film in my Samsung 'compact' camera.  These few forays into film SLR shooting the past few years (about once or twice a year) is the only serious film work I've done.
Still…there's something about a super-simple mechanical camera, with a minimum of controls.  I feel more alive in the moment…waiting for just the right shot.  I also feel I am paying more attention to my technique.  I'm more aware of camera shake and subject motion, and I'm make sure I'm truly set before taking the shot.  I think working this in for purely digital shooters may help remind them that technique matters.
We'll see if this translates into decent photos, of course.  I'll be sure to post the results when the roll is developed!