Olympus 75mm f/1.8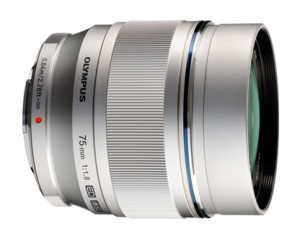 On Thursday, Olympus announced the 75mm f/1.8 that had been displayed earlier in the year.  This is a fast medium telephoto, corresponding to a 150mm lens on full frame, that Olympus says is the highest performing lens they've made for the Micro 4/3 system.  If that turns out to be true, it will truly be a stellar optic.  I own and have reviewed their outstanding 45mm f/1.8 and 12mm f/2.  If the 75mm f/1.8 is better than those, it will be a very special lens from a technical standpoint.  They've priced the lens at $899, which is higher than some expected, but not out of line with their other premium lens pricing, like that of the 12mm f/2.
Looking at the official sample photos (which can be viewed here), I think the lens looks to be a real winner.  It's got beautiful bokeh, a lovely contrast and color signature and is quite sharp at the focal point.  It also seems to exhibit very well controlled longitudinal chromatic aberration and fringing, which is usually a big problem on lenses of this focal length and aperture.
The downside for some with this lens is that the focal length of 75mm is a little longer than the 'standard' portrait lengths (corresponding to 85-135mm on full frame).  For some this will not make sense as a portrait lens, and in fact it will likely be somewhat of a niche lens.  I think it would be great for longer portraiture.  I used to own a Sigma 150mm f/2.8 Macro when I used Canon full frame DSLRs, and it was a wonderful lens.  If the 75/1.8 can be anywhere as good, it'll be a truly stellar lens.  I think the 75mm f/1.8 also will make for a wonderful lens for shooting concerts or theater performances.  Its fast f/1.8 aperture will help keep ISO down and it's a fast focusing lens as well.
It's also extremely well built, with an all-metal build and a the same finish as the 12mm f/2, though lacking that lens' focus clutch mechanism for manual focus.  On the downside, it looks like Olympus will continue to make buyers purchase their lens hoods separately.  This continues to annoy, since Panasonic includes the hood with all of its lenses, from the cheap 14-42 zoom all the way up to its high end optics.  Olympus needs to include hoods on their high end lenses at a minimum, in my opinion.
Overall, these two lens announcements continue to add high quality lenses to the Micro 4/3 system.  One more lens from each manufacturer (the 35-100mm f/2.8 from Panasonic and the 60mm f/2.8 Macro from Olympus) is expected later this summer.