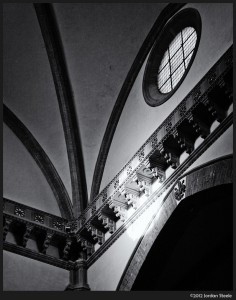 Revisit an Old Shoot
As I mentioned on the first page, it can be very rewarding to rediscover photographs. Go browse images you took somewhere two or three years ago.  Examine all the images as if you had just dumped them off your memory card.  Evaluate them as if you've never seen them before.  Chances are you will find images you had passed over before that tickle your fancy.  But that's not the only reason to do this.
Develop a Style
This also can give you a chance to go through a shoot and process images in a dedicated and new style.  For instance, I lived in Europe for four years between 2002 and 2006 and had an opportunity to travel all over the place.  It was a time of growth as a photographer, and my images range from decent to excellent.  However, my post processing skills were minimal, and I really didn't know how to process black and white photographs well.
Now, I really enjoy black and white imagery, and so I have been revisiting my shoots of trips in Europe and processing them as black and white shoots, with similar style throughout.  One great thing about doing this is that even shots I've been looking at on my wall for years can find a new lease on life and some freshness from a new look.  I also suggest doing black and white if you regularly shoot color, or do color if you regularly shoot black and white.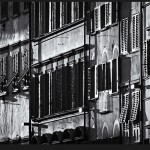 It doesn't matter what your preference is, but find a cohesive way to process these images in a new way.  I like the difference between monochrome and color because different images work well in color than in black and white (though some work well doing both).  This helped me to pick out even more images I had discounted in color, but perhaps had strong lines and shadow and would make for an excellent black and white image.
Revisiting Florence and Pisa
I have done this look back on two trips to Europe before today: one to Switzerland and one to Greece. On both occasions, I discovered multiple images that I had completely forgotten I'd even taken that turned out to be rather good photos.  This time I'm looking back at a trip to Florence and Pisa, Italy.  I visited here in December of 2004 and had a wonderful time.  I was very new to photography at the time, and in fact, this was the very first trip I ever took with an SLR…a Canon Digital Rebel to be exact.  I also only had a Sigma 18-125mm super zoom and a Canon 50mm f/1.8.  I loved it.  Consequently, my eye wasn't nearly as developed as it is now, and my postprocessing skills were even less developed.  Still, I took some good photos and so this made for an interesting look back in time.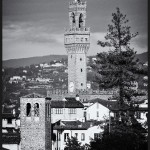 Since I knew I was going to be processing these in black and white, I went through all the images with an eye towards what could make strong monochrome compositions.  While some of the images I picked out were the same ones I liked before, there were some new ones as well.  I selected 10 images and processed them all in Photoshop with Nik Silver Efex Pro, using a modified version of one of the extended presets that I have developed over the last year or so.  Of these 10 images, five of them were shots I had never given a second look to.
I gave them a similar treatment, though image image was individually tweaked, especially with regards to color filtering, in order to bring out the right tonalities.  While this trip was certainly not my best work (I often, when viewing these, felt I had left some really good images on the table), it was nice to reinterpret a shoot from several years ago.
There were even some that I was able to salvage that nowadays I might be tempted to throw away due to some softness…but proper treatment has brought them back from the dead.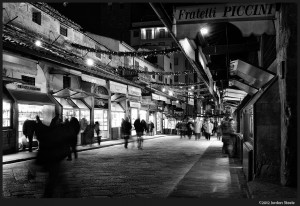 All the more reason to keep anything that might even have the slightest possibility of becoming something decent.
I plan on doing this with most of my Europe trips, and I am likely going to compile the best pictures in a book in the next year or so.  On these pages are scattered a few of these images I picked out from that trip 7 years ago.
So, next time you want to do something photography related, but don't want to go out or can't go out for some reason, take a look back at something you haven't looked at in a while, and rediscover some hidden gems.