One of the things that I love about photography is finding beauty in line and form, especially in finding a view or perspective in objects that most people will pass by.  I especially love this when shooting architecture or travel photography. It is really a fun way to explore a place that I may have been to many times before.
I often go out for 10-15 minute little excursions around Columbus, just to snap a few photos.  Yesterday, I stopped off along the Scioto Mile, a new park along the Scioto River here in downtown Columbus.  They've got a great promenade in front of the Supreme court, a nice stage further south, and a little play fountain park, which is great fun for kids in the summer.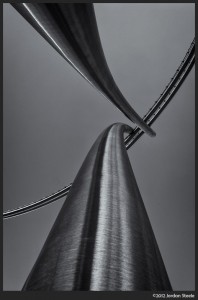 They've got these huge steel tubes, making loops and curves.  In the summer when the fountains are on, they rain down water all over the people playing below.  Of course, it being February, the fountains are off and there are just lonely stainless steel structures, stretching 20 feet in the air.  As I was just about to get back into the car after taking a few shots, I decided to look for patterns and shapes in the tubes, and the results can be seen here.
I'm sure I will explore these fountains further in the future, and will of course try new perspectives and try and find unique ways to capture the scene.  It's just one of the things I enjoy about being a photographer.  It's fun, easy and quick…and very satisfying when successful.