Panasonic GM5
I also took a quick look at the Panasonic GM5.  It's a newly updated brother to the original GM1, which I reviewed last year. The GM5 is quite similar to the GM1, but adds a corner EVF and a hotshoe with a super tiny flash.
The GM5 handles essentially identical to the GM1, with well laid out controls for such a small body and a very nice touch screen interface. The new EVF, however, is a disappointment. It's extremely small and looks like you're looking down a tiny tube.  I'd be wiling to overlook it if Sony didn't have the RX100 III, with a similar amount of space taken up by the viewfinder, but with far larger optics and a clearer finder.  The GM5 comes in a variety of colors.  I handled the black and red, which I have to say, feels a bit overdone.  The silver and black models, however, look really sharp.
Panasonic 35-100mm f/4-5.6
I'm not usually one to cover or use small, cheaply built, slow-aperture zoom lenses.  However, there is reason to stand up and take notice of Panasonic's new 35-100mm f/4-5.6.  The lens covers the same range as a 70-200mm lens on full frame, and Panasonic already has an excellent 35-100mm f/2.8.  So why this lens?  Super tiny.  I mean, it's really an incredibly small lens given the focal range.  It's roughly the same size as Panasonic's already small 14-42mm lens (latest version), and only barely larger than the diminutive Olympus 45mm f/1.8. The lens is a collapsible design, and when it extends, the barrel protrudes for all focal lengths.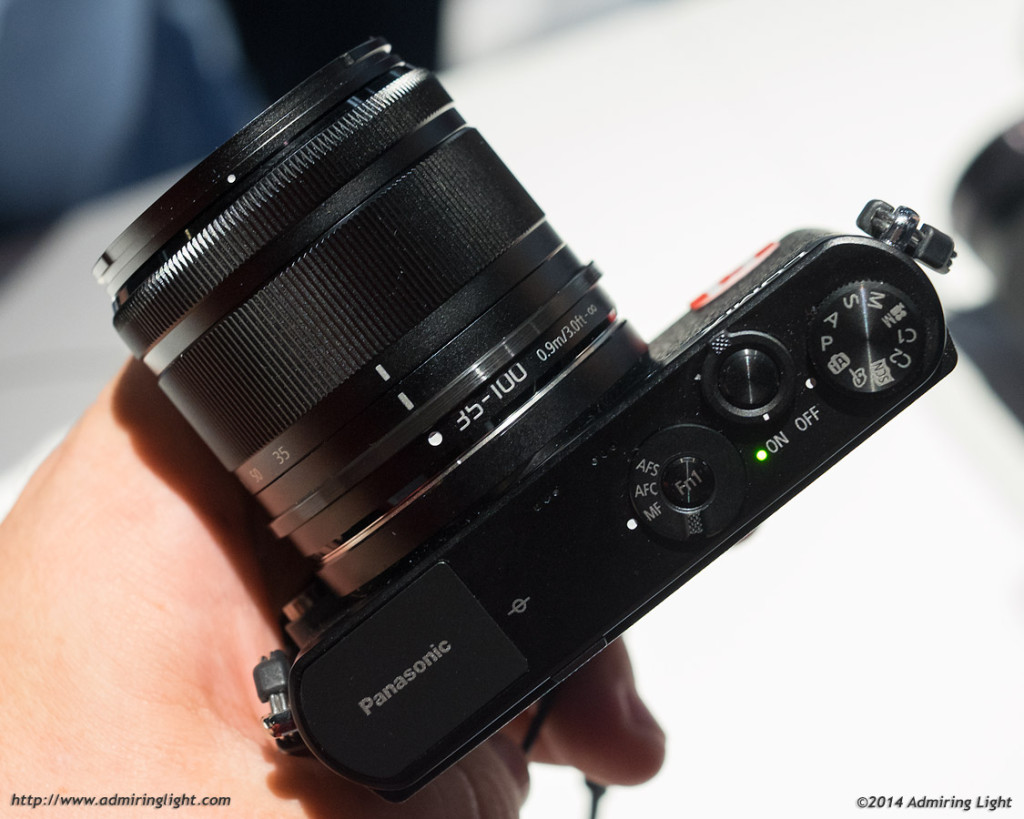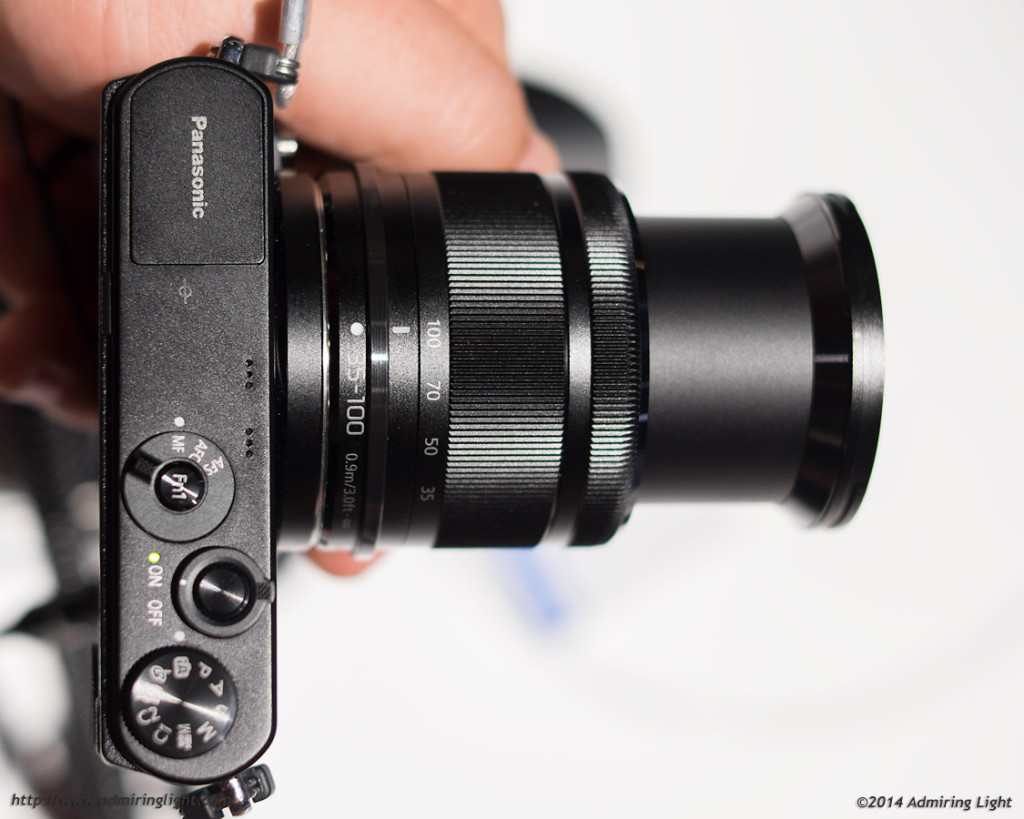 The lens is cheaply built, and it feels it.  Its all plastic barrel doesn't exactly inspire confidence for professional use, and the zoom action is a bit gritty, but it's not about that.  It's about putting a GM1 or GM5 with the 12-32 pancake zoom and this lens in your pockets, and having 24-200mm equivalent in a kit that is incredibly tiny, yet has very good image quality.  The rear LCD was hard to judge image quality with this lens given where the hands on was for it, but it looked fairly good.  I'll be interested to see how this stacks up quality wise.  A very intriguing little lens.
Voigtländer 10.5mm f/0.95
Voigtländer just continues to push the envelope.  Not content with their already excellent lineup of f/0.95 Micro 4/3 lenses, they've now added an ultra-fast ultra-wide angle lens to the mix, with a field of view equivalent to a 21mm lens on full frame.  I stopped by the Voigtländer booth today to handle one in person.  Unfortunately, I couldn't mount it to a body, as I didn't have a Micro 4/3 body with me for the show (best to travel light!), but the construction is every bit as good as th other Voigtländer f/0.95 lenses.  It's slightly larger and wider than the 42.5mm f/0.95, but it weighs roughly the same.  It's not a small lens, when considering other Micro 4/3 optics, but considering the design parameters, it's impressively small.
It focuses down to 0.17m, and features the ability to remove the aperture clicks if desired for video use.  This lens won't see retail until next spring, but it's another exciting release from this venerable manufacturer.