The mirrorless landscape has changed rapidly over the past five years, and many insiders have spelled the death of many of the players due to lower demand for serious cameras and the improvements and advertising push from larger companies. One thing that has been oft speculated is the decline of Micro 4/3 due to the prevalence of quality mirrorless cameras with APS-C and now Full-Frame image sensors. Panasonic has responded by reminding everyone why 4/3 was chosen for the first mirrorless system in the first place: Size.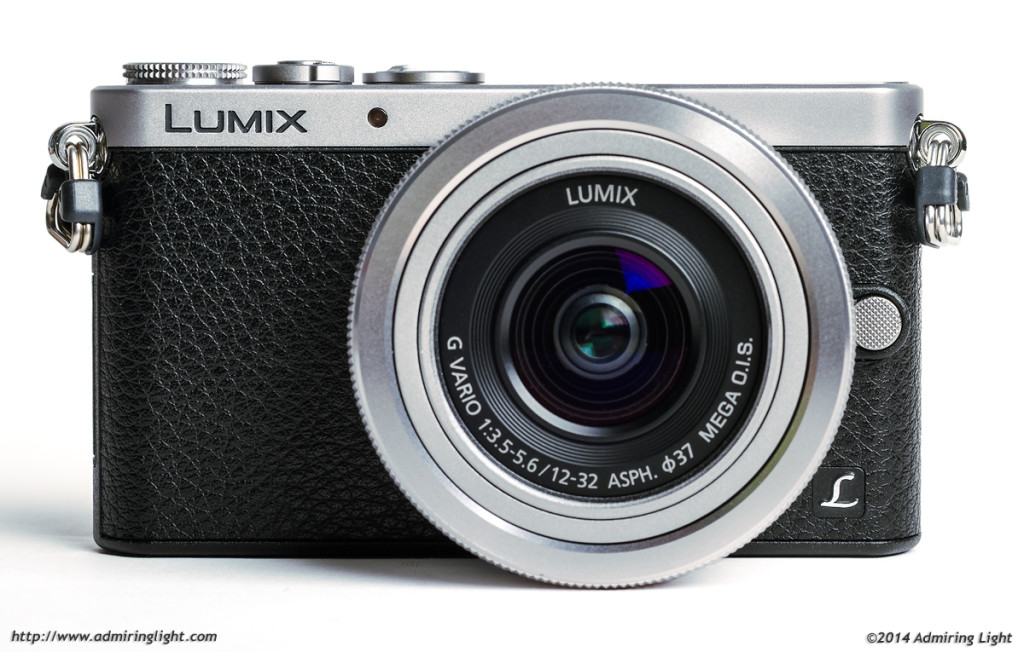 The Panasonic GM1 is out to show just how tiny a high quality interchangeable lens camera can be. Indeed, the miniscule camera looks more like a compact than a system camera with interchangeable lenses. Panasonic put a similar sensor to their GX7 and included some unique shutter technology and some impressive specifications to this little wonder. Let's dive in.
If you're not familiar with my reviews, I review from a real world shooting perspective. You won't find lens charts or resolution numbers here. There are plenty of other sites that cover those. I review products on how they act for me as a photographic tool. I am not a videographer, so my reviews concentrate on the still imaging capabilities of a camera.
Body and Ergonomics
If you've followed the news about the Panasonic GM1, then you've heard that it's small.  You've seen pictures showing how small it is.  But even I wasn't prepared for how minuscule this camera actually is.  It seems almost impossibly tiny.  The body alone is as small as most compact cameras, and I was somewhat amazed to see that it's actually smaller than my iPhone in width and height (though it's obviously a fair bit thicker), and with the tiny little 12-32 kit zoom (reviewed here), it makes for a truly pocketable package. In fact, I think it would be nearly impossible to design a smaller body that was actually useful.
The small size is both a blessing and a curse, as it handles very well with the small Micro 4/3 lenses, while it's rather unwieldy with any of the larger lenses. You can still shoot fine with them, but at this point, it feels like handling a lens with a small control box on the back, rather than handling a camera with a lens attached.
The grip is minimal, but controls are laid out to prevent accidental activation for the most part.  The only real issue from the small size was accidentally touching the top right corner of the touch screen, and thereby moving the focus point inadvertently.  Panasonic offers a very small metal add-on grip, which should improve handling with somewhat larger lenses, but will block access to the battery and memory card door.
The GM1 is built quite sturdily despite its small size, and the metal and plastic exterior is solid with no creaks or wobbles.  Switches and dials have a firm tactile quality, and the rear wheel surrounding the four-way dial is one of the best small dials I've encountered of this type, with detents that are firm enough to prevent accidental activation, while loose enough to be easily moved.   As such, while it's not the greatest camera ergonomically, it is about as good as it could be given the small size.  Panasonic did a good job putting controls where they made sense and providing a solid layout to make shooting the camera as comfortable as could be expected.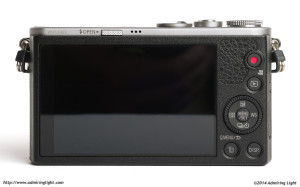 Overall, while I wouldn't choose the GM1 as a sole Micro 4/3 body, unless I was after the smallest kit around, it is wonderful for use with the tiny lenses.  I found that the size alone absolutely begged me to pick it up and shove it in a pocket for easy shooting.   The ease of grabbing a camera of this size and one or two small lenses is incredibly liberating and exciting.
Rear Screen
The GM1 features a 3″, 1 million dot touch screen that dominates the rear of the camera.  The screen is bright, clear and vibrant and has outstanding viewing angles.  The capacitive touch capability is well implemented, making it easy to move around menus and activate controls, along with the possibility of using touch to focus or touch shutter release.  While shooting in very bright sunlight isn't as nice with a rear-screen only, the GM1 performs pretty well in this area.  It's hard to ask for much more in a camera this small.