Operation and Menus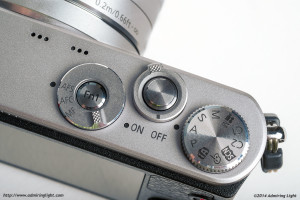 The GM1 is light on controls compared to many other Panasonic Micro 4/3 cameras, but what it does have is fairly well implemented.  The main controls included a top plate mode dial, along with the rear wheel that also acts as a four-way controller.  This wheel is used to change exposure parameters, and the function toggles between parameters by pressing the top of the wheel.  As such, in aperture priority mode, the wheel sets the aperture, and a click switches to exposure compensation.  There is a focus mode switch surrounding a programmable function button on top of the camera, which is easily accessible by your right index finger while shooting.  I set this button to change ISO, as I'd imagine most photographers would do.  The four-way controller contains buttons for white balance, drive mode and focus point selection.  The rear of the camera also has dedicated movie record, display and quick menu buttons.  The Quick menu is implemented as in other Panasonic cameras, providing quick access to JPEG options, flash settings, movie record settings, metering mode, etc.
The result is a camera that can largely be operated without use of the touch screen or menus despite lacking many controls other cameras have.   The touch screen is a big help in many instances, however.  As with all touch screen cameras, I love being able to move focus points simply by touching somewhere on the screen.  The menus, which are largely identical to those found on the GX7, are likewise very easy to navigate by touch.  The menus themselves are well laid out into multiple sections and pages and make diving into the settings pretty straightforward.
Like many other Panasonic touch screen cameras, there is a slide out panel as well that can be activated with a swipe, and four additional software function buttons can be assigned to this panel.  This makes good room of the available real estate on a camera like the GM1, providing extra controls in easy reach.
On the whole, I found operating the GM1 relatively painless.  It isn't as nice as using a larger camera in this regard, with more direct control and a more comfortable grip, but it operates quite well for a camera of its size.
Performance and Autofocus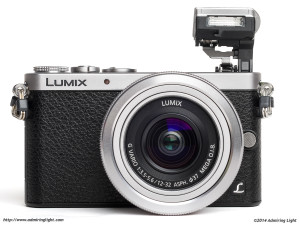 The GM1 inherits the same (or similar) autofocus as other recent Panasonic cameras.  I found the GM1 to be every bit as quick and precise as the likes of the GX7 and the GH3.  Panasonic has wonderful single shot autofocus that locks swiftly and surely.  The only lens that seemed to struggle a bit was the 20mm f/1.7 pancake, but that's more to do with the lens' slow focus motor than anything.  As with other Panasonic cameras, the GM1 isn't particularly useful for continuous autofocus, as the CDAF algorithms prevent predictive autofocus.
The GM1 is also a quite responsive little camera.  It starts up quickly and has no perceptible lag in camera function.  Write speeds were quick.
The GM1 features a very unique shutter mechanism to allow for its small size.  This comes at the cost of a terrible 1/50s flash sync speed and a slow maximum mechanical shutter speed  of 1/500s.  However, the camera seamlessly switches to its electronic shutter at speeds faster than 1/500s, and indeed can stop action all the way to 1/16,000s!  The GM1 can capture images at 5 frames per second with the mechanical shutter or up to 10 frames per second with the electronic shutter for full size images.  If you are willing to shoot JPEG at a reduced file size, it, like many other Panasonic cameras, can shoot at 40 frames per second in its super-high burst mode.
While one isn't likely to use a camera like the GM1 for sports, it is a responsive camera that doesn't get in the way.
Flash Performance
The GM1, despite its super tiny body, manages to pack a small pop-up flash into its frame.  While the flash is quite weak and, as mentioned earlier, can only sync to 1/50s, it can come in handy.  Like the GX1 and GX7, the GM1's pop-up flash can be tilted backward to provide for some bounce flash, though you will need to pump the ISO up a bit if using a slower lens.  The shot below was taken with the GM1 and the 12-32mm kit lens with the pop-up flash bounced to the ceiling at ISO 1600.