Wi-Fi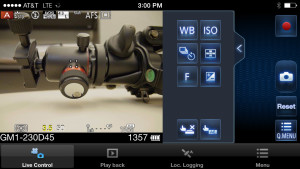 The GM1 comes complete with built-in WiFi and all the usual features, including image transfer, remote control and geotagging capabilities.  I've written before about the robustness of Panasonic's remote control capabilities, and indeed, nearly every function available to the camera can be changed remotely.  However, with the GM1, I struggled mightily to get the camera to actually connect to my phone for remote control purposes.  Using an iPhone 5S with the latest Panasonic Image App, the camera repeatedly failed to establish a connection.  On the ONE time I actually was able to take remote control of the camera, (as shown in the screen capture on the right), I was unfortunately unable to actually take a photo.  Every time I pressed the shutter button, I received a "Recording Failed" error.  Upon shutting down the app and the camera and trying again, I was again unable to establish a connection.  I'm not sure if this is a problem with the WiFi implementation or the app, but I do note that the folks over at DPReview experienced similar problems.
I did, however, have no issues utilizing the image transfer function, which worked seamlessly.  As I've written before, however, Panasonic really needs to get on the train with in-camera RAW conversion.  If you shoot RAW only, you will be unable to transfer images from the camera to a mobile device.  Both Olympus and Fuji offer outstanding in-camera RAW conversion with plenty of options, so I'm disappointed to see this hasn't been addressed yet.
Focus Peaking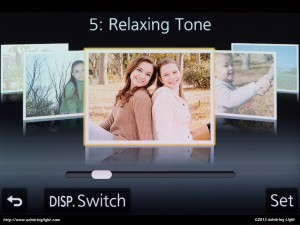 The GM1 features focus peaking that is implemented in the same manner as its big brother, the GX7.  The focus peaking on the GM1 outlines the in-focus areas of a an image in cyan and certainly helps aid in manual focus.  The peaking on the rear screen is helpful, but not quite as easy to see as it was in the viewfinder of the GX7.  Still, this combined with the ability to zoom on a scene (by using the touch screen) makes manual focus relatively painless.
Other Key Features
The GM1 also inherits a built-in intervalometer, allowing for the easy creation of time-lapse photos simply by inputting a rate of shooting and the number of shots you'd like to take.  Click the shutter and away it goes.  On the slightly less useful side for serious shooters, but potentially helpful to more casual photographers are the 22 art filters ranging from grainy and overprocessed looks to soft focus and artificial sunlight.  Some of these filters look really nice and others look terrible, but I'd imagine most photographers will simply stick to the regular shooting modes.
One more thing of note:  The shutter mechanism for the GM1 is exceptionally quiet.  While you can switch to electronic shutter for complete silence, the mechanical shutter is the quietest focal plane shutter I have ever heard.  If you are after discretion, the GM1 delivers.