Viewfinder and Rear Screen
One thing that Canon definitely got right is the viewing hardware of the camera.  The EVF is a 3.69 million dot panel with a 0.71x magnification.  While the magnification is a little on the smaller side compared to the competition, most of which have 0.76x or larger EVFs, the EOS R's viewfinder still looks plenty large, and has wonderful resolution and a very natural color and contrast rendering that provides a very clear view that I think will appease long-term DSLR users as well as those who are used to utilizing an EVF.
Refresh rate is very good, and the view is very low lag as well.  It is perhaps the most natural EVF I've used, and looks fantastic. Dynamic range is also excellent. However, it's not all perfect here. In operation, the camera has one rather significant flaw, and that's with how the EVF reacts to exposure changes.  On my other mirrorless cameras, changing the exposure parameters results in a very quick adjustment of the previewed exposure in the EVF.  With the EOS R, the camera has a rather significant delay in updating the exposure preview in the viewfinder.  As a result, quick fine tuning of the exposure can be problematic.  It both takes longer than it should, and causes issues if making small adjustments.
Canon also made what I consider to be a poor decision with how the camera deals with shutter blackout.  Canon, in an effort to provide a blackout free view does just that…there is no viewfinder blackout when taking a shot.  But that's not because it continuously streams data to the EVF, such as how the Sony A9 creates a true blackout free experience. Instead, Canon keeps the live view, but instead the display freezes at the moment of exposure, and then there is a second short freeze about half a second later.  This is far more jarring to me than a short EVF blackout.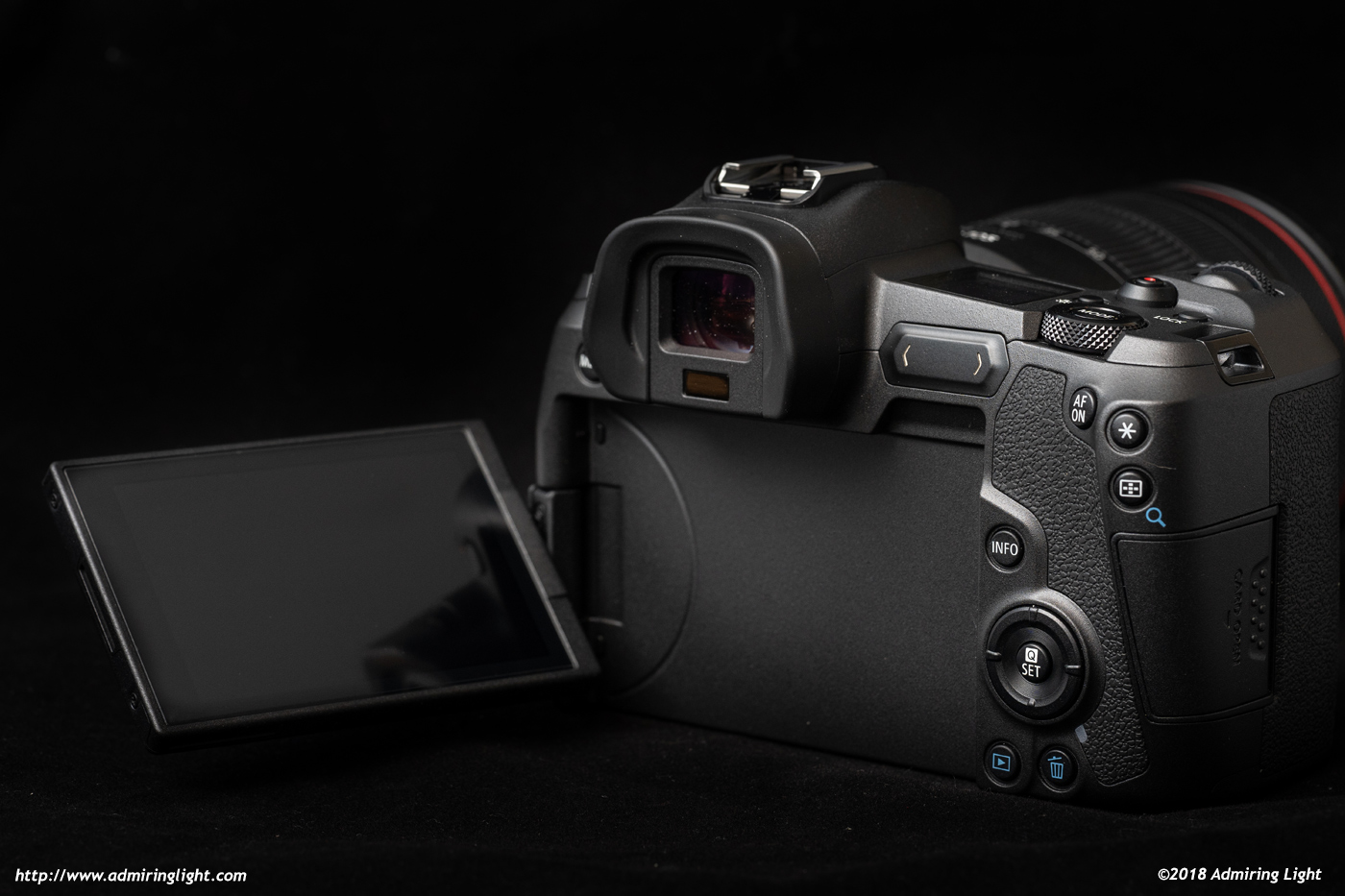 The large 3.15″ 2.1 million dot LCD has the same exposure preview lag as on the EVF, but it also shares the EVF's brilliantly clear resolution and beautiful color and contrast.  It's a gorgeous rear screen that is clear and bright, and as previously mentioned, the touch functionality is excellent.  The rear screen is a tilt and swivel type, allowing for adjustment to see the screen when shooting high or low in both portrait or landscape orientation. It also has the ability to flip forward for vlogging or selfies.  I personally prefer a dual axis flip screen, as I prefer the screen to stay in the same line as the lens, but that's personal preference.  In all, it's probably the best rear screen on any mirrorless camera that I've used.
Autofocus and Performance
First generation mirrorless cameras have had a history of spotty autofocus performance, and while the EOS R falls into this trap a little, Canon's pedigree of on-sensor AF helps a lot here.  The sensor features the already well-established dual-pixel AF, which splits pixels to provide phase detect AF.  In single shot Autofocus, the EOS R focuses extremely quickly, and quite accurately.  Using the RF 24-105mm f/4, focus was lightning quick in good light, and still rather fast in dimmer light as well.
Occasionally, I had a situation where the AF system seemed a bit too eager, just racking the full range of focus back and forth without settling anywhere.  Usually a refocus would lock, however, and moving through the full range on the RF 24-105mm was super fast anyway, so it wasn't a large delay.  These instances were fairly rare, however, and the overall performance in single-shot AF is quite excellent.  Canon did a great job here.
In continuous, autofocus, however, there are several limitations that keep it from being an all-around great focuser.  First of all, continuous AF doesn't work at all at the camera's top frame rate of 8 frames per second.  Continuous AF begins at the medium frame rate of 5 fps, though even here you are seeing a display of the last captured frame instead of a live view.  Live view is available with continuous AF at the low rate of around 3 fps. As a result, the EOS R is not quite as capable at following fast action as the competition. Accuracy in continuous AF was also quite hit and miss in my testing.  I tested against moving cars and had reasonable success, but in tracking my son running at me, the camera failed miserably, yielding very few usable shots in moderate light, something that my A7 III doesn't have any trouble with. Below is one of the few that was properly in focus.
The EOS R also features face and Eye detection, and these work fairly well in my experience, but again this feature is quite limited in comparison to Sony's A7 III.  The biggest detriment is that EyeAF is not available in continuous focus, where it is most helpful.  It's single shot or nothing here.  Second, the EyeAF is only in wide-area AF, so you can't have a small focus point and then enable Eye AF if you need it.  As a result, I found it to be a bit too limited to make good use of it.
Of course, one of the biggest benefits to the EOS R is effectively native support for Canon EF lenses using one of the three EF to RF adapters.  Using the simple adapter, I utilized the Canon EF 70-200mm f/4L and the Sigma 100-400mm f/5-6.3 for EF mount.  Both lenses focused as if they were on a Canon DSLR, with good speed and excellent accuracy.  I'm used to using both of these lenses on my A7 III using the Sigma MC-11 adapter, and while focus is a bit better on the EOS R using the 70-200mm, I missed the in-body stabilization with that lens, which I get when using it on my Sony bodies.  Still, the EF compatibility makes the EOS R quite a good option for existing Canon shooters, and AF performance is on-point with these lenses.
As previously mentioned, the EOS R can shoot at 8 frames per second in burst mode, with focus locked on the first frame.  The buffer is reasonably large at around 60-65 RAW frames before slowing down, so if you need to do bursts, you shouldn't run out of buffer unless you just lay on the shutter button.  The overall performance of the camera is quite nice, with good general responsiveness.