Notable Features
Top LCD Display
The EOS R is one of only a handful of mirrorless cameras that have a top LCD display. The EOS R's top display shows information on two pages of the screen, which can be toggled by pressing the button to the right of the screen.  Long pressing this button inverts the display and turns on the backlight to make it visible in the dark. The main portion of the display shows current shooting mode, exposure compensation, the shooting parameters of the current mode (aperture, shutter speed, or both depending on mode), ISO, battery life and connectivity.  The second page shows more or less the remaining pertinent info, including drive mode, shots remaining, picture style, etc.
A lot of people are really excited to have a top LCD showing settings, however, it really didn't do anything for me.  It does provide some information at a glance, but overall, I find it either redundant or annoying, as some things disappear on the rear screen in most modes and only appear on the top screen. Battery life is one such thing. Battery life only appears on the rear screen when looking at the all settings display, and not when in the live view shooting modes. For battery level, you have to look at the top. However, every other thing in the top display *is* echoed on the rear of the display. In all, with mirrorless cameras, I tend to look at the rear display for my info.
Perhaps most annoying is that when the camera is off, the top display only displays the current mode and whether WiFi is set to be on. None of the shooting parameters are shown when the camera is off, so it's useless as an 'at a glance' display for current settings when the camera is off. As such, except for battery level, I tended to ignore it.
Wi-Fi / Bluetooth
Like essentially all modern cameras, the EOS R comes packed with Wi-Fi connectivity, as well as bluetooth.  The EOS R's implementation is one of the better ones for this sort of connectivity.  I found the setup to be a little frustrating at first, but once things are connected initially, the camera was extremely quick to connect to my phone.  I predominantly use Wi-Fi on my cameras to transfer images to my phone for easy review and sharing, and the Canon does this with ease.  As I'll discuss in a bit, Canon also includes in-camera RAW conversion, which I very much appreciated.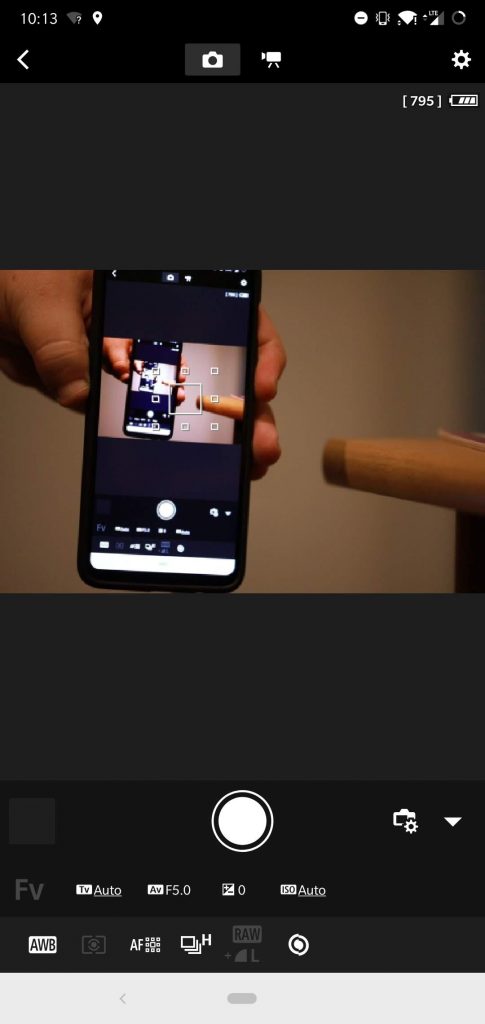 Geotagging takes advantage of the bluetooth connection, and allowed for seamless tagging of images once the app was opened on the phone, even when turning the camera on and off.  Remote control is also possible, with full adjustment of settings in the remote app, and a fairly good live feed of the image preview.  I didn't use the remote shooting much, but it worked very well in my limited testing.
In-Camera RAW Conversion
One of the things I miss most from my Fujifilm and Olympus cameras when I'm shooting with Sony is the ability to create JPEG images, including adjustments from a captured RAW file in the camera.  I use this feature when available so I don't have to shoot RAW+JPEG and can still transfer selected images in high-resolution to my phone.  Thankfully, Canon has an in-camera RAW converter, and it is quite easy to use with the excellent touch screen controls.  The in-camera RAW converter allows you to adjust things like the output size, overall exposure level, picture style and lens optimizations.  However, it's a fairly limited level of control compared to what Fujifilm offers, for instance.  There's no means to control highlight tone or shadow tone, image sharpness, etc.  The picture styles control portions of this, but these are macro changes, with little opportunity for fine tuning.  Still, even a somewhat limited in-camera RAW conversion feature is far better than none at all.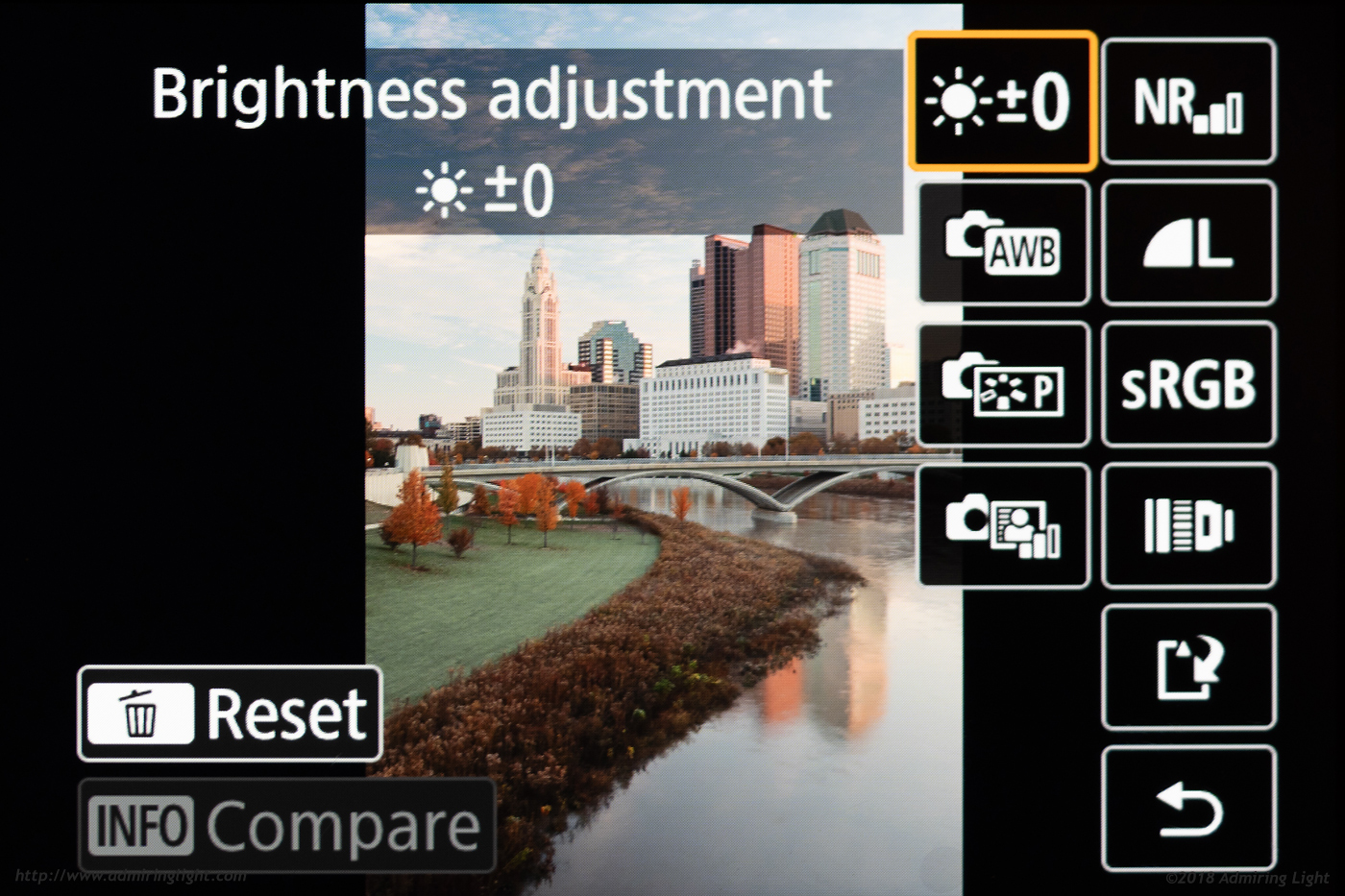 Odds and Ends
Below are a few other thoughts I've had that don't really warrant a full section, but are definitely worth noting.
Metering on the EOS R is tied to the focus point position, even when evaluative metering is selected.  It always has a bit of a bias towards the focus point.  I am not used to this, and I never became used to it in my time with the camera.  I'd have exposure set, switch focus point, and then have to adjust exposure again.  It was quite frustrating to use, especially if trying to stack focus on a tripod, as I had to switch to manual mode or activate exposure lock when shooting between the foreground and background.
Battery life was about on par with most mirrorless cameras, which is rather disappointing.  Sony realized (perhaps a bit too late), that the tiny batteries in their early mirrorless cameras were not suitable for a full-day's shooting, and so updated their cameras to a much larger battery.  The EOS R's battery isn't particularly small, to be honest, but the camera sucks a fair bit of power, and so around 300 shots on a charge was pretty typical for me in my time with the camera.
There is no in-body image stabilization on the EOS R.  What was once a niche feature has become a mainstay of mirrorless cameras, leaving Canon as the only major mirrorless camera maker now without a single body that offers it.  While most of Fujifilm's cameras also lack IBIS, they did include it on their top-end X-H1, meaning that the EOS R joins the Leica SL as the only current mirrorless cameras on the market at a price of $2,000 or higher without in-body image stabilization.  While Canon's lens based IS is very good, they need to add this feature in the next iteration, or this will be a big mark against the RF mount cameras going forward.  IBIS is a great feature to have and can allow for notably lower ISO shooting for static subjects or where longer exposures are desired, for all lenses.
Canon put a single SD card slot into the EOS R, a mistake that Nikon also duplicated with the Z6 and Z7, and I honestly have no idea what they are thinking.  While the casual shooter may have no need for dual card slots on a regular basis, for professionals, especially those that shoot events like weddings and other once in a lifetime moments, the lack of a second card slot for backup makes the EOS R a complete non-starter.  I would never consider shooting a wedding with only a single card slot.  Cards don't fail often, but I have had them fail.  If that happens on a professional wedding shoot?  It could just cost you your career.