Canon's 70-200mm lenses have always been one of the core lenses in their camera systems, and have consistently been excellent. With the new mirrorless RF system, Canon has changed things up with regards to the construction of their RF 70-200mm f/2.8L, moving from a constant length internal zooming lens to a much more compact extending zoom design. Most will appreciate the reduction in size, but does that come with any optical or physical compromises? Let's take a closer look.
Construction and Handling
Since the dawn of the EOS system, the 70-200mm and 80-200mm L series lenses have featured an internal zooming mechanism that keeps the lens a constant length. While this has several advantages, such as potentially more robust construction and more effective weather sealing, it also comes with two big disadvantages: size and weight. The 70-200mm f/2.8 zoom lenses from Canon have generally measured nearly 8 inches long and weigh 1.5kg.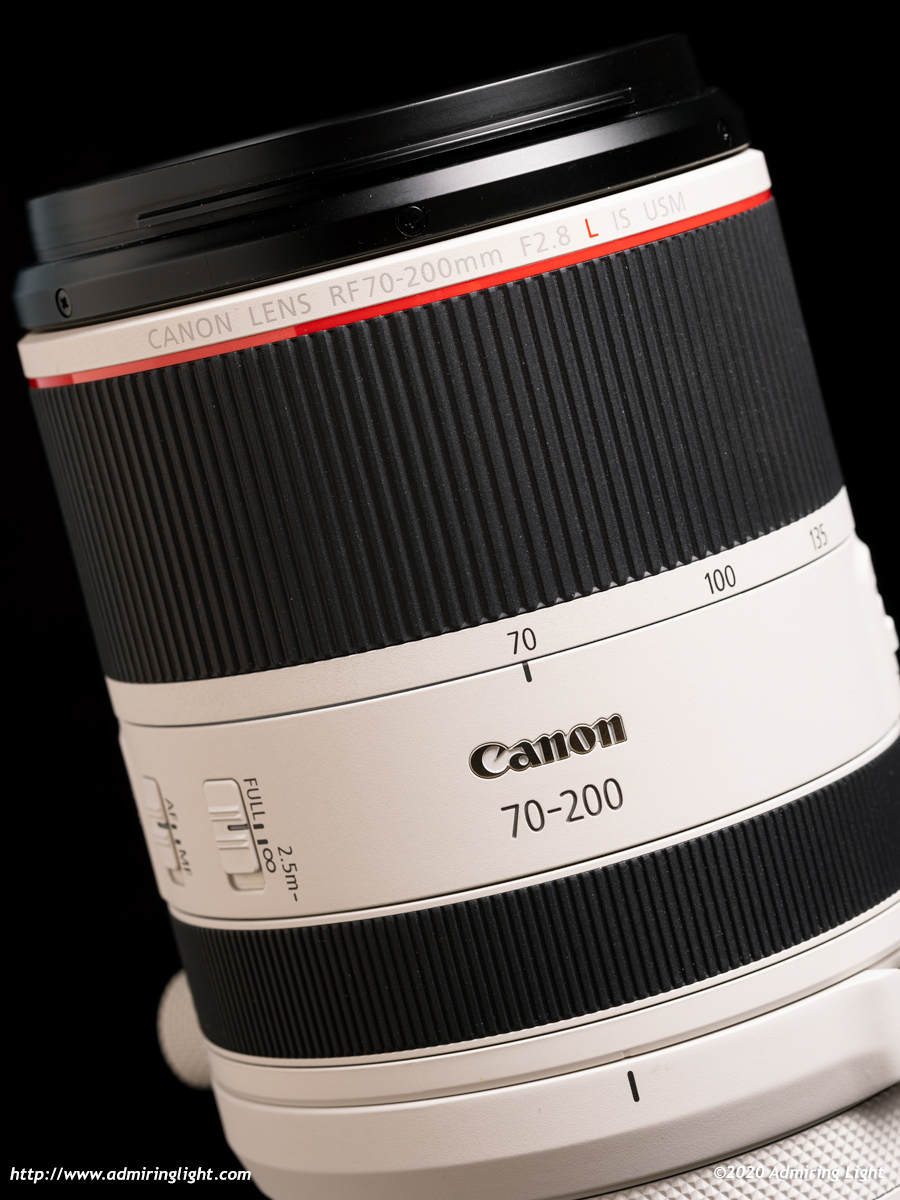 With the RF 70-200mm f/2.8L, Canon has gone with an extending barrel design, which has dramatically cut size and weight, down to 5.75″ long and 1,070g. That's 1/3 less weight and 25% shorter length when compared to the EF 70-200mm f/2.8L IS III, and the difference is immediately felt. The RF 70-200mm lens, when collapsed to 70mm, will easily fit in most camera bags, and can generally fit even with the camera mounted. The lighter weight is also immediately apparent, and the shorter length means that weight is also closer to the lens mount, improving balance. As a result, I had no fatigue carrying the 70-200mm f/2.8L for extended shoots, and the lens handled beautifully on my EOS R6.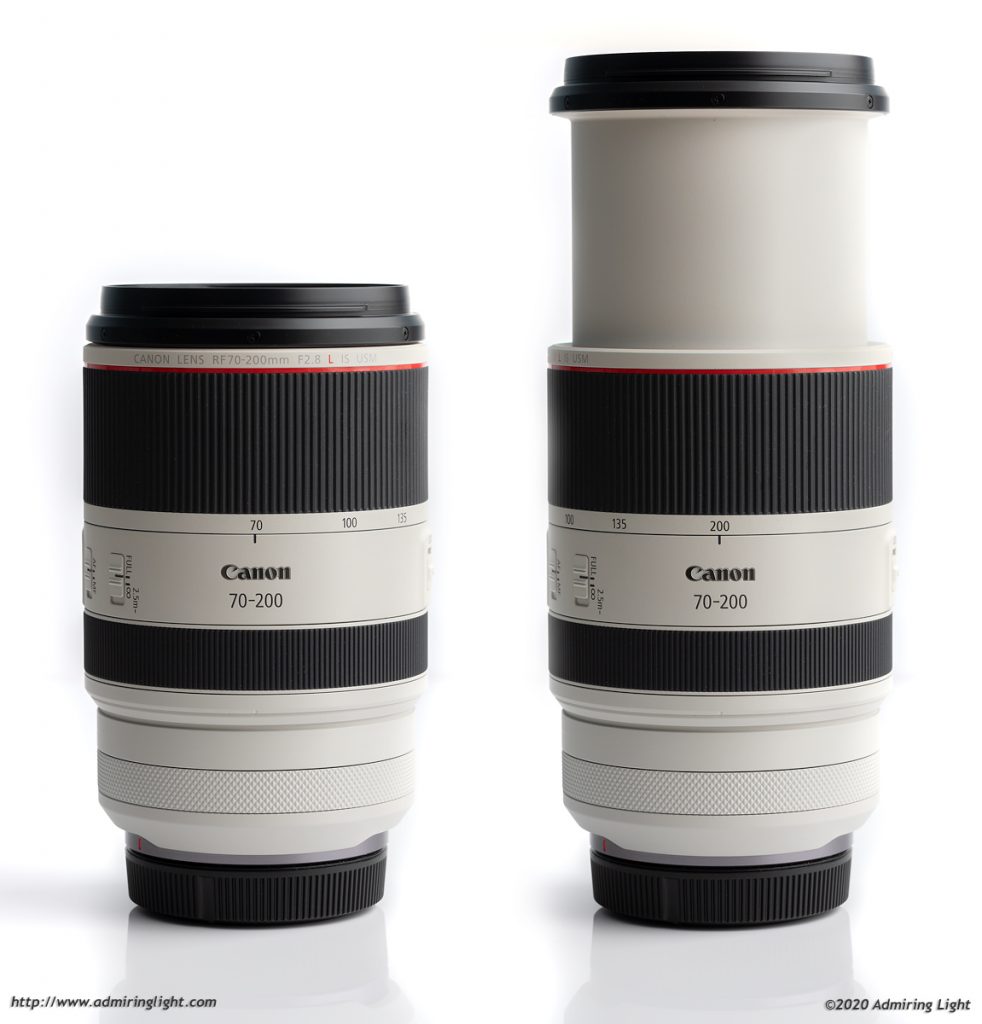 I know some people wish they'd stuck with the constant length design, but like I mentioned in my Tamron 70-180mm review, this decision for an extending zoom is a very welcome one for me. Having a reasonably lightweight f/2.8 telezoom is simply wonderful and increases my enjoyment of using the lens tremendously. In comparison to that Tamron for Sony E-Mount, the Canon is a little heavier and larger in diameter, but essentially the same length when both are set to 70mm. The Tamron's hood is significantly slimmer, though, which gives it an advantage in storing the lens in your bag.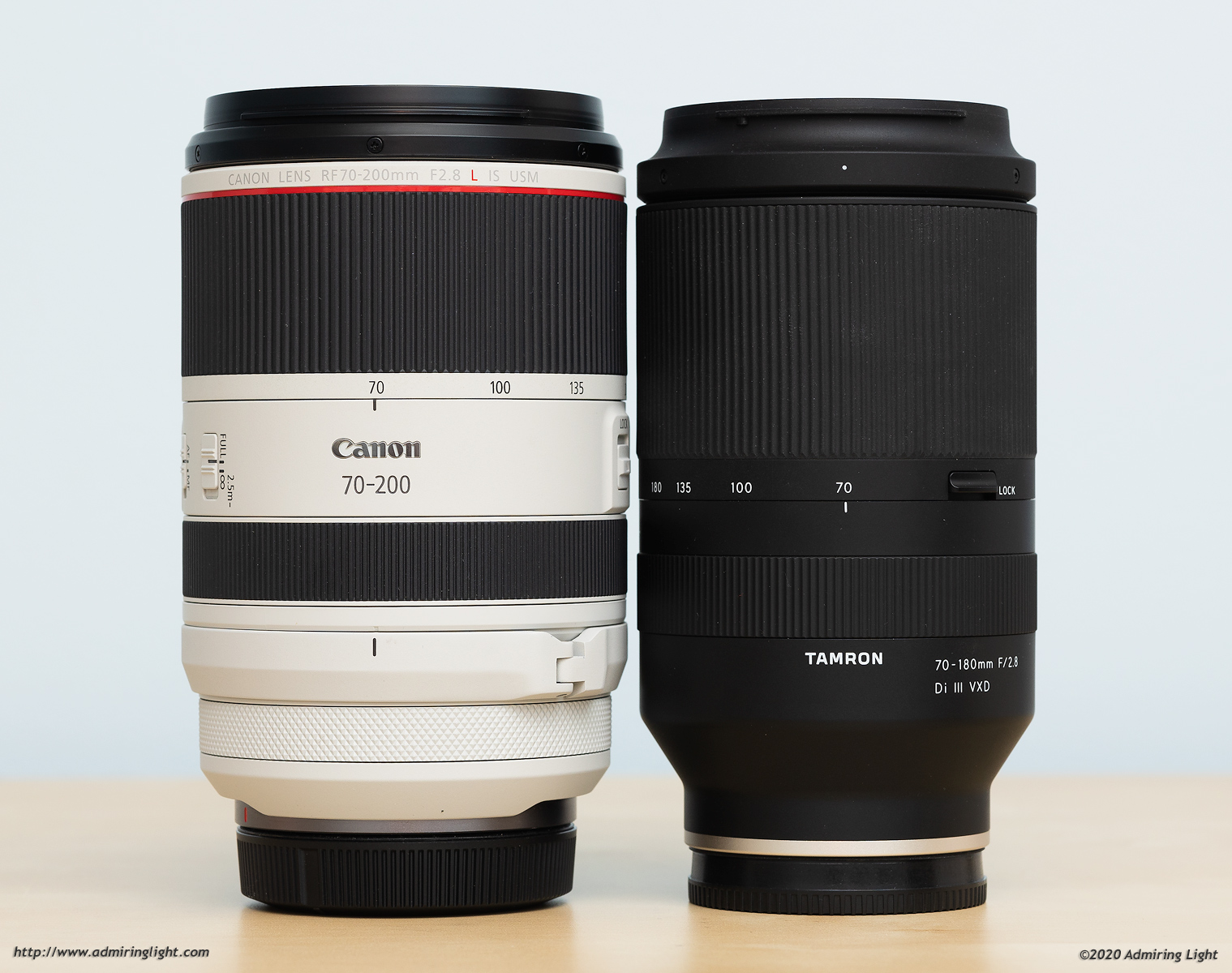 Canon has also done a good job to mitigate the two negatives in build robustness and weather sealing. In a teardown by Roger Cicala of LensRentals, he shows the RF 70-200mm to be exceptionally well constructed, and the weather sealing should also not be an issue – Canon has been making sealed extending zoom designs for many years in their 24-70mm range and 100-400mm range.
For my part, the lens feels very solid in the hand, with the exterior clad in high-grade engineering plastics with a smooth matte off-white finish. The zoom ring turns smoothly (though also makes an audible whooshing sound from the movement of the inner barrel). The extending barrel is extremely solid, with absolutely zero flex or play, and feels very sturdy.
Behind the broad zoom ring sits the manual focus ring, which turns very smoothly and with good damping. Near the lens mount sits the ubiquitous RF control ring, which turns with satisfying clicks.
The lens features four switches on the left side to control options related to focus and image stabilization. There's a focus limiter to switch between full focus range and 2.5m to infinity, an AF/MF selector switch, the Image Stabilizer selector switch, and the IS mode switch. All are the standard Canon switches that have been on their lenses for the past decade or so. They are low profile and click positively into place, ensuring that accidental changes are rare. On the right side of the lens is a zoom lock switch, which can keep the lens collapsed at 70mm and prevent zoom creep.
The RF 70-200mm f/2.8L comes with a tripod collar, which sits between the focus and control rings. The collar is slimmer than earlier EF models, and securely affixes to the lens. I do find the collar locking knob to be a little fiddly, though. It takes quite a bit of rotation to unlock the lens to allow for rotation to vertical orientation, but it locks better than the collars I've had on my EF 70-200mm lenses, so I'll take the tradeoff. I typically removed the tripod collar for day-to-day shooting, as the lens handles better with it off. You could use the lens without the collar on a tripod too, due to the lower weight, but balance is better with it, so I put the collar in my bag and attached it when shooting on a tripod.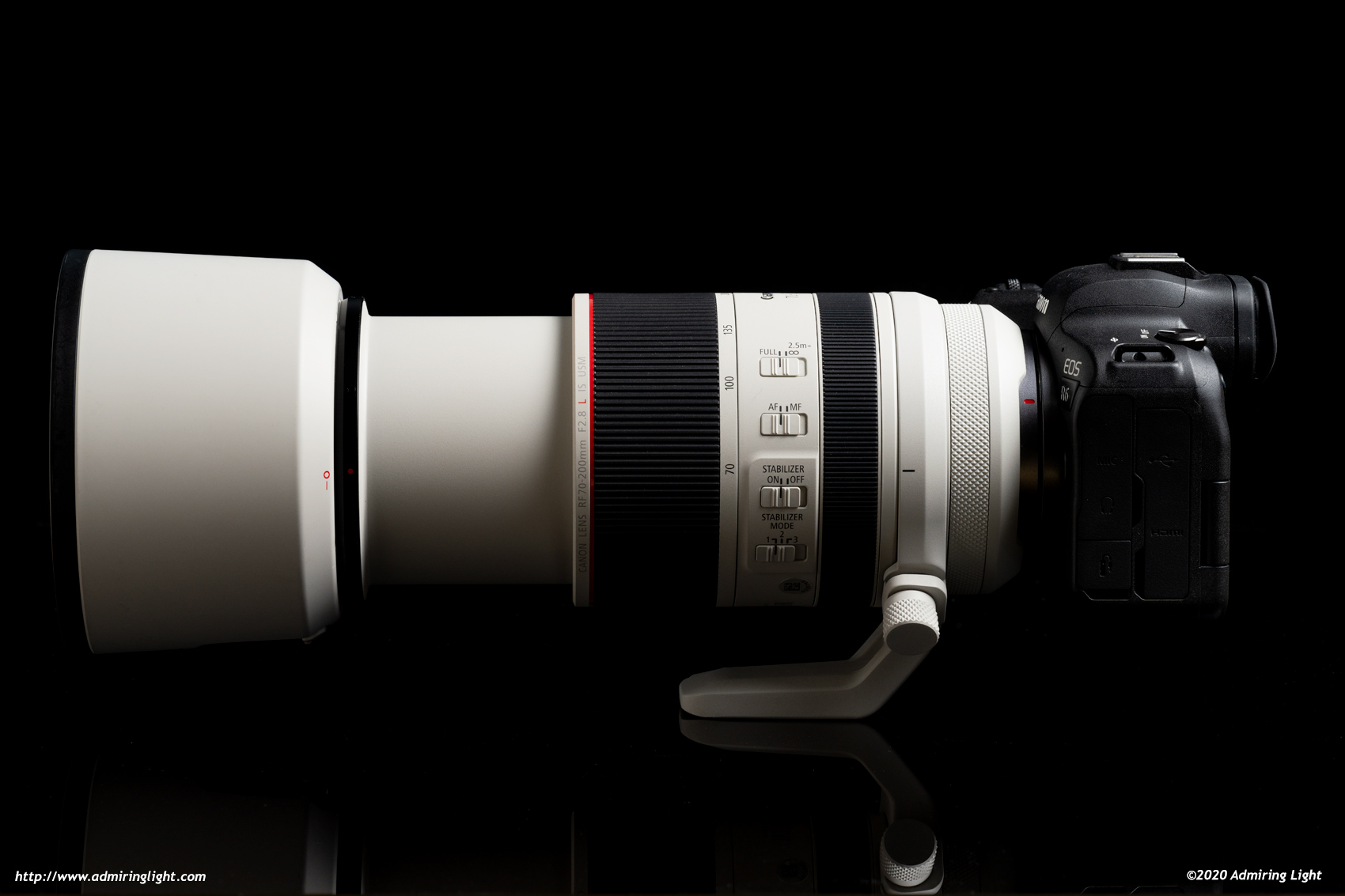 The RF 70-200mm also comes with a white lens hood. The hood is well constructed of plastic, and has a ribbed interior to prevent glare. It also has a sliding window to allow you to adjust polarizing filters without removing the hood. While I am a big proponent of lens hoods, I simply did not like this one. It is exceedingly large, with a broad diameter that makes putting it into a shoulder bag with the hood mounted nearly impossible. I very much wish the hood were slimmer, so that it hugged the body of the lens more closely, like Sigma and Tamron typically do with their lens hoods. As a result, I left the lens hood at home most of the time, only taking it with me when hiking, as my backpack has enough room to store the lens with the hood reversed.
A good replacement that is significantly more compact is Canon's ES-83 hood, which was designed for the RF 50mm f/1.2L. That hood provides good shading coverage, mounts and locks securely to the RF 70-200mm f/2.8L, and locks in the reversed position as well. The ES-83 lacks the filter window of the included hood, but it is significantly slimmer, and when reversed stays tight to the lens body and only increases the diameter of the lens by a few millimeters. Click here to take a look at it on the RF 70-200mm. I think it's a much better option for day-to-day use. This hood can be purchased for $40 at most camera stores.
One final note: a consequence of the compact design is that the RF 70-200mm f/2.8L's rear element is very close to the lens mount. As such, it can't take Canon's RF teleconverters, which is a bit of a bummer for those looking for added reach.
Focus Breathing
The RF 70-200mm's extending design also comes with a notable change in the level of focus breathing compared to the EF versions. I am writing a small section on this because when I first started looking at close-up shots from the RF 70-200mm, I was shocked to see just how much shorter at close focus the lens was than my EF 70-200mm f/4L IS. It seemed like at close focus that the RF 70-200mm was extremely short.
However, in looking into the field of view more closely, the difference is because the EF versions of the 70-200mm lenses exhibit extremely severe focus breathing, but actually increase focal length as you focus closer. As such, while both RF and EF 70-200mm lenses give a 200mm field of view at infinity, the EF versions breathe dramatically, such that the actual field of view is around 250mm at close focus. Meanwhile, the RF versions exhibit less focus breathing, but what breathing there is slightly shortens the focal length, and as such they appear to be quite a bit shorter than their EF brethren for close focus work. For video work, however, I would imagine the lower focus breathing of the RF version would be preferable.
Autofocus and Image Stabilization
The RF 70-200mm f/2.8L IS features Canon's new Nano USM focusing motor, and there are actually two of these linear motors inside the lens to ensure quick autofocus. I have to say the motors work, as the lens focuses very quickly and silently in both single shot and continuous autofocus. On my EOS R6, I also found the focus to be extremely accurate. Tracking moving subjects was effortless, and the lens maintained focus even at close range on a moving subject, something that is often a challenge for any lens.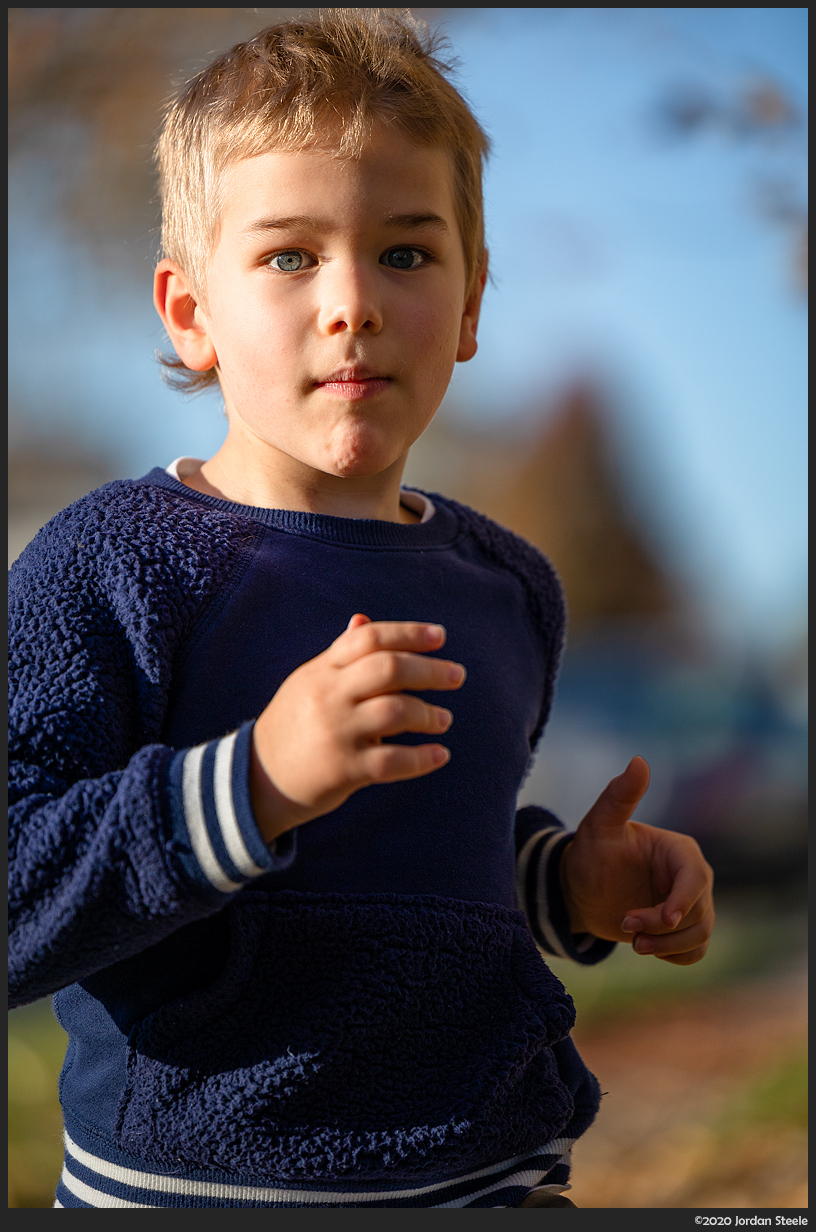 The lens also features an optical image stabilizer, rated for 5 stops of shake reduction. When used with the Canon EOS R5 or R6, the lens becomes rated for a whopping 8 stops. Like most CIPA rated IS ratings, real world use doesn't quite meet the rated 8 stops, but I did find I could consistently count on the lens to provide sharp shots at 1/10s at 200mm, and often down to around 1/4s at 200mm, which is around 6 stops of stabilization…an excellent result.