Image Quality
Sharpness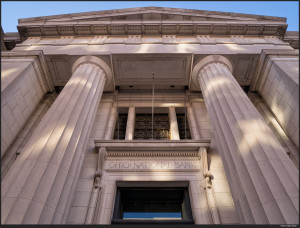 Starting back with the original Panasonic Micro 4/3 kit zoom, the 14-45, there have been many slow standard zooms released by Panasonic, and while good, none really touched the quality of that first lens.   What is exciting, is that despite the wider starting angle and the collapsing design, the 12-32mm is as sharp if not sharper than that original outstanding lens.
The 12-32mm produces very sharp images throughout the entire zoom range, with only a little softening as you get into the extreme corners. While it isn't going to best the very best prime lenses, there is no real visible softness at any aperture or focal length until you start seeing diffraction effects at very small apertures.  This is an extremely good result for such a small kit zoom. The image to the upper right was taken at 12mm and f/5.6.  Click for a larger image and click the green arrow at the bottom (if necessary on your monitor) to view large.
Bokeh
Because of the relatively slow maximum aperture and the limited telephoto range of the lens, the 12-32mm doesn't create a ton of background blur, though it is possible to get some separation.   It's hard to get great bokeh out of a kit zoom…I've only seen a handful that do, and the 12-32mm doesn't break new ground here.  Bokeh is unremarkable – neither good nor terrible.
There is some onion-like rings in the specular highlights and some general nervousness to the out of focus rendering.  Nothing too bad, but it's certainly not going to be called creamy.  If you're looking for beautiful blur, you'll want to look to one of the many excellent prime lenses for Micro 4/3, or the Panasonic 35-100mm f/2.8…not a slow kit zoom.
Color, Contrast and Chromatic Aberration
The 12-32mm produces images with nice rich color and good contrast throughout the range.  Images are crisp and provide some punch to the images.  It does have a little of that sterile rendering that many kit lenses have, unfortunately, but the good color and contrast do provide a nice start for further post processing.
One thing that did surprise me was the low level of chromatic aberrations presented by the lens.  While not completely devoid of CA, it is very minimal and if desired, it can be very easily corrected in post.
Distortion, Flare and Vignetting
In another surprise, the 12-32mm also controls distortion exceptionally well.  Distortion is minimal at the wide-angle and non-existent at the longer focal lengths.  Of course, Panasonic utilizes firmware corrections, and it is impossible to determine what the optical distortion levels are without viewing the images in a RAW converter that doesn't utilize those corrections.  Since these were all processed in Lightroom 5.3, any corrections are baked in.  Still, given the high edge sharpness, I am not prone to care whether distortion is optically corrected or the result of software manipulation.
The 12-32 also exhibited minimal vignetting at all apertures and focal lengths.   Unfortunately, due to the times I could get out to shoot and the weather that was around during the testing period, I didn't really get to shoot much with the sun in or just out of the frame.  I didn't notice any obvious issues with flare from indoor light sources, though the jury is out for me on this one.