The 35mm landscape for the Sony E-Mount has a wide array of options to choose from, and it's become even more crowded with the recent announcements of Sony's long-awaited FE 35mm f/1.8, and Sigma's brand-new ultra-fast 35mm f/1.2 FE, not to mention Tamron's new 35mm f/2.8.  However, at the fast f/1.4 aperture, there are three solid options: the Sony/Zeiss 35mm f/1.4 Distagon, the Samyang 35mm f/1.4 and today's reviewed lens, the Sigma 35mm f/1.4 DG Art.
The Sigma 35mm f/1.4 was the first Art lens in Sigma's Global Vision movement that started back in 2012, and when it was released for Canon and Nikon DSLRs, it was praised for having the best optics at the focal length.  It's seven years later, and the Sigma 35mm f/1.4 Art is still going strong, and was one of the Art prime lenses that Sigma ported over to the Sony E-Mount.  Recently, the lens went on sale, dropping its already attractive $899 price tag to a downright bargain $649 price point.  I snagged this copy with a coupon code for B&H, dropping my investment to just $599 for what many perceive to be a top-tier lens.
The Sigma Art primes on Sony E-mount have faced a mixed response.  Many lament the large size and weight, given that they are simply the DSLR lens with a longer barrel and new mount. Some have had issues with autofocus, especially in video.  I had been a little wary of the Sigma 35mm f/1.4 given some of the chatter about these items.  However, my fears were unfounded, and since getting the lens, I've grown to think that this lens is massively overlooked within the Sony E-mount system. Let's get into specifics.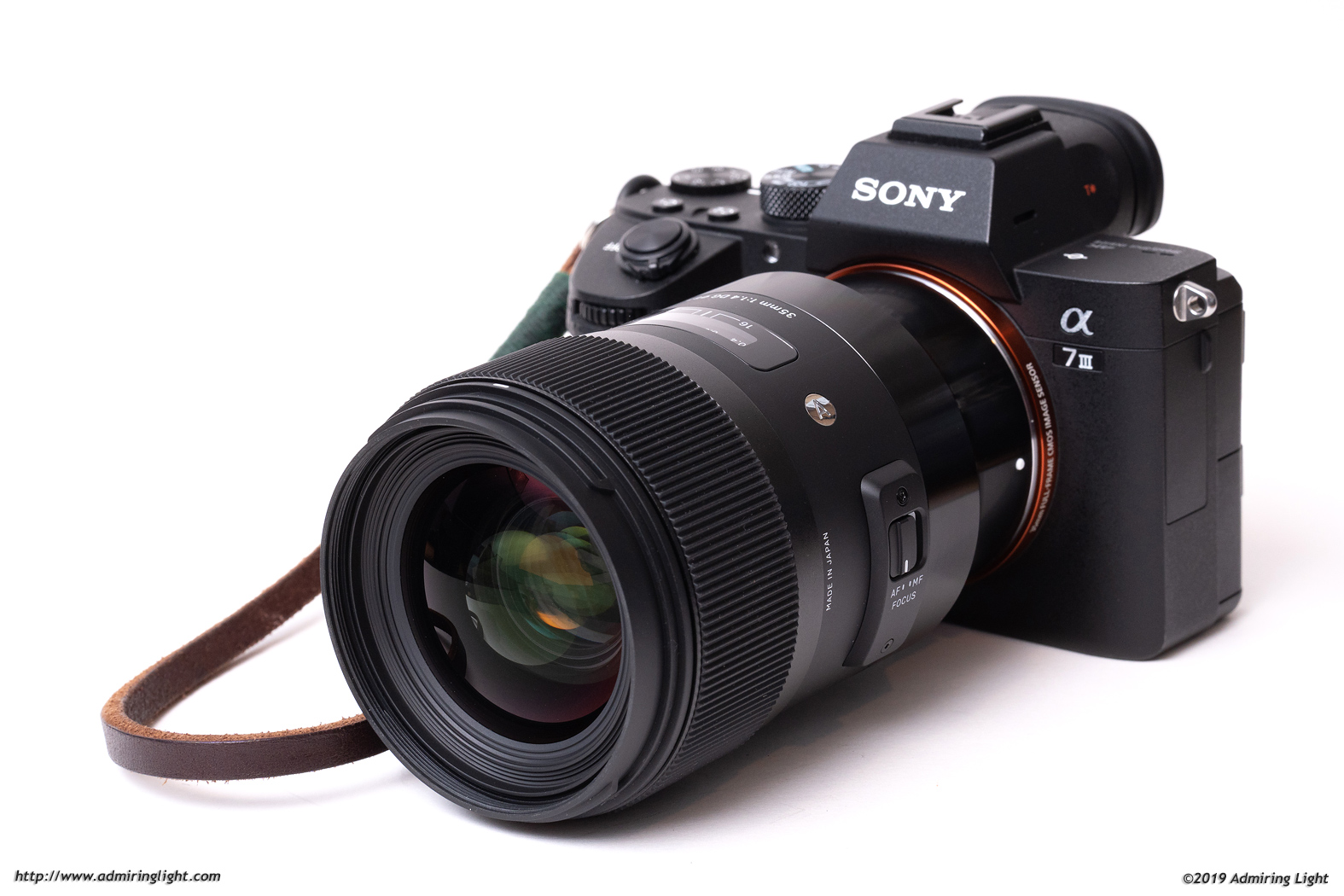 Construction and Handling
If you read a lot of discussion online regarding the Sigma Art primes, a lot of what you'll hear is about how large they are.  And as a whole, most of them are pretty darn big.  However, the Sigma 35mm f/1.4 still gets described as huge, and given the competition, I think it's a bit of an unfair stigma.
The Sigma 35mm f/1.4 Art is a rather substantial lens.  It's long, it's moderately heavy and no one will mistake it for discreet.  However, in comparison to the two other 35mm f/1.4 autofocus lenses for Sony E-Mount, it's much more similar in size than different.  The lens is around a quarter-inch longer than the Sony/Zeiss 35mm f/1.4 and about 100g heavier.  The difference is even less when compared to the Rokinon 35mm f/1.4.  So is it big?  Sure.  Is it giant?  No.  To compare to other Sony lenses that I happen to have on hand, it's a bit smaller than the Sony FE 90mm f/2.8 Macro, as can be seen below.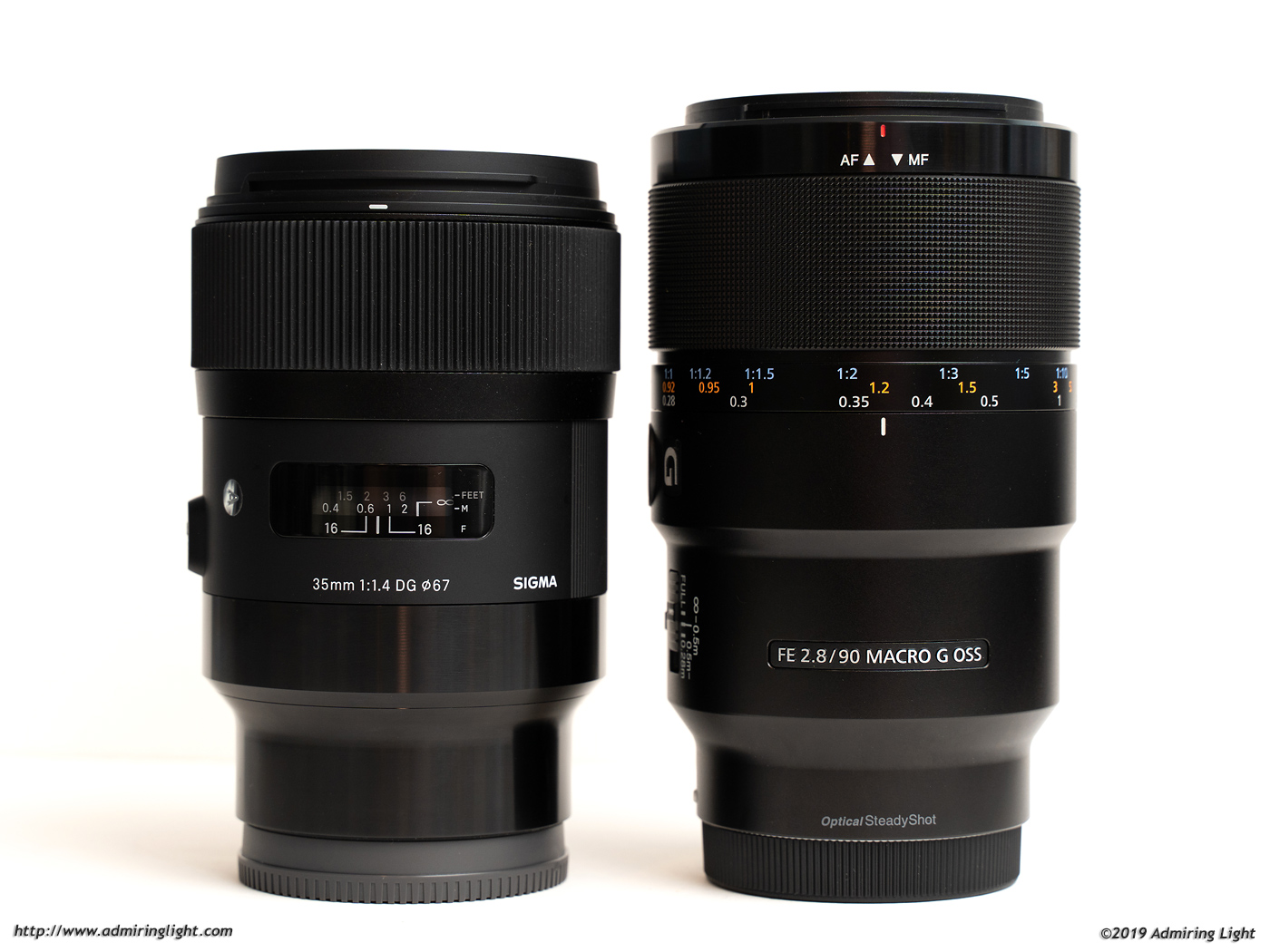 The Sigma 35mm f/1.4 is constructed with a mix of metals and plastics, with a tapered metal barrel that leaves clearance for your fingers when in use.  It feels extremely solid in the hand and has zero flex anywhere in the lens body.  It is a weighty lens, but not so heavy that it feels awkward or unwieldy.   Of the Sigma Art primes, it's the one that balances the best on the Sony bodies.
The front of the lens is dominated by the large, rubber-gripped focus ring that is very well damped.  When I first received the lens, the action wasn't super smooth, and it would very slightly stick when moving it.  Over the past few weeks or so of regular use, this has loosened up to the point where it operates smoothly.
The lens comes with a fairly large plastic petal-shaped lens hood that is reversible for storage.  The hood isn't anything special, but is sturdy enough and provides good shading of the front element.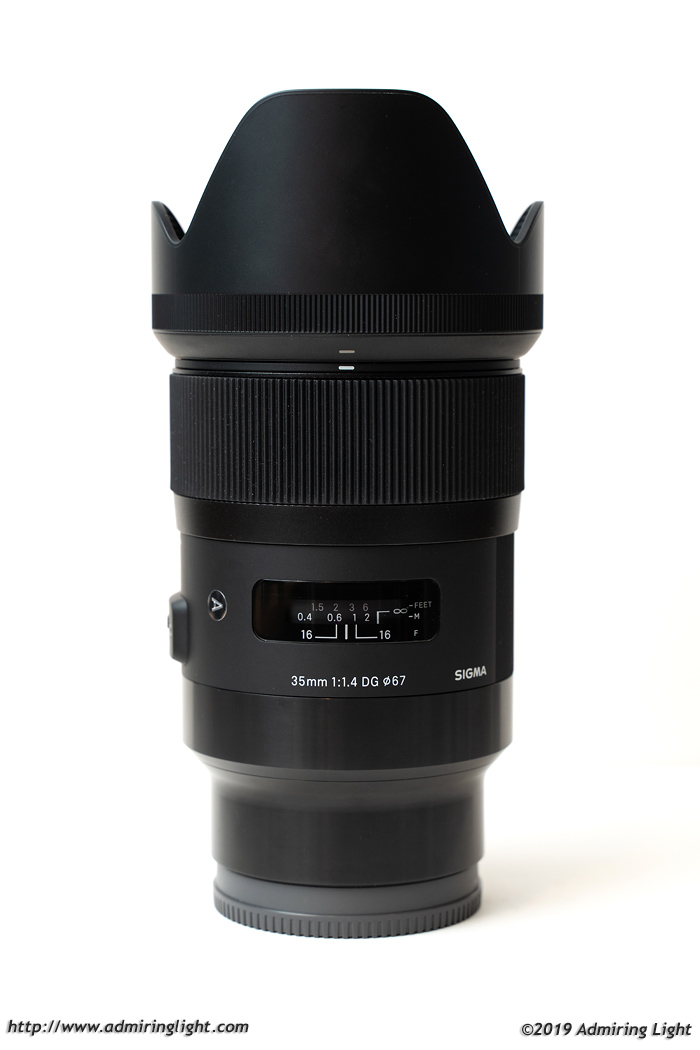 Autofocus
One of the biggest knocks I had read before trying the Sigma 35mm f/1.4 on Sony was that autofocus was sub-par compared to a native Sony lens. When I first got the lens, it was on the original firmware version, which was indeed a bit slower than one may be used to, though I found it perfectly acceptable for stills shooting.  However, Sigma recently released a firmware update that included rather substantial improvements to the autofocus speed.
For stills photography, I've been very impressed.  Speed is reasonably quick in single shot AF, and rather fast in continuous AF.  While I still don't think it's a perfect lens for high-speed action photography, for anything else it performs extremely well.  When used with EyeAF on the A7 III and A7R IV, accuracy was outstanding…just absolutely tack sharp focus on the eyes nearly every time.  Accuracy outside of EyeAF was also very accurate.   I have found accuracy on the Sigma 35mm f/1.4 to be better than when I tested the Sony/Zeiss 35mm f/1.4, though to be fair, that was tested on the A7 II, which wasn't nearly as good a focusing camera as the A7 III or A7R IV.
While Sigma made improvements in speed in video, it's still only average at best as far as speed and transition smoothness. The bottom line is, for still photography, the Sigma 35mm f/1.4 has very good autofocus.  For video, AF performance is mediocre.