Olympus OM-D
The current buzz in the mirrorless world is centering on Olympus' rumored and somewhat leaked OM-D. Olympus has been promising a 'professional' Micro 4/3 camera for years, and it appears that this is finally the one. They prepped the world for this announcement with their latest lens, a 12-50mm weathersealed kit zoom, which will undoubtedly be paired with the OM-D. While the lens is slow, and elicited a few groans due to the aperture selection, the fact that it's weathersealed lens let the world know that the Pro Olympus was coming.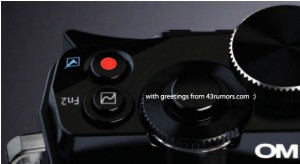 In recent days, a lot of information has been leaked regarding the OM-D. The rumored specifications are that it will be a weathersealed camera body, styled much like the original Olympus OM cameras of the 70s and 80s. It seems Olympus is continuing the 'retro' trend in the mirrorless space. The leaked photo to the right (courtesy of 43rumors.com), shows a sneak peak at the design and top controls of the new camera. It appears Olympus has added an additional control dial and is using what would be the film adavance lever as a thumb rest. The rumored specifications are also something to get excited about:
The camera is rumored to have an all-new 16 megapixel sensor developed by Olympus with an emphasis on high dynamic range and an ISO range that extends to ISO 25,600. If the sensor is truly a big improvement on existing Micro 4/3 sensors and can provide dynamic range and noise control similar to the NEX-5N, this could really be a revolutionary camera. Autofocus on the new camera is said to be even faster than that on the E-P3 and Panasonic GX1, possibly the fastest AF on any camera. It remains to be seen if this will translate to acceptable continuous autofocus as well.
While we don't know the details, it is also rumored to have a revolutionary new viewfinder. While details on what this means are sketchy, as some places are reporting a standard 1.44M dot EVF, it is possible that the viewfinder will harken back to what was the old OM-1's signature feature: an absolutely gorgeous, clear and enormous viewfinder. In fact, modern full-frame DSLRs have viewfinders that are quite small in comparison to the OM-1's finder. If Olympus can produce a brilliant large viewfinder like the OM-1, it will make many people very happy.
A truly excellent sensor in a responsive, fast and comfortable weathersealed body, with the size advantage and lens selection of the Micro 4/3 system could be a very, very exciting development. This could end up being the camera that catapults Micro 4/3 into the league of professional use for a lot of people. (Of course, many professionals are using Micro 4/3 and NEX cameras now, but this could expand the pool). We'll all be waiting with baited breath on February 8th, when the camera is slated to become official.
So what does it all mean?
Well, if you've read this whole thing, you may be wondering, is there a perfect camera? Well, of course there isn't one perfect camera that will work for everyone. Many enthusiasts and professionals will continue to use SLRs for their work, as they better fit the photographer's needs. Some really want the big sensor of a full-frame 35mm sized imager. Some need the speed and depth of field control offered by the great lens lineups of Canon and Nikon, and have no problem with the weight and size of even using the huge supertelephotos like a 400mm f/2.8.
Still, more and more photographers are ditching their heavy gear and moving to smaller CSCs. The newest offerings from Sony, Fuji and Olympus could entice even more photographers into the tiny mirrorless fold. Each photographer will obviously need to decide their priorities.
Some will prefer the great control and amazing sensor with reasonable price of the Sony NEX system.
Others will see the fantastic depth of the images with old-school ergonomics and control of the Fuji X-Pro1 as the means to their photographic end.
Others, like me, enjoy the Micro 4/3 system and love the great lenses and outstanding portability, and wonderful ergonomics with excellent image quality it offers. For us, the OM-D might represent the best (though I am extremely happy with the outstanding Panasonic GH2 and GX1…you can read my GX1 review here).
Whether a photographer chooses to delve into the CSC market will be an individual choice, of course; we are in a very exciting time, and in my opinion, it is a crossroads in photography that will very well define the photographic gear of the future. CSCs are getting good enough to be used as primary cameras for a LOT of enthusiasts and professionals alike, and I predict we will see a shift in the industry akin to the switch to 35mm film in the early 20th Century (though not quite as fast and complete as the shift to digital). With many different standards, and the industry still evolving, we're still figuring out where the mirrorless cameras will end up, but it's safe to say that cameras will likely be quite a bit different in 20 years than they are now. Smaller, better, and possibly incorporating advanced technologies we are just beginning to scratch the surface of (look up the Lytro camera, for instance).
I, for one, am really enjoying watching the photography industry evolve, and we'll all continue to search for our own perfect camera. I'd leave it there, but I'll put this thought in your head….this is a gear-centric post, but as any good photographer knows, the gear is but a small part of the equation, and the vision used to craft an image is so much more important…I'll delve more into that aspect many times over the coming weeks and months.