There several reactions when I tell people I went from a pro-grade full frame Canon DSLR rig to Micro 4/3.  First, many people are astonished that I'd give up such good gear for that 'little tiny sensor.'  Or "what happened to your pro gear?"  More recently, though, as the market has shifted towards mirrorless, the discussion centers a lot on whether Micro 4/3 has finally caught up to be as good as most DSLRs in image quality, and the biggest one: How much smaller is it, really?
While the image quality debate is still open, I find that the Olympus E-M5 has closed the gap to where it is on par with the majority of APS-C DSLRs.  While not quite as good as a top-shelf full frame kit, it's certainly good enough for my shooting.  Now, there are a whole range of things one has to consider, from continuous autofocus to dynamic range to avalability of lenses to shallow depth of field and so on.  Those are debates for another time, and right now I really don't want to get into a debate on whether any particular person should switch or not switch or similar discussions.  Right now I want to tell you why I switched, and it's the same reason that many photographers have done the same, or have added a mirrorless camera to their arsenal as a second system.  It's the prime reason why the mirrorless segment was created: SIZE.
Due to the lack of a mirror, the flange distance on a Micro 4/3 camera is much shorter than on a DSLR.  This not only allows the camera body to become much slimmer, but it allows the lenses, especially wide angle to normal lenses, to become much smaller.  This is the same reason why Leica M mount lenses can be so small even though they cover a 35mm image circle.  Since Micro 4/3 is a smaller sensor (half the diagonal of a full frame sensor), it also can use shorter focal lengths for telephoto lenses to have the same field of view.  So instead of carrying a 300mm lens, one only needs to carry a 150mm lens for the same field of view.  This leads to further shrinking of the kit.  The question many people ask is: how small is that?
Take a look at the image above.  This is my 'small' kit for Micro 4/3, and it's not even as small as it could go.  (I could use my Panasonic GX1, which is even smaller than my E-M5).  It includes a weathersealed camera body, and three lenses covering super wide to short telephoto, and all have fast apertures.  Here you have my Olympus E-M5 with Leica 25mm f/1.4 and the Olympus 12mm f/2 and 45mm f/1.8.  These are equivalent to a 24mm, 50mm and 90mm lens on full frame in field of view.  The bag is a little bag that can fit the whole kit: two lenses on the left and the camera body with lens mounted on the right, and it can be attached to your belt.  How much does the whole thing weigh?  See below: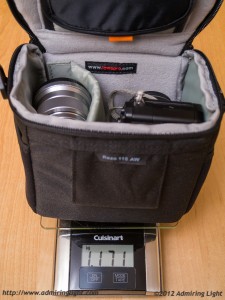 That's 1.171 kg for three lenses and a camera body, including the bag to carry them (a Lowepro Rezo 110AW).  To put this in perspective, a Canon 7D body weighs in at 945g by itself (with battery).  Add a single small lens like the Canon 50mm f/1.4, and you're already coming in heavier than this three lens kit with bag.  Add in similar lenses to get a similar FOV with similar speed? (and yes, I understand there's a depth of field difference), and you'd need a 7D with 14mm f/2.8, 28mm f/1.8 and 50mm f/1.8.  Add a comparable bag that can fit all of these things (such as the Lowepro Nova 160 AW), and you are now clocking in at a total weight of 2.556 kg and a MUCH larger size too.  That and the 28/1.8 and 50/1.8 are no match optically for the 25/1.4 and 45/1.8.  Because you need an ultra-wide on APS-C to get the 24mm equivalent field of view, it's actually lighter to go with a full frame kit.  So let's look at a 5D Mark III, 24mm f/2.8 IS, 50mm f/1.4 and 85mm f/1.8.  This weighs in at 2.442kg…still well over double the weight of this tiny kit.
So what about a more complete kit?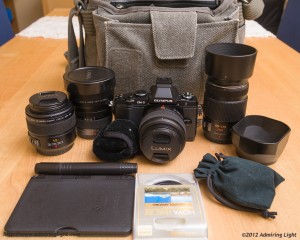 The above I carry often, but when I'm out for a photography expedition, I generally bring a little larger and a little more gear.  While I tailor what I bring based on what I am shooting for the day, this next kit is what I generally bring for some landscape shooting or hiking.  It's my Olympus E-M5, Panasonic 7-14mm f/4, Leica 25mm f/1.4, Leica 45mm f/2.8 Macro and Panasonic 45-175mm f/4-5.6.  This gives me a huge range of focal lengths, equivalent to 14-350mm on full frame.  I also have some extra stuff, like a polarizer, the clip on flash for the OM-D, my X-Rite color checker passport, lenspen, lens hoods, and I even generally have my accessory finder for my GX1 in this bag (a Think Tank Retrospective 5) at all times, whether I have my GX1 with me or not.  It's a pretty full featured kit with a wide capability.
So I put all this back in the bag and put it on the scale, and it tips the scale at a weight of 2.712 kg.  Not ultra-light weight, but at just under 6 lbs, it sure ain't bad, and these are not exactly the lightest Micro 4/3 lenses around.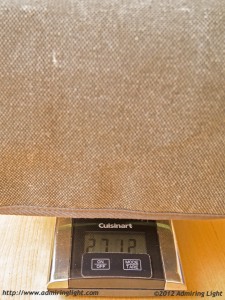 So what does a comparable DSLR kit consist of?  Let's take that 7D again.  I'm using the 7D because it has weather sealing, a better viewfinder, faster burst FPS and similar image quality to the OM-D E-M5…you can of course lose a little bulk by going to a smaller body like a Digital Rebel, but it won't really compare with the E-M5 either.  (Remember also I could also lop 150g off the weight further by using my GX1).  Anyway, a similar capability for the 7D would include the Sigma 8-16mm ultra-wide, the Sigma 30mm f/1.4, the Canon 60mm f/2.8 Macro and the Canon 55-250mm f/4-5.6.  To be very similar, let's use the Think Tank Retrospective 10 shoulder bag, which is extremely similar to the 5, but large enough to hold an SLR kit (though not owning these, I can't say for sure that it'll fit everything.)  I didn't individually weigh the polarizer, lenspen, and color checker, so let's just give that as a free nod to the DSLR kit.  Anyway, the full 7D DSLR kit?  4.055 kg.  That's a full 3 lbs heavier – over 50%.  Go to a full-frame kit with the 17-40 f/4L, 50mm f/1.4, 100mm f/2.8 Macro and Tamron 70-300mm VC and you're now looking at 4.461kg.  Any way you slice it, it's a pretty significant savings.
So, this is great and all, but the bottom line is this: is the significant size and weight savings worth the other tradeoffs?  For me, yes.  For you?  Well, only you can answer that question.