Image Quality:
You're going to hear a lot of superlatives on this page, and for good reason.  To cut to the chase, the Fujinon XF 14mm f/2.8 is optically exceptional.
Sharpness
The lens is very sharp over the vast majority of the frame right from f/2.8, and stopping down to f/5.6-f/8 yields absolutely tack sharp images from extreme corner to extreme corner.  It is extremely rare to find an ultra-wide-angle lens that performs this well across the frame.   For critical detail, it's very hard to beat.  While I have not had the pleasure of using the legendary Carl Zeiss 21mm f/2.8 Distagon on Full Frame, of the many high-end wide-angle lenses I've ever used across multiple formats and systems, the Fujinon 14mm f/2.8 is the sharpest.  Check the full size image on the left, which was taken at f/8.  (Click to enlarge, then press the green arrow at the bottom of the image to expand to full size).  Note the exceptional level of detail in the lower left corner, and the complete lack of smearing.  Truly a great result here.
Bokeh
While bokeh is of limited concern with a lens this wide, it is possible to throw the background out of focus at closer focusing distances and wide apertures.  Luckily, the 14mm f/2.8 performs pretty well here as well, with nicely neutral specular highlights and a general smoothness to the bokeh.  You may not use shallow depth of field often with this lens, but it is possible.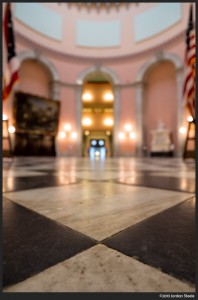 Color, Chromatic Aberration and Flare
The XF 14mm f/2.8 has a very nice, even color rendition that is neither too punchy nor too muted.  It allows for real processing to taste.  The contrast curve is also that nice middle ground between overly contrasty and flat.  There is depth to the images, but not a loss in gradation due to excess contrast.  The 14mm f/2.8 controls chromatic aberration very well, essentially zero visible CA to the images…again, a remarkable result for such a wide lens.
Flare is also relatively well controlled.  It is possible to get the lens to flare, but it only seems to cause any sort of issues if the point light source is in a very specific part of the frame.  There is one spot near the center of the frame that will yield some complex flare, and with light at the very edge of the frame, some flare occurs, but overall, there's nothing really to speak of in this department…it's quite well-managed.
Distortion
Normally, I discuss distortion in the 'catch all' group above, but with the Fuji 14mm, I thought it deserved a special mention.  One thing that is generally universal with ultra-wide lenses is the presence of some barrel distortion.  In good lenses, it's relatively well controlled and may only be visible in images with lots of straight lines, and then, it can be corrected well.  In lenses with bad distortion, it can be quite distracting.
The Fuji 14mm f/2.8 has virtually ZERO distortion.  None.  I've seen some reviews that show that by empirical measurement, there's 0.4% barrel distortion, but with a value that incredibly low, it looks absolutely perfect in the final images.  These are not corrected in camera either…these are true, native optically corrected results, and this kind of performance is simply remarkable in a lens this wide.