While the feature set on the X-T20 is similar to most other Fuji cameras,it's worth listing the rather extensive set of features on this camera.
Wi-Fi
Like all the Fujifilm cameras since the X-M1, the X-T20 has fairly full featured Wi-Fi capabilities, though the Wi-Fi features haven't changed much in several years. The camera can connect to any Android or iOS smartphone or tablet using the Fujifilm Camera Remote app, and this allows you to transfer JPEG images, remotely control the camera or tag your images with GPS locations.
The image transfer process is mostly painless, with a fairly simple interface that allows you to transfer individual images selected on camera, or browse the card through the app to select images to transfer.  With the X-T20, however, I noticed rather long transfer times to my phone, which could reach over a minute for a full size transfer…something I haven't generally experienced on my other X-Series cameras. Hopefully it's just a bug that will be quickly ironed out.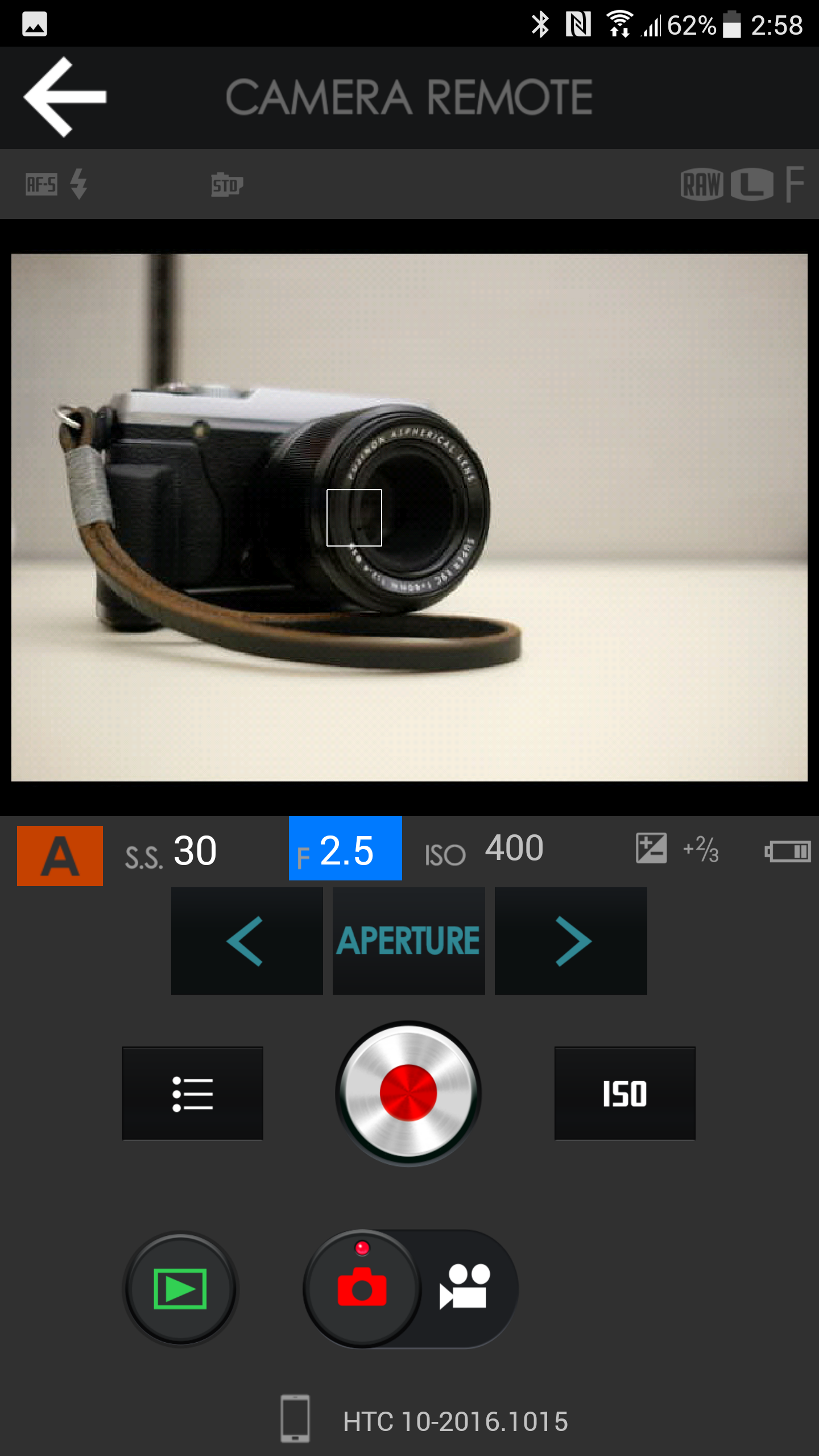 The remote control feature passes a live view of the camera's sensor feed to your phone and provides for full-featured manual control of the camera, including all exposure settings, focus point setting, film simulation, flash mode and of course the ability to trip the shutter or start and stop video recording.  I don't use remote control all that often on my cameras, but when I need it, it's extremely useful.  One great option is for large group shots where you're either adjusting lighting on the fly, or are in the picture yourself.  The app allows you to check positioning while you are away from the camera and then trip the shutter.  It can also be useful if you have the camera on a tripod in an awkward position, so you can make exposure adjustments more comfortably.
Geotagging works by manually having the camera request a location from your smartphone. The Fujifilm app then sends the current coordinates to the camera, and that data is used for all photos until you change the location data manually again. While this is helpful by not requiring your smartphone to constantly track location, thus burning battery, it's also quite imprecise, as all your photos in an area will have the same coordinates, rather than moving with you as you go, unless you stop to feed new coordinates on every shot. It can also be somewhat inaccurate because it doesn't allow your phone to get a really precise location lock before sending the coordinates…it often takes the quick first coordinates it gets, which can sometimes be off by a few thousand feet. It would be nice to see a map on the application, so you could see your location zero in, then choose when to send the coordinates to the camera.
Intervalometer
The X-T20 also includes the intervalometer feature that was first introduced on the X-T1. The intervalometer can be accessed through the menu and allows you to set a time interval as short as 1 second and as long as 24 hours, as well as the number of frames to be captured (from 1 to 999).  The shooting can start immediately or at a time up to 24 hours later.  One nice touch to the interval shooting is a countdown timer, which shows in the upper left corner of the screen to let you know how much time is remaining until the next shot.  You can cancel shooting at any time.
While multi-day time-lapse shoots with mirrorless cameras typically require either multiple batteries or an AC connection, Fuji has done its best to maximize battery life when shooting with intervals longer than 30 seconds.  In these situations, the camera actually shuts itself down between shots.  The camera turns itself on 5 seconds before a shot and stays on 5-7 seconds after the shot before shutting down again. Presumably, only the timer is running in the background, saving tremendous amounts of power.  While the savings are somewhat minimal with a 30 second interval, the energy savings will be huge for longer intervals; it's a fantastic way to approach these long time-lapse shoots.
In-Camera RAW Conversion
While this feature is unchanged from all other Fuji-X Series cameras, I feel it's worth discussing again.  Fuji has, in my opinion, the most straightforward and useful in-camera RAW conversion capabilities.  This is especially useful when shooting RAW only and transferring images via Wi-Fi, as it allows you to do moderately nuanced conversion to a full-size JPEG, which you can then directly share with Wi-Fi.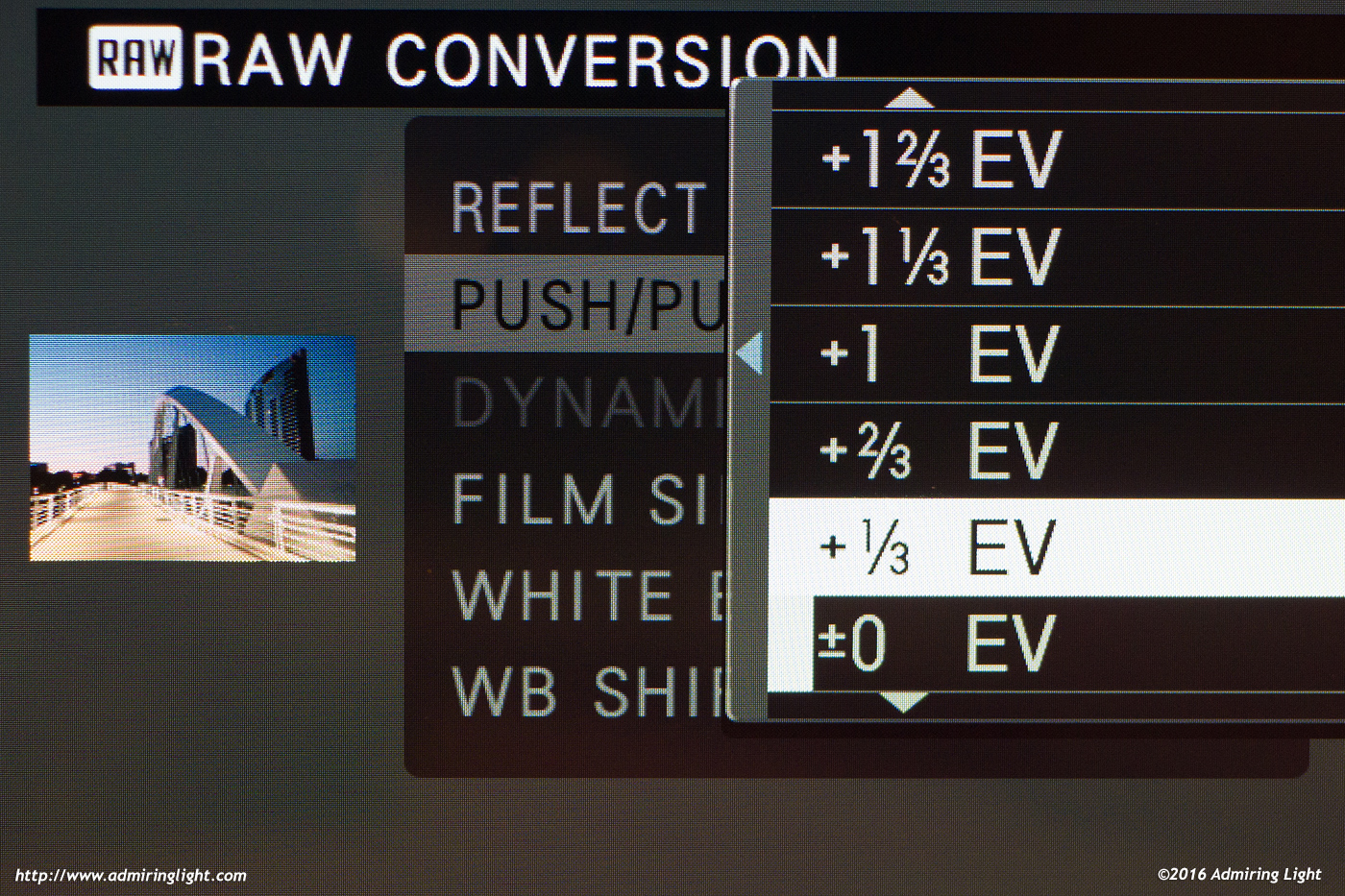 The in-camera RAW conversion function can be called up simply by pressing the Q button during image review.  You are then presented with a multi-page list of parameters that can be adjusted.  These allow you to change white balance, push or pull exposure, adjust highlight and shadow roll-off, change to any of the excellent built-in film simulations and the new film grain simulation and more. With the X-Trans III sensor, some of these parameters have gained additional adjustment capabilities when compared to earlier Fuji cameras.  For instance, shadow and highlight detail can be adjusted from -2 to +4, while overall exposure adjustment also sees a wider range of choices. Once you've made your adjustments, you can preview the result and then save it if you like what you see, or continue adjustment if you so desire.  While some other makers also have in-camera RAW conversion (Olympus and Samsung do a very nice job as well), it's something I'd like to see on all cameras: I'm looking at you, Sony.
Flash
The X-T20, like the X-T10 before it, has a built-in pop-up flash that surrounds the EVF hump.  The flash deploys extremely quickly and solidly, and provides a bit of fill light or emergency flash for those times where you just don't have the light.  Because it's a small, direct flash that raises just a bit above the axis of the lens, it's not going to provide particularly flattering light, but it works fine in a pinch and exposure is pretty accurate.
Other Items of Note
Like the other X-Trans III cameras, Fuji finally expanded exposure bracketing to include up to 3 shots at +/- 2 stops of exposure.  This is a big help for shooting quick HDRs, and Fuji even makes it painless for tripod mounted shooting when using the self timer to avoid shake. When bracketing and self-timer are enabled, the camera will take all three shots after the countdown, rather than requiring a shutter press for each shot in the sequence like some other cameras I've used. While the expansion to +/- 2 stops is a big improvement on the +/- 1 stop setting on earlier Fuji cameras, it's still far below what most camera makers offer, with some offering up to 7 image bracketing and up to +/- 3 stops between exposures.  Simply adding 5 shot bracketing or adjustments to 3 stops would be very welcome, especially with the excellent fast electronic shutter available for extremely short exposures. Thankfully, relief may be coming soon.  Fuji recently announced a firmware update to bring 9 shot bracketing to the X-T2 and X-Pro2, so it is quite likely that the X-T20 may see this feature added via firmware update relatively soon.
The X-T20's electronic shutter capability is unchanged from the feature that debuted on the X-T10, but it's still one of the better options in the industry.  The electronic shutter can be enabled for completely silent shooting and shutter speeds as short as 1/32,000 second, which is crazy short.  The electronic shutter can be used by itself, or in conjunction with the mechanical shutter, such that the camera will automatically switch to the e-shutter when shutter speeds go beyond 1/4000s.  This makes it incredibly useful for shooting with fast lenses in bright light, where an f/1.2 aperture in bright sunlight might require between 1/8000s and 1/32,000s of exposure to record the image to your desires. There's no need for an ND filter in these situations: a great help.  However, it doesn't negate the need for an ND filter in all situations, as the electronic shutter is not a good choice for freezing action, despite the ultra short shutter duration.  The reason for that is that the electronic shutter is not a global shutter, but a rolling one, and the exposure is recorded at 1/32,000s, but read line by line over the course of around 1/20s.  While you won't see motion blur at all, the electronic shutter will show odd warping of fast-moving objects due to the slower sensor readout. It will also cause the image to appear to lean if you are panning with the camera while using the electronic shutter.
The camera has the same group of advanced art filters and other features, such as automatic panorama stitching and multiple exposure capabilities, that has been present in the X-Series for some time. These work just fine, but don't generally fit into my workflow on a regular basis.
The X-T20 becomes the second interchangeable X-Series camera to allow for charging of the battery through the camera's USB port, after the X-T2.  This works when connected to a computer or through a USB charger and Micro USB cable. The charging time is slower than when using the dedicated battery charger, but this is a great feature that Sony cameras have had for a long time, and I'm glad that Fuji seems to be including this on their bodies going forward. I find it very nice to have charging capability simply by packing a small micro USB cable instead of Fuji's bulky charger, and it also allows me to charge in the car if I'm traveling between shooting locations, simply by using a car USB charger. Thankfully, unlike Sony, Fuji also includes the dedicated battery charger with the camera.