Viewfinder and Rear Screen
The Z7 II comes with a 3.69 million dot EVF with huge 0.8x magnification. While on paper, the resolution is below that of rivals like the R5 and A7R V, the Z7 II's EVF is quite good, with excellent clarity, good color and is reasonably responsive. Contrast is in-line with many competitors' EVFs, but is less contrasty and colorful than the EVF in the Z8. Because it is only a 60Hz panel, the Z7 II's EVF isn't quite as fluid as some competitors when shooting action, but the Z7 II isn't really billed as an action camera anyway. The only issue I really take with the EVF is the responsiveness of the auto-switching eye sensor. The Z7 II takes about a half a second to switch from the rear screen to the EVF, and it's a delay that is noticeable, and could cause you to miss shots if shooting in situations where every moment counts. It's one reason I wouldn't be choosing the Z7 II as a sports or action camera.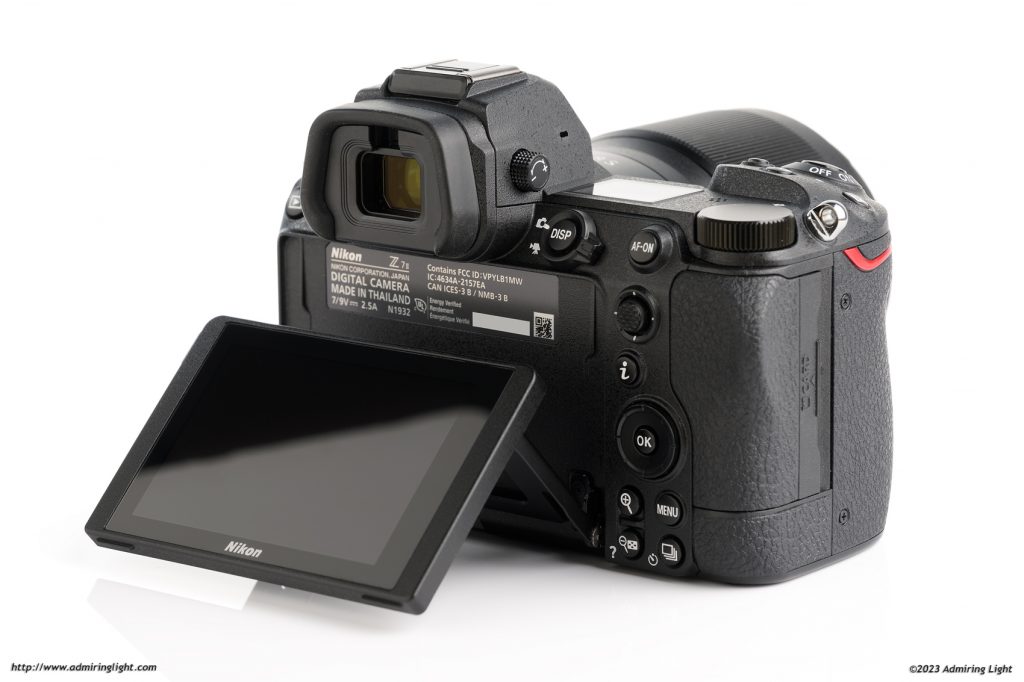 The rear screen, is a 2.1 million dot 3.2″ tilting touch screen. The screen is reasonably bright and very clear, with accurate color. Touch controls are laid out intuitively, and the touch panel operates responsively. The tilting mechanism can tilt out flat for low to the ground shooting, or angle down at a 45 degree angle for shooting above your head. However, it lacks full articulation, or the multi-axis tilt of the Z8 and Z9, so if shooting vertical photos, you get no help when shooting above or below you.
I've always been of two minds on tilt vs. fully articulated, and when shooting horizontally, I prefer the tilt screen, as it stays in line with the lens, and is much more easily flipped out. However, I've grown accustomed to full articulation, and it is definitely invaluable for low to the ground portrait orientation shooting, which I do enough of to make it something I missed a bit on the Z7 II.
Autofocus
The Z7 II's autofocus system has been somewhat lambasted by a lot of photographers as being sub-par for the category, and while there are definitely areas where the Z7 II's AF lags behind competitors, I did not find it to be a bad system by any means. Still, it's not the mirrorless camera I would reach for first when shooting sports or wildlife.
For everyday shooting, the Z7 II's autofocus is very competent. Single shot focusing is quick and sure. In lower light, where something like the Nikon Z5 struggles, the Z7 II is reasonably quick to lock with good accuracy. Nikon improved the eye and face detection algorithms on the Z6 II and Z7 II, and moved those modes into the standard rotation of focus point sizes. In my experience, the Eye AF on the Z7 II works very well for portraiture, or slower moving action like you would find in event photography. On the down side, the subject detection algorithms are are really only set to pick up on people and pets. Animals like birds, squirrels, or more exotic wildlife are essentially left out entirely, as are other subjects such as vehicles.
For shooting portraits, the Z7 II is not quite as reliable at hitting the subject's iris as competing cameras like the Canon R5, but it still manages a very good hit rate, and was reliable enough to use as the main form of AF for portraiture. Just know that occasionally, it'll grab the eyelashes or eyebrow when shooting with very shallow depth of field. The shot below was a self-portrait using Eye AF with remote shooting with very shallow depth of field, and the camera was able to nail focus on my eye with ease.
Continuous AF is reasonably competent in good light as well, as long as you treat the camera like a DSLR and use zone focusing. Here, the camera can do a very nice job tracking motion and keeping things in focus. In tracking a subject running towards the camera, I found the Z7 II to have an excellent hit rate when using small zone, and keeping the subject's face within the box. However, using wide area focusing with subject detection resulted in a dramatic drop in accuracy when shooting action. The camera just can't seem to both find eyes and track action at the same time with any degree of reliability.
When using the Z7 II for shooting landscapes, travel photography, architecture, or portraiture, it does a fine job, but one needs to be more careful and deliberate when using the camera for wildlife or sports shooting, and expect that you'll miss a few shots that competitors would be able to capture.
Performance
With the exception of the aforementioned EVF switching delay, the Z7 II is a responsive camera body. Startup is quick, with the camera ready to shoot about a half second after flicking the On switch. Images can be reviewed quickly after shooting, as well as while a burst of images is still writing to the card.
As far as burst shooting is concerned, the camera can shoot at up to 10 frames per second (with locked focus), or 9 frames per second with continuous autofocus. This isn't terrible for a high resolution body, but it pales in comparison to something like the Canon R5 with it's 20 fps electronic shutter mode and 12 fps mechanical shutter. Buffer is ok, with the ability to capture around 49 images in lossless compressed RAW 14 bit before slowing down, which gives a bit more than 5 seconds of burst shooting with AF before you need to slow down. It's not a sports camera, but this is enough to capture some action if needed with the camera.
In-body Image Stabilization
Like all of Nikon's full-frame Z series cameras, the Z7 II has 5-axis in-body image stabilization (or in-body Vibration Reduction as Nikon calls it). The vast majority of mirrorless cameras now have IBIS, and Nikon's system is pretty good. The Z7 II's internal VR system is rated for 5 stops. On paper, this is a bit behind some of its competitors, but I've found the IBIS on the Z7 II to be competent, and a bit better than what I experienced on Sony's A7 III and A7R IV.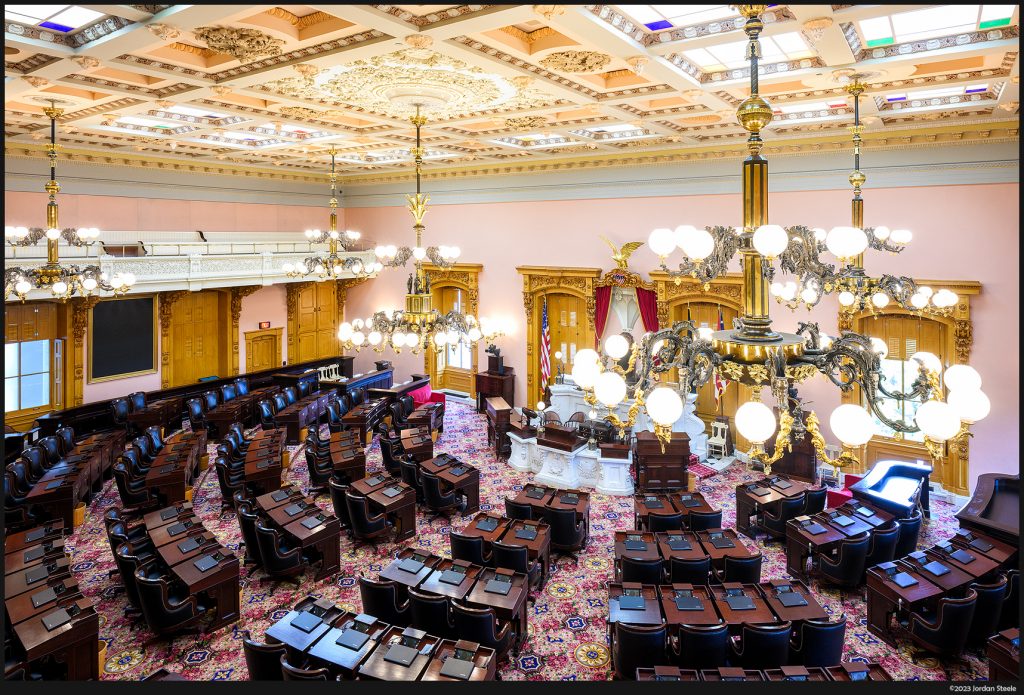 In daily use, I could count on the IBIS system to get me about 3 stops or so of extra stability, with lenses from wide angle up to around 300mm. Adapted lenses don't get to take advantage of all 5 axes of stabilization, but instead revert to 3 axis IBIS, which I found to be good for an extra 2-3 stops.