Key Features
Wi-Fi / Connectivity
Like any camera released in the last decade or so, the Z7 II has relatively full featured Wi-Fi connectivity and features, allowing for image transfer, remote shooting control and geotagging. I've used the connectivity apps for most of the major camera brands, and Nikon's SnapBridge application is among the best overall, though it certainly has its own set of issues.
Setup and connection of the camera went very smoothly for me, and I've consistently had solid connections between my phone and camera, with no intermittent dropping of connection or failed authentication. It's been very reliable in my experience, and that's probably the most important thing.
I mostly use wireless connectivity for wireless transfer of images from the camera to my phone for review in the field or easy sharing with friends or family. The SnapBridge app is able to quickly connect and allow for selection of photos on your phone, and then transfer reduced size JPEGs (2 megapixel), or full size images. One down side is that the camera will not do auto creation of full-size JPEG images to transfer to a mobile device, so if you want full size JPEGs, you'll either need to shoot in JPEG (or RAW+JPEG), or create individual full size JPEGs from RAW with the in-camera RAW converter prior to transfer. SnapBridge can also transfer the RAW files directly, if you want to do RAW development on your mobile device.
Remote control capabilities are relatively full featured as well, with live view streaming of the viewfinder, and adjustment of most major settings, including all exposure parameters and white balance. While you can also switch between photo and video mode, you aren't able to change focus modes in remote shooting. Live view is relatively low lag and the view can be turned off too, to make it more of a standard remote. One down side is that for some reason, ISO 64 and ISO 80 are not usable with the remote control app, which limits its functionality when shooting landscape work.
Like most other cameras nowadays, the Z7 II can also be set up to auto-link and pull GPS data from your phone to embed in images. In all, I've had a generally positive experience with the wireless features of the Z7 II.
Focus Shift Shooting
Nikon calls its focus stacking mode 'focus shift shooting', which I suppose is a more accurate descriptor, as the Z7 II cannot stack the images in-camera. However, the full-featured Focus Shift mode does allow for incremental focus shifting to allow for easy focus stacking in the software package of your choice. The interface allows you to set the number of shots to be taken (to a maximum of 300), the focus step width between 1-10, an interval between shots, whether the camera should lock exposure on the first shot, and whether it should use the electronic shutter or not. You set your closest point of focus, then enter the menu and select start, and the camera does its thing.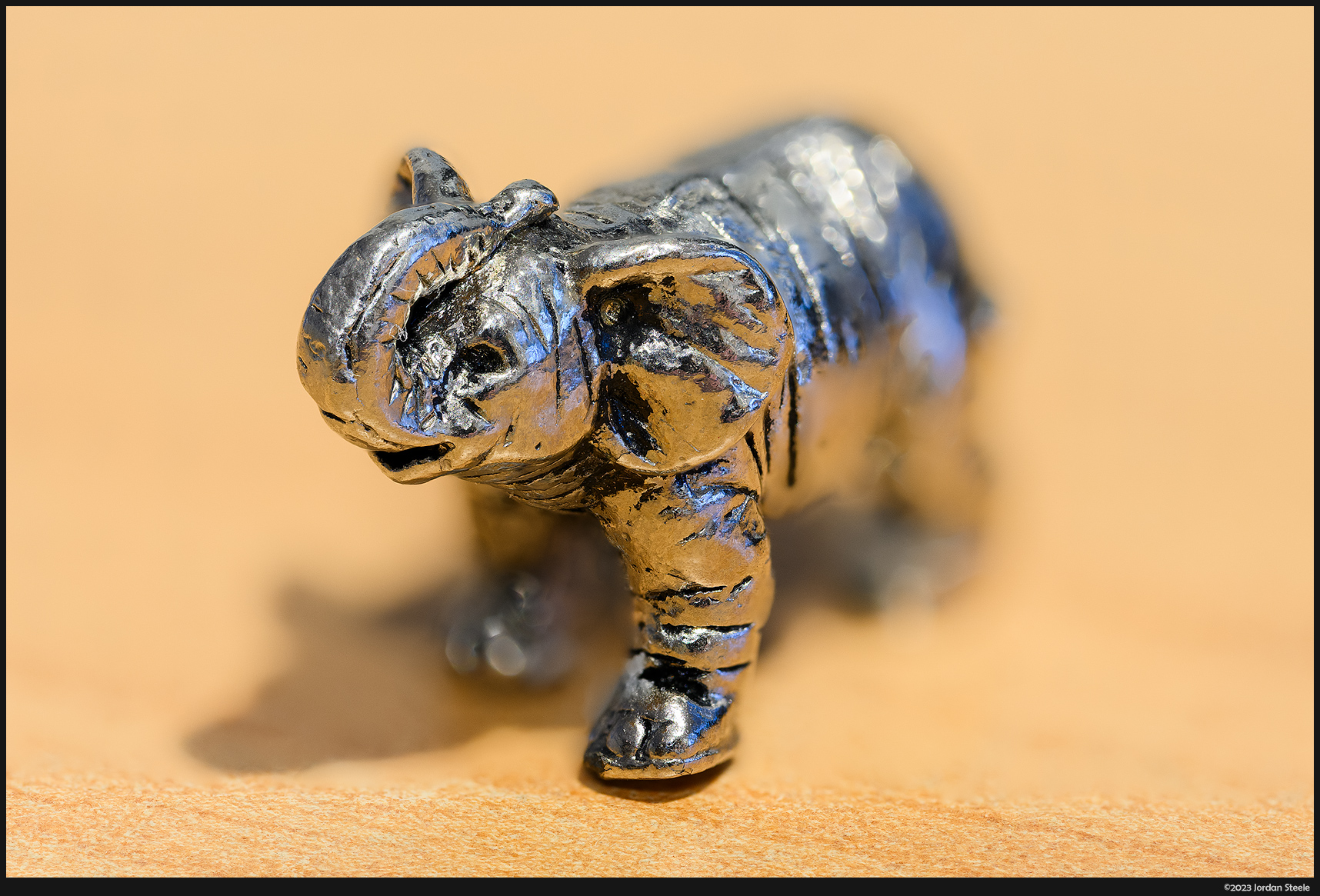 The focus step width, like on Canon cameras, is not specific, as the actual step width changes depending on starting focus distance, with much finer intervals used for macro shooting than landscape work. The interval between shots may be useful if using the mechanical shutter. I'd only consider using the mechanical shutter for this mode when using it in conjunction with flash, as there is no other downside to the electronic shutter.
The shot above was a simple test shot of the feature, and comprises a 50 shot stack at 1:1 (and cropped slightly) with step width of 2, merged in Helicon Focus. At high magnification like this, depth of field is razor thin, so even 50 shots only allowed for the front part of this tiny elephant charm to be in focus.
Additional Items of Note
There are a few other items worth mentioning about the Z7 II's operation and features:
The Z7 II has a nice multiple exposure feature, including the ability to change blending modes and merge up to 10 frames into a single image. While the output of multiple exposure mode is a JPEG, you can opt to save the individual RAW files for blending later if you like.
Like almost all cameras, the Z7 II has an intervalometer, which will allow you to set a specified time to start the interval shooting, and set a number of shots and a number of intervals (to take a burst of photos every 30 seconds, for instance). You can also choose to have it automatically build a time-lapse move at up to 4K 60fps in camera. This latter option I think is wonderful, and I wish more cameras had it.
The camera can shoot in full mechanical shutter, electronic first curtain shutter or fully electronic shutter. The first two can be set directly in 'shutter type' settings, or set to Auto, which will use EFCS for exposures 1/250s or longer, and then switch to full mechanical at shorter speeds. The reason you'd want to do this is that the bokeh of lenses can be affected when shooting with EFCS at fast shutter speeds with large aperture lenses. This is a great feature I wish most cameras had, but I wish the transition speed was adjustable, as I'd prefer to keep EFCS to 1/500s.
Electronic shutter can be enabled by turning on Silent Shooting. Electronic shutter is suitable for static images, but the rolling shutter is too high to use when shooting moving subjects. In a nice change of pace from a lot of manufacturers, the file bit depth stays at 14-bit in electronic shutter mode, and you don't lose any image quality when shooting with the electronic shutter.
Battery life is reasonably good, with a single EN-EL15c battery lasting a full day of shooting under most circumstances. The battery can be charged in-camera with any USB-C PD charger, and the camera can also use that charger for power in operation. Nikon does include a dedicated external battery charger with the camera as well.